The streets of Los Angeles and the train stations in New York City are being peppered with signs reminding "Vida" fans that the second season of the Starz show premieres online Thursday.
"Vida" uses growing issues around gentrification as a framework to compose a contemporary portrait of a multigenerational Latino neighborhood in Los Angeles. It explores nuanced narratives on the intersection of gender, cultural and spiritual identity, as well as class, race and sexual orientation.
It's also irreverent, hilarious and relatable.
Season two shows the Hernandez sisters, Emma (Mishel Prada) and Lyn (Melissa Barrera), two young adults who grapple with the fallout from a family tragedy — pushing them to move back into the historically Mexican American neighborhood where they grew up.
Along the way, they are forced to revive childhood traumas and wrestle with hard truths while dealing with grief, loss, complicated relationships, old friends from the "barrio" and the mismanagement of the family business.
"This is a story about two American girls — they're Mexican Americans; we can't forget they're second, third generation," show creator Tanya Saracho told NBC News. "One might be acculturated, one might be assimilated, but they're Americans."
Saracho and Starz have been praised for using "Vida" as an opportunity to humanize the experiences of Latinas, queer Latinxs and LGBTQ people of color.
"The show has so many types of Latinx people, and I think that's just a good thing to portray because usually we're portrayed as of one thing only or, you know, the stereotypes," actress Melissa Barrera said.
Chelsea Rendon — who plays Mari, a character who embodies the "woke" youth spirit interested in preserving their East Los Angeles neighborhood — considers that Saracho and the writers did a beautiful job creating "these characters that are so real."
"Portraying that character was just so effortless because I didn't have to play this thing or that thing, it was just being a human. She made true characters that are flawed," Rendon said.
This year's crew counts with "all-female and Latina directors, and our writer's room being all brown," Rendon added.
Expanding the boundaries of Latinx representation
"Fifty shades of queer" and "pride or die" were some of the phrases that actresses Mishel Prada and Roberta Colindrez — who plays Nico, a new queer character in season two — coined to celebrate the show's representation of queer identities, which recently earned "Vida" a GLAAD Media Award for best comedy series.
"It would be so cool to have queer icons, that weren't just heroes for queers. And it would be cool to have Latin icons that weren't just icons to Latin people, that other people could be like: 'Oh yeah, I guess I'm not like that person or that television figure, but they're still my hero,' because they see so much more in them than just these two parts of their identities," Colindrez said.
The spectrum of queer characters in "Vida" creates storylines that speak to owning one's gender and sexual identity while portraying the discrimination faced by women and LGBTQ people.
"I think it's important for parents to see what they can do to their children when they don't accept them for something that should be so beautiful and should be a wonderful experience, like your first kiss or your first love," Prada said.
Actor Ser Anzoategui — who identifies as nonbinary, a catch-all term that acknowledges gender identities that are not strictly masculine or feminine‍, and uses gender pronouns "they/them/theirs" — plays Eddy, one of the most beloved Latinx queer characters in the show.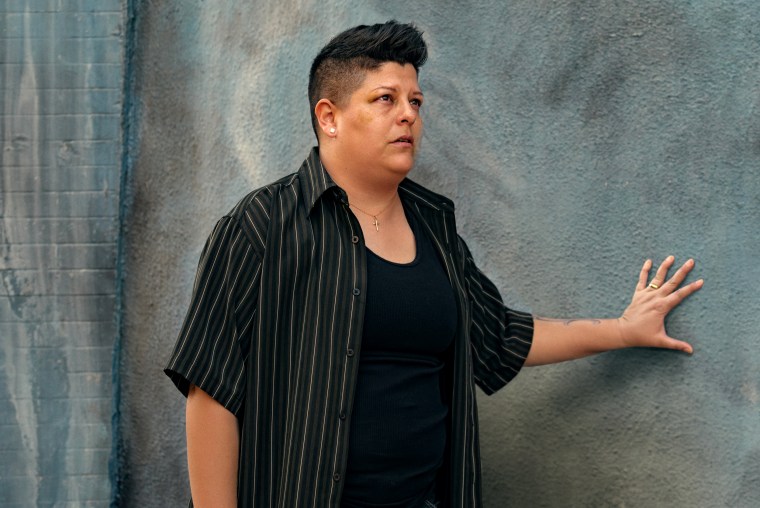 "Representation can change policy," Anzoategui said.
"If we really show these nuanced characters as more than just one thing, in every aspect of life, we can really get ahead in the future," Anzoategui said.
The second season of "Vida" starts airing on Starz on May 26. Both seasons of the show are set to drop on the Starz app May 23 for a friendlier binge-watching experience.
"I like watching and anticipating the show until the next week," actor Carlos Miranda, who plays Johnny, said. "But it's nice that you get to have both options."
Saracho stressed that "Vida" is not guaranteed a third season yet — that would be contingent on how many people watch the premiere of season two.
"I hope people watch in both ways, but I hope they just watch," Saracho said.
FOLLOW NBC LATINO ON FACEBOOK, TWITTER AND INSTAGRAM.