WASHINGTON — President Barack Obama told Democrats Wednesday ending the temporary protection from deportation he made possible for young immigrants through executive action may be the issue that stirs him from the quieter life of a former president, a top senator said.
Sen. Dick Durbin, the Senate minority whip, told NBC Latino that he asked Obama about the Deferred Action for Childhood Arrivals program, DACA, and what Democrats could do about any attempts by the incoming Trump administration or next Congress to repeal it.
"He said ... he felt very strongly about this and he understood former presidents are supposed to step back from the field, but he said this one means so much to him personally that he would not step away from the responsibility of saying something if necessary," Durbin said outside the Senate chamber.
Obama met with Democrats at the Capitol Wednesday largely to rally them to work to preserve the Affordable Care Act, better known as Obamacare, that Republicans have moved to repeal in this first week of the new Congress.
The meeting raised questions about how engaged Obama will be in the political issues of the day after he leaves the White House. Traditionally former presidents retreat and limit their public engagement when a new administration begins.
Related: Obamacare On the Line as Latino Democrats Meet With Obama
President-elect Donald Trump had promised to repeal all Obama's executive orders and actions, including DACA, during the campaign. However, in his interview with TIME for its edition naming him its Person of the Year, Trump said he might make "work something out" for immigrants who came to the U.S. or remained in the country as children without legal permission and have grown up here.
Obama took the executive action that led to DACA in 2012, after Congress failed to pass immigration reform and as he faced re-election.
At a news conference held the week after Trump's election, Obama warned the president-elect to "think long and hard" before endangering the young immigrants who call themselves DREAMers.
The outgoing president told Democrats Wednesday that he raised the issue with Trump and in that conversation told him to consider the optics of deporting a valedictorian who has DACA, according to another Democrat who attended Obama's talk with Democratic House and Senate members.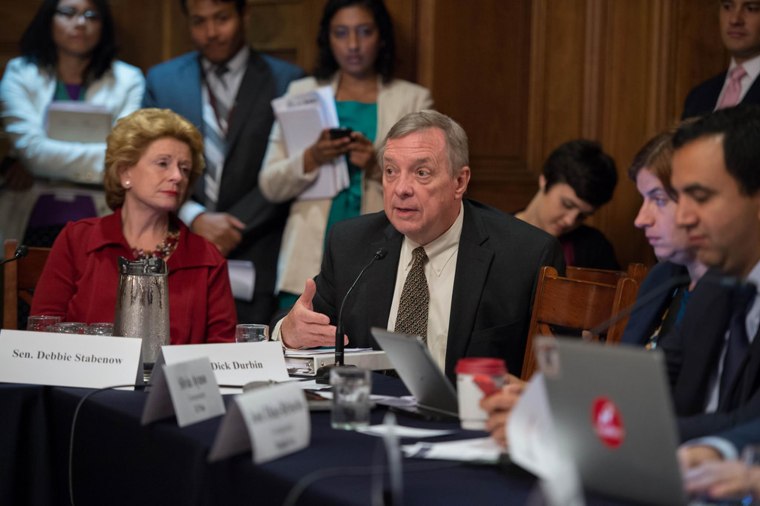 Sen. Durbin said that Obama took the issue personally. "We both do," said Durbin. "I suggested the creation of DACA and he stepped up and did it and showed real leadership. Now 800,000 young people have their fate hanging in the balance. We just don't know what's going to happen once Trump is president."
Durbin said Obama encouraged President-elect Trump to give them special consideration.
"He's hoping that he will," said Durbin.