Sen. Marco Rubio attempted to take a whack at President Barack Obama's proposed policy changes with Cuba through a Senate panel he leads, while asserting his foreign policy credentials for a potential 2016 presidential run.
Rubio convened on Tuesday the first congressional hearing on the administration's efforts to improve U.S.-Cuba relations, which he has resoundly rejected. The hearing was held by the Senate Foreign Relations Committee's Western Hemisphere Subcommittee, which Rubio chairs.
Rubio grilled Assistant Secretary of State Roberta Jacobson, who is leading the negotiations for the U.S., over when she first learned the U.S. had begun secret discussions with Cuba, whether the U.S. conceded to Cuba without getting anything in return and whether the U.S. would be barred from meeting with democracy activists by Cuba.
"The Cuban people are the only people in this hemisphere who have not had a free and fair election in the last decade and a half … They are no less deserving of freedom and democracy than the people of Guatemala, Honduras, Haiti …" said Rubio, R-Fla. "The notion that we should somehow be more patient with Cuba than all these other societies is quite frankly unfair and offensive."
Rubio has been taking steps toward a 2016 run, largely assembling staff and donors and staging a fundraising trip in California, but has not said definitively he would run.
How well the Cuba issue will work for him on the campaign trail - should he make a bid for the GOP presidential nomination - is unknown. He'll certainly get the support of other Cuban Americans in Florida, a key battleground state, but the issue divides the Cuban American community and is less of a priority in other parts of the national Latino community, which is overwhelmingly of Mexican descent.
At the hearing's end Rubio noted he had heard more discussion of Cuba Tuesday than in all of his years in the Senate.
Unlike most hearings, where divisions are drawn along party lines, Rubio found his strongest ally in Democrat Sen. Bob Menendez of New Jersey, also Cuban American.
Unlike most hearings, where divisions are drawn along party lines, Rubio found his strongest ally in Democrat Sen. Bob Menendez of New Jersey, also Cuban American. Some Republicans on the panel were in the rare spot of backing an Obama initiative, along with other Democrats on the panel.
Sen. Jeff Flake, R-Ariz., pointed out that one of the first pieces of legislation he introduced when he started in Congress in the House 14 years ago was to lift the ban on travel to Cuba for Americans.
"I've always felt that we ought to have more Americans traveling to Cuba, not fewer. Cuban American families in particular ought to be able to visit family members," Flake said. "I was pleased to see the president loosen those restrictions a few years ago and then take the further step of allowing more people to travel to Cuba."
Sen. Bob Corker, Senate Foreign Relations Committee chairman, was at the hearing but didn't express a view during the hearing. He has previously said the embargo has been ineffective.
Sen. Barbara Boxer, D-Calif, pointed to times when other presidents have taken steps to open relationships with other countries, President Richard Nixon's visit to China, Ronald Regan's meeting with Mikhail Gorbachev, then president of the former Soviet Union. Such meetings did not result in overnight change, but provided U.S. engagement with the people of the countries, Boxer said.
But Menendez pushed back. "I don't want to relive 50 years of engagement with China that has brought us forced abortions, prison camp labor, one child policy, ethnic cleansing in Tibet …," Menendez said. "Fifty years of those engagements, maybe we can say we are doing business with China, but we can't really hold up democracy and human rights as a great success story of that engagement. If this is what we hope for the Cuban people, then it's a sad day."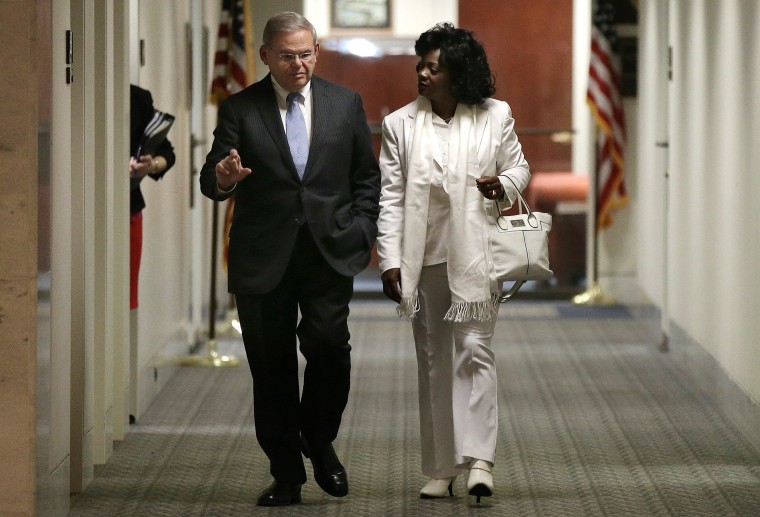 In testimony, Jacobson revealed she learned of the negotiations on the changes in policy only about two months before the administration's December announcement, although she was aware of negotiations over the release of Alan Gross, the government contractor held five years in a Cuban prison.
She also said that reaction in Latin America to the announced policy changes drew widespread support throughout the region. She said her counterpart in the European Union immediately reached out to her because the EU is in negotiations with Cuba and wanted to be sure it was in sync with the U.S.
Tom Molinowski, assistant secretary of state for democracy, human rights and labor, added that the U.S. embargo of Cuba has been used by the country as an excuse and has worked in favor of the country, blaming it for the country's poverty and other ills.
"We have to acknowledge that this has worked for Castro over the years," Molinowski said.
He said Cuba has proposed government to government talks on human rights.
The panel also heard from activists and journalists in Cuba later in the hearing. Rubio said their testimony puts them in real danger back home.
Berta Soler, president of the Ladies in White in Cuba, said just before she left to come to the U.S. to testify, dozens of activists were arrested in Havana for placing flowers at the statue of Jose Martí, a national hero in Cuba whose political writings and death are considered key to instigating Cuba's independence from Spain.
Soler's group of women holds marches to church every Sunday and was started by wives and relatives of dissidents imprisoned in Cuba. She said the group's marches are peaceful and are inspired by Rosa Parks and Coretta Scott King.