WASHINGTON — It was Sen. John McCain that got Sen. Lindsey Graham started on immigration reform, Graham said in a news conference Thursday.
And now Graham, R-S.C., is joining Sen. Dick Durbin, D-Ill., to try again to pass the Dream Act to provide a way for certain young immigrants who arrived or stayed in the country illegally to become legal permanent residents. Graham reminded reporters of McCain's role on the day after McCain announced that he is battling brain cancer.
"I got involved because when John ran for president in 2000, he wanted to fix a broken immigration system because he is from Arizona and he sees the down side of illegal immigration," said Graham, who with McCain and Durbin was part of the "Gang of 8," a group of Senators who wrote a comprehensive immigration bill approved by the Senate in 2013.
Through his work with McCain on the issue, Graham said he has come to believe that resolving immigration is absolutely necessary for the country's economic stability and security.
"This problem will not fix itself," Graham said. He said the 11 million or so people in the country were able to come here because the country "looked the other way."
Versions of the Dream Act have been introduced over the years and failed to pass, although it has come close a couple of times. Durbin, who first introduced it in 2001, has been working for its passage for so long that Graham referred to him as the "great-grandfather of the Dream Act."
The 2017 bill introduced Thursday would make young immigrants eligible for lawful permanent residence, a step toward citizenship. The immigrants must be longtime U.S. residents who are graduating from school or have a GED, or are pursuing higher education or serve in the military. They must pass background checks, show they are proficient in English and know U.S. history, and demonstrate that they haven't committed a felony or other serious crime.
The legislation was introduced with some urgency because a group of conservative state attorneys general has issued an ultimatum on the subject to President Donald Trump.
They've demanded that by Sept. 5, his administration stop renewing or granting temporary deportation deferrals and work permits to young immigrants through the Deferred Action for Childhood Arrivals program. The DACA program was authorized by former President Barack Obama.
If the deadline isn't met, the attorneys general have promised to try to end the DACA program in court, where they have a pending legal suit against Obama's attempts to expand the program.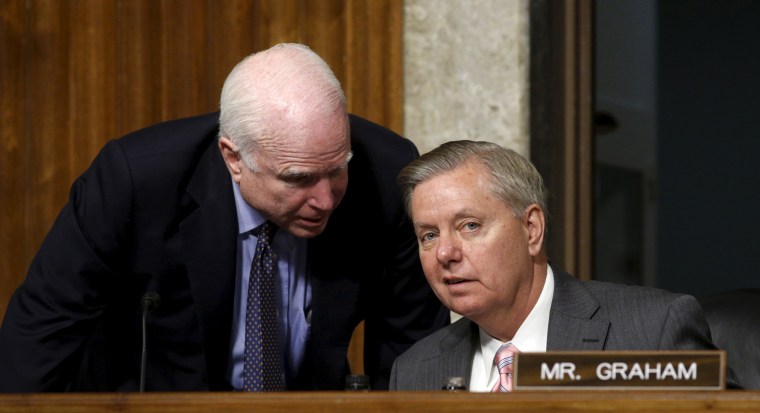 The administration dropped its defense of the expanded programs, but Homeland Security Secretary John Kelly had said the existing DACA would remain.
According to several reports, the administration does not plan to sign any new DREAM Act legislation. McClatchy News reported that White House legislative affairs director Marc Short said the administration will likely oppose the Dream Act.
Contacted by NBC News for comment, a White House spokeswoman, who declined to comment by name, reiterated Trump's support for immigration enforcement measures. She referred to recent comments on DACA that Trump made to reporters on Air Force One.
Trump told the reporters that DACA is a hard decision. He said he'd like to "do" a comprehensive immigration plan, "but our country and political forces are not ready yet."
Graham used the press conference as a forum to nudge Trump along. He said Trump has the power to tell the Republican base "we have achieved border security" and in a "snap his finger" to get the Republican party more united on immigration reform than former presidents George W. Bush and Obama could.
"What has changed? A man in White House who could take the people who object the most and with a coherent, from the heart speech, change everything," he said.