MIAMI -- At "La Revoltosa," a third generation family-owned business in Miami that sells products popular among Cubans, owner Milagros Pardo recently sold 20 waiter uniforms for a restaurant opening in Cuba. The cloth diapers they sell are almost exclusively for Cubans on the communist island where disposable diapers are out of reach for most Cubans.
"There is no embargo between Miami and Cuba," stated Pardo, explaining Cubans are very family oriented and keep close ties with their relatives back home. "La Revoltosa" has been selling clothes for Cubans on the island since they opened in Miami in 1971. The original store in Matanzas, Cuba, was seized by the government before the family fled to Miami. Recently, they have seen more customers from Cuba.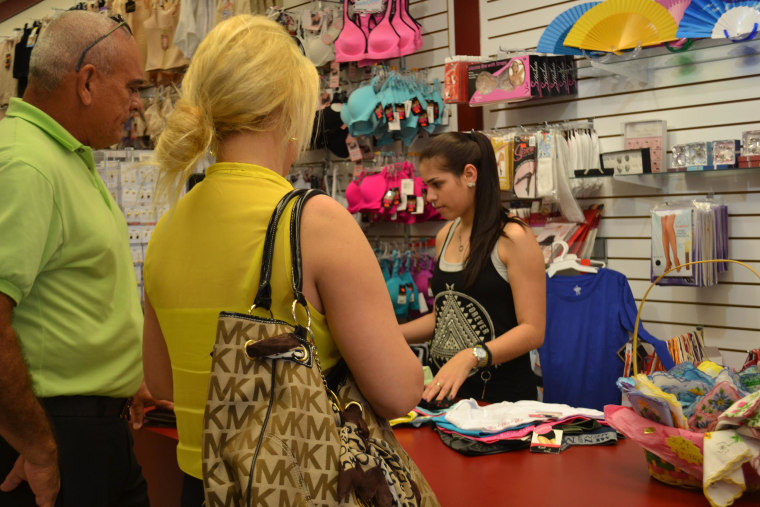 During a recent trip to Miami, Jose Sabaté stopped at "La Revoltosa," and purchased underwear and socks for his grandson back in Cuba.
"When I'm visiting, I take advantage and shop for my family," said Sabaté, who lives in Cuba but spends three months of the year in Miami with his daughter.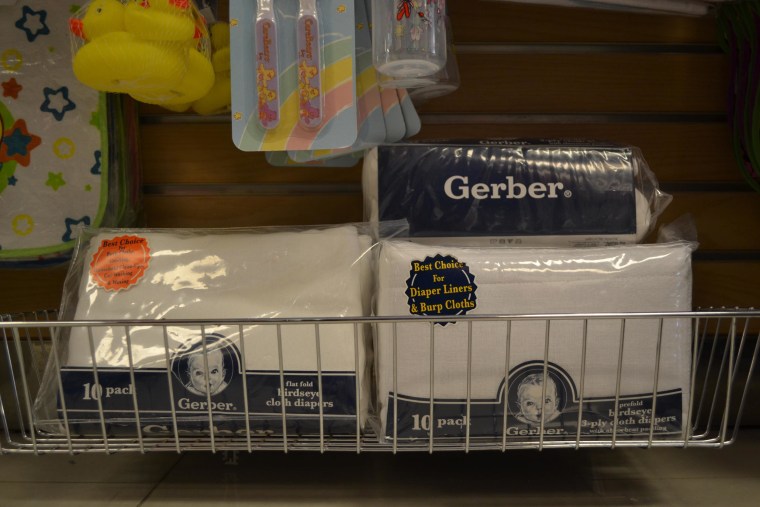 While the discussion on whether or not to lift the U.S. embargo on Cuba rages on in Washington DC, in Miami Cubans have been quietly purchasing products and taking them to relatives on the island or sending them with couriers. These days, it's not just Cubans who live in South Florida who are shopping for their relatives back home. Since President Raul Castro loosened travel restrictions in 2013, there are more Cubans, like Sabaté, traveling to Miami and doing the shopping themselves. Sometimes, large amounts of merchandise are purchased and resold at a higher price in Cuba for profit.
For Serafín Blanco, owner of "Ñoo! iQue Barato!" (a saltier version of "Wow! This Is So Cheap!"), selling products with island Cubans in mind has brought him much success. One of their most popular items is the Cuban school uniform, which consists of burgundy colored pants, shorts, skirts, and jumpers with a white, short-sleeved shirt. The pants cost $9.99 and the shirt goes for $5.99. The Cuban government only provides one or two uniforms per year for each student, making the uniform an important item for relatives in Miami to purchase.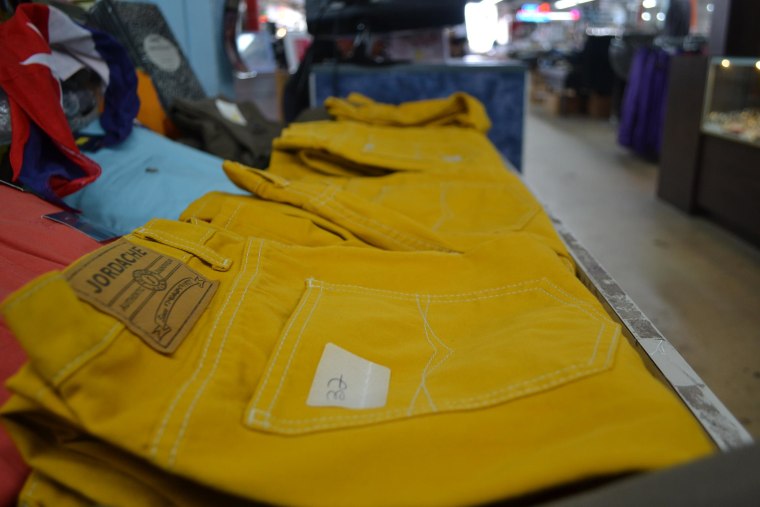 Blanco advertises "For Cuba, we have it all." The 40,000 square foot store located in the Miami suburb of Hialeah, which has become the heart of the Cuban community, is loaded with merchandise that appeals to consumers on the island.
"We look for merchandise that's popular in Cuba," said Blanco who hasn't returned to the island since he left in 1967.
Blanco sells duffel bags for $10 because many customers purchase large amounts of products and head straight to the airport for Cuba. With every $100 you spend, you get a free duffel bag.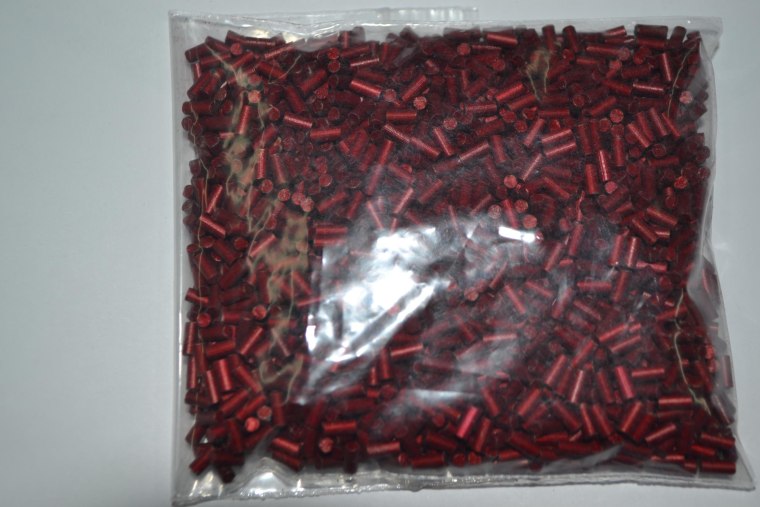 A lucrative product for Cubans on the island sold at "Ñoo! iQue Barato!" are the small flints for cigarette lighters. In many countries, lighters are thrown away once the gas runs out. But since lighters are scarce in Cuba, there's an industry for repairing lighters. It's one of the 200 categories of private entrepreneurship authorized by the government as part of Castro's recent reforms. At "Ñoo! iQue Barato!" a bag of 100 flints can be purchased for $3.99.
Traditional newborn baby items, which include handmade dresses, crib sheets, and mosquito nets, are essential for Cuban families expecting babies. For a little over $10, customers purchase baby dresses handmade by Cuban ladies in their Miami homes that are later worn by Cuban babies on the communist island.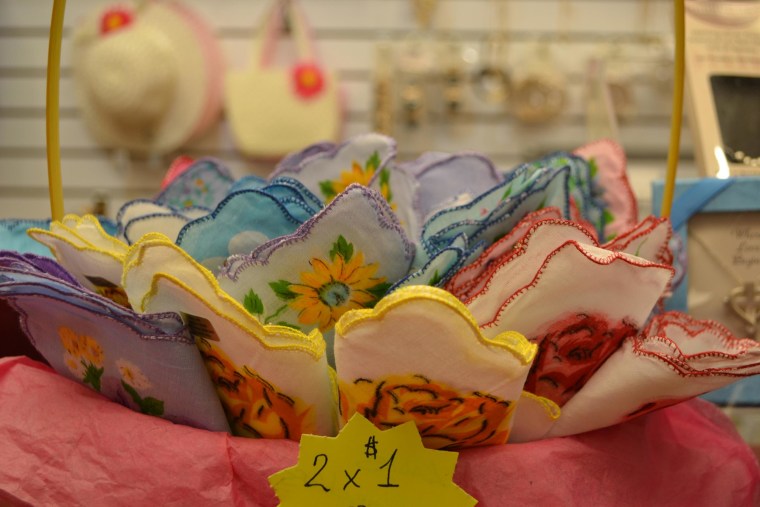 For those who cannot travel to Cuba and personally take clothes, food, medicine, and other products to their relatives, families rely on "mules" or couriers. "Sergio" from Hialeah, who asked not to be identified for legal reasons, runs a courier business from Miami to Cuba. On average he has about 20 people traveling to Cuba weekly with their luggage crammed with packages from relatives in Miami.
"We deliver packages directly to the homes in Cuba," he said.
Other businesses can do more than just deliver packages from relatives. A couple of summers ago, Miami resident Anais Rodriguez was planning a trip to Cuba that coincided with her son's fourth birthday. She was worried she wouldn't be able to have a proper birthday party with the scarcity of products on the island.
Through word of mouth Rodriguez learned about Paco's Paladar in Miami. She ordered a buffet that included a birthday cake, croquetas de jamón (ham croquettes), small sandwiches and refreshments. Two weeks later, on her son's birthday, everything was delivered to her parents' house in the western province of Pinar Del Rio where she was staying.
"I was impressed with everything," Rodriguez said.
The owner of Paco's Paladar, Paco Pertierra, said he was inspired to open his business shortly after he settled in Miami in 1994. For Mother's Day, he wanted to send flowers to his wife, who had stayed behind in Cuba with their children. He asked a friend who lived in their town to deliver flowers with money he had sent. As much as the friend looked, he couldn't find flowers. That's when he realized there was a huge demand for special occasion products and services that are out of reach for everyday Cubans.
"This is something spiritual … when you send flowers or a cake, people cry," Pertierra said.
Aside from flowers and catering, Pertierra also offers products that can be difficult to find, such as beans, rice, oil, and eggs that are not expired.
Many hope trade with the island will ease as the U.S. and Cuba reestablish relations. The loosening of travel restrictions is already bringing changes in people's attitudes. After leaving Cuba nearly 48 years ago, Blanco says he is thinking of visiting the island where most of his products end up. "I'm thinking of going to Cuba, once there is more security."