EL PASO, Texas — It's early afternoon on a recent weekday and Ruben Garcia, the director of Annunciation House — a Catholic non-profit immigrant shelter — is making sure the many here have food in their bellies.
"¿Ya comiste?" Garcia asks a young girl in a hallway at the shelter, "Did you eat yet?" She nods her head and smiles.
There were roughly 100 migrants at this shelter last Thursday afternoon, but Garcia is expecting more to arrive in a few hours.
The shelter is part of a network of a dozen similar facilities in Texas and New Mexico. In the past few weeks, the shelter has been receiving about 750 migrants a week from Immigration and Customs Enforcement (ICE), Garcia said.
"I'm going to show you a text from my contact at the Border Patrol I got on Sunday," Garcia tells an NBC News reporter.
The text message says: "We will have over a thousand in custody by tomorrow morning and can expect to arrest an additional 1,000 by this time next week."
ICE cuts processing time as CBP facilities fill up
In August, the latest month for which data is available, more than 12,700 parents and children traveling together — what Customs and Border Patrol (CBP) calls family units — were apprehended crossing the U.S.-Mexico border.
In the El Paso area, family unit apprehensions totaled 4,906 in three months, up from 806 the year before.
Families who surrender at a U.S. port of entry on the border or illegally cross the Rio Grande and are apprehended by CBP are taken to CBP holding facilities at the border.
But space is limited and the agency can hold people for no more than 72 hours, except in extenuating circumstances. From there, families are processed and ICE picks them up to take them to its facilities.
ICE holds families in short-term detention until the families can be processed and a determination can be made to detain them longer or release them for a later hearing.
For those being released, ICE would often keep families in temporary detention until they could get a bus or transportation to their next destination.
In Arizona, ICE determined it could no longer do that and comply with the court settlement known as the Flores agreement, which requires it to release children within 20 days, said Paige Hughes, ICE spokeswoman. ICE officials didn't immediately know whether the same was happening in El Paso.
The Trump administration is trying to rewrite the Flores agreement and its 20-day rule.
Under U.S. law and international treaties, those who are deemed to have a potentially valid asylum claim have to be given the chance to go through a hearing process. Many families are released with ankle monitors.
Advocates respond to help families
Michelle Brané, director of the Migrant Rights and Justice program at the Women's Refugee Commission, said advocates were told the releases would be happening and there would be an initial rush to release people in custody. "There was this releasing everybody they had in detention all in one weekend," Brané said.
Because some people would be released where no shelters exist, non-profit groups have created more shelter space and have coordinated with ICE on where to drop off the people it is releasing, she said.
Garcia said there is no counterpart to Annunciation House in Phoenix, Arizona. Without shelters run by private organizations, immigrants are dropped off on streets, he said.
The releases come with just a few weeks to go before the Nov. 6 elections and pushing immigration to the front and center could rally voters wanting more control of illegal immigration. But it could also remind the electorate of the administration's family separations.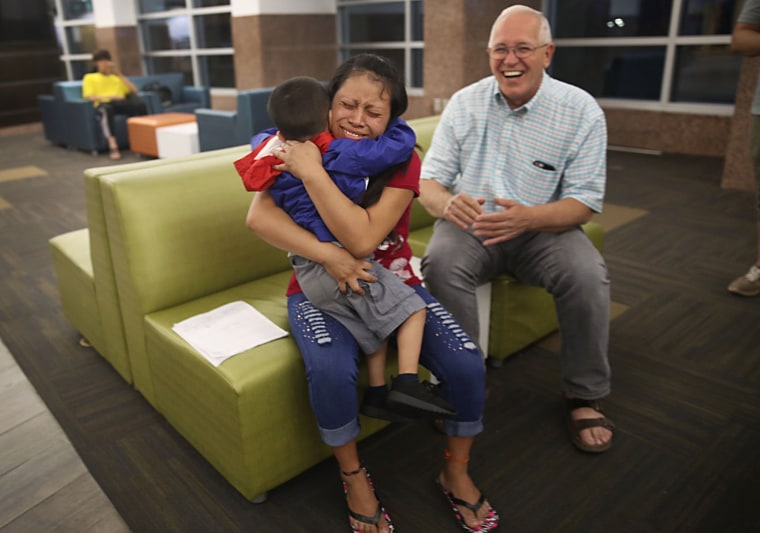 The administration says it separated some 2,500 children from their parents before it was forced to stop the separations. The administration still was sorting out whether children could be reunified and released from their custody in late September.
Despite the separations, the numbers of family apprehensions are up this year, according to Pew Research Center.
As Garcia turns down another hallway at the El Paso shelter, checking in on families and volunteers, he receives a call from an ICE officer.
"Sir — I'm calling to see if you have room for one female Honduras, she is six months pregnant," the officer asked.
Garcia asked, "Do you plan to release her today?"
The ICE officer replied, "Yes."
"Please send her to Annunciation House," Garcia said.
The ICE officer said, "I appreciate your time, thank you."
"That is nonstop," Garcia said, after he hangs up the phone. "This is the fifth woman today."
More families and tougher conditions at the border
Family members, many of whom are already in the U.S., buy bus tickets for Philadelphia, Delaware and Dallas. Annunciation House drives them to the bus depot and families head to their destination.
Garcia said the families stay an average of about two to three days at the shelter. Once in their respective cities, immigrants must check in and register at their local ICE offices and wait for their court date with an immigration judge.
Several families at Annunciation House said they experienced harsh conditions in their time spent in the CBP holding facility before they were picked up by ICE.
CBP said it treats people in its custody with dignity and respect, takes all allegations seriously and investigates formal complaints.
"We didn't get to bathe, or have access to very much water to drink or use to clean ourselves," said one mother at the shelter who was with her 13-year-old son. "The toilet was in the middle of the cell with men and women packed into one small room ... We felt like animals."
A father from Honduras said he made all the other men face away from the center of the room while his 16-year-old daughter had to use the restroom. He and his daughter stayed in the holding cell for eight days.
Another mother from Guatemala said her 7-year-old daughter was so cold in the holding cells, she quickly fell ill and after three days, they had to go to the hospital because her fever was so high.
Just then, 50 more families showed up to the shelter. Volunteers ushered everyone into the cafeteria room where parents seemed relieved to see a hot meal being prepared in the kitchen.
"We welcome you here," Garcia said in Spanish to the group. "Here you will have food, you will have clothing, you will have love."
FOLLOW NBC LATINO ON FACEBOOK, TWITTER AND INSTAGRAM.