A quarter of a century ago, a barrier-breaking Latino left his U.S. House seat and passed the torch to an up and coming Mexican American politician, Xavier Becerra.
Now, Becerra has moved on from the congressional seat he won after the retirement of Edward Roybal and no fewer than 15 Latinos, including eight Latinas, are trying to take his place, along with several other candidates.
On Tuesday, voters in California's Congressional District 34 in the Los Angeles area, will be faced with a myriad of candidates – a total of 23 and a write-in – for the House seat previously held by Becerra, now the state's attorney general.
Becerra faced other Latinos when he ran under different district boundaries in 1992, but not as many were vying as are for this rare open seat in a Latino majority congressional district.
"This race highlights the tremendous interest in elected office by a wide range and wide diversity of younger Latinos politically engaged and well experienced, who make up the crop of the next generation of our civic leaders," said Matt Barreto, a political scientist at University of California, Los Angeles and co-founder of Latino Decisions polling firm.
Also notable are the number of Latinas running, and that only one candidate currently holds elected office, the perceived frontrunner Jimmy Gomez, a legislator in the California Assembly.
"At a time when many are eschewing 'politics as usual,' the fact is a new wave of political activism is emerging," said Mike Madrid, a political consultant and Latino politics experts with GrassrootsLab in California.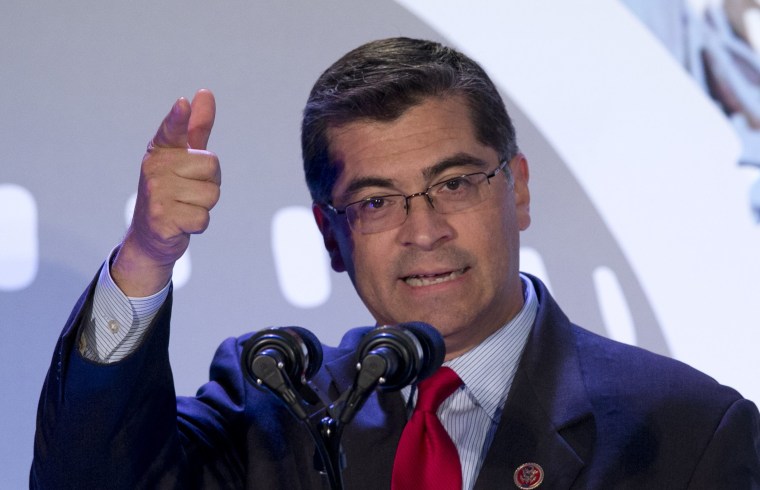 Madrid said that in previous elections candidates had usually been involved in Democratic politics or a union or worked as a Democratic staffer. But several of the Latina candidates in the CD34 race don't have that background. "It's interesting to see so many women, so many Latinas ... there's a double politicization (of Latinas) happening now," as women and as Hispanics, he said.
The candidates include a former Obama White House aide, former journalist, the executive director of a leadership training non-profit; an anti-poverty, non-profit adviser; economic development director, aerospace engineer a certified public accountant and more. The full list of candidates can be found here and more details on each candidate here and here.
Gomez leads other Latino candidates in the money race and has drawn a number of endorsements, including Becerra's. His legislative district overlaps with CD34.
"It's not your typical pipeline," said Arturo Vargas, executive director of National Association of Latino Appointed and Elected Officials Educational Fund. "It's not folks coming from other offices, working their way up the political ladder."
Following a presidential election that saw the emergence of outsiders and backlash against "establishment" politics, some candidates are hoping money and endorsements won't matter as they solicit the needed votes to end up as one of the top two vote-getters.
Barreto said the expectation is that Gomez will make it to the next round. He has the advantage in name recognition in a special election where there is very, very low name recognition and information about the candidates, as well as far less news about the race and few television commercials purchased.
"A lot of what separates second and third place candidates is going to be a small number of candidates," he said. Finishing in the top two may even come down to who has been able to build social media followers.
Related: How US Rep. Xavier Becerra May Become The Face of Trump 'Resistance'
Under California's primary system, the two who get the most votes advance to the general election, regardless of party. With the many candidates, there's little expectation that any one candidate will get the 51 percent needed to win outright.
All candidates in the race are Democrats with one Republican, one member of the Green Party, one Libertarian and one without a party preference.
The outcome too is being watched as something of a barometer on the Democratic Party and it's future direction following the split seen within its ranks during the 2016 primary.
Sixty-seven percent of CD34 is Latino and voters here showed strong support for Sen. Bernie Sanders, I-Vt., over Hillary Clinton in the presidential primaries.
Some of the candidates have been hoping to tap into that, including Arturo Carmona, former political director for Sanders who is in the race. He leads all other candidates in contributions of under $200 each, but is seventh in fundraising rankings, according to OpenSecrets.org. He's also the only candidate to report independent expenditures from outside groups. The National Union of Healthcare Workers PAC and National Nurses United kicked in contributions for Carmona, OpenSecrets reported.
But there are other progressives in the race that don't make his work with Sanders a certainty as the progressives' favorite, including Wendy Carrillo, a former journalist-turned-activist who was endorsed by organizers of the Women's March in Washington, D.C. that followed the election.
"We are seeing a new political activism emerging in the Democratic Party, there's no question about that and you are seeing the first of that here," Madrid said.
"I wouldn't be surprised if we woke up after a runoff and saw a complete outsider win this race," he said.
Related: Gov. Jerry Brown to Trump: You Don't Want to Mess With California
It's not certain that both top spots will go to a Latino. The money leader for all candidates is Robert Lee Ahn, a Korean American businessman.
An area known as Koreatown is part of the district and Asians are 16 percent of the district's electorate. Latino voters outnumber Asian eligible voters 3 to 1. But more Asian voters are voting early, Paul Mitchell vice president of Political Data Inc. told OpenSecrets.org.
"The ballots turned in are favoring Asians by about 700 votes. That will change but the gap is getting bigger," Madrid said. "It's a troubling trend we're seeing, regardless of makeup of a district, poor, urban, suburban, Latinos are very late in deciding and mobilize very late."