The Smithsonian's National Museum of American History has inquired about drawings made by migrant children recently released from immigration custody depicting themselves in cages.
The museum said in a statement Monday that on July 4, one of its curators reached out to the American Academy of Pediatrics and CNN about the children's drawings "as part of an exploratory process."
"The museum has a long commitment to telling the complex and complicated history of the United States and to documenting that history as it unfolds, such as it did following 9/11 and Hurricane Katrina, and as it does with political campaigns," that statement said.
The museum added that it "does not publicize nor speculate on potential collecting prior to formally accessioning artifacts."
The American Academy of Pediatrics provided the drawings to NBC News last week. They were drawn by three migrant children at the Catholic Charities Humanitarian Respite Center in McAllen, Texas, according to the organization. One of the drawings shows figures with sad faces behind bars in a cage, while another appears to show figures also behind bars lying down on the floor underneath blankets.
The Respite Center is where many migrant families go after being released from Customs and Border Protection custody and processing before heading to their next destinations. The center is where many families get their first shower, clean clothes and a hot meal after arriving in the United States.
The children were asked to draw on canvases a picture of the time they spent in CBP custody, according to the American Academy of Pediatrics.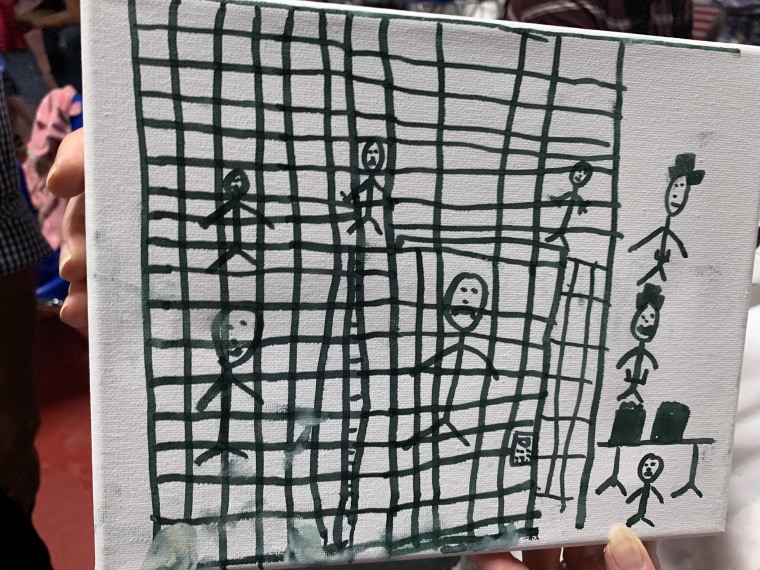 One drawing was by a 10-year-old boy from Guatemala, another by an 11-year-old from Guatemala; and the third one was by a different 10-year-old, but the child's country of origin was unknown.
Dr. Sara Goza, the incoming president of the American Academy of Pediatrics, said last week after touring CBP facilities that children should not be held in detention centers.
"Children do not belong in Customs and Border Protection facilities, or in any detention facilities," Goza said. "No amount of time spent in these facilities is safe for children."
FOLLOW NBC LATINO ON FACEBOOK, TWITTER AND INSTAGRAM.