"Quinceañeras" have been on my mind as my youngest of three children and only daughter recently celebrated that coming-of-age milestone that is traditionally held in Latin American cultures. I still vividly remember been woken up in the early hours of my 15th birthday and being serenaded by my aunt Pilar and dozens of her friends and musicians. And that was just the beginning of my festivities.
The custom of "quinceañeras" began centuries ago to mark the rite of passage from a young girl into womanhood, and is a milestone that is still cherished by all generations of Latinas. My mom recalled with fondness the parties that were thrown for her and her four sisters back in the day in Bogotá, Colombia. No matter who you talk to, they all agree it was and still is, a big deal.
My daughter's party was not a huge event; she wanted something a little more intimate. So we took her and about 8 friends to a trendy restaurant in Manhattan, where they all dressed up and had a memorable and special evening.
But for some families and their daughters, a quinceañera is a major blowout.
"For me, it was definitely worth the fuss", says San Juan, Puerto Rico native Vivi Ali Fortuño, 20, remembering her big party where she had quite the grand entrance.
"I mean, I came down from the ceiling on a swing. It was kind of dramatic," she says.
But in the end, it was also about having all her loved ones around her. "It was really, really special having all my family together. The dance in front of everyone… the waltz and my entrance," she adds with a laugh as she reminisced about her special day.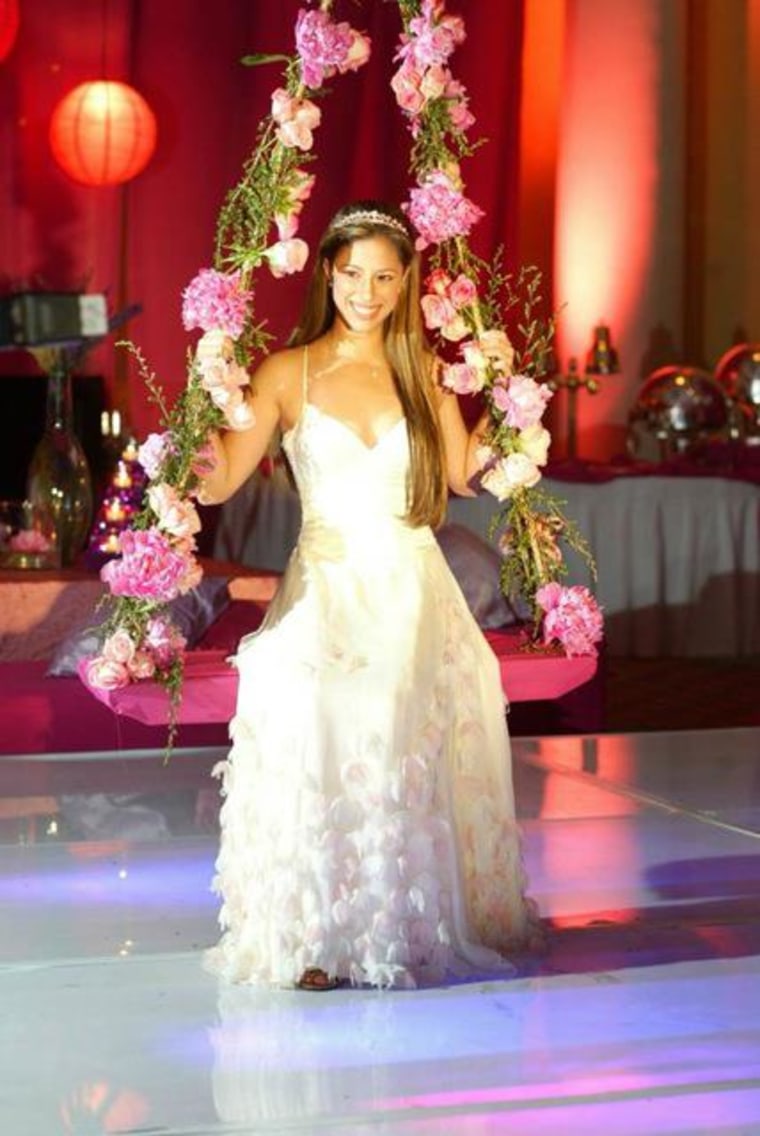 "She wore a white dress, a Puerto Rican tradition," explains her mom, Viviane Fortuño. "In Puerto Rico, we wear four white gowns, one for baptism, confirmation, quinceañera, and on your wedding day. Her quinceañera was a big production, with 200 guests and a band…it was a formal introduction to society. It was very sentimental and emotional."
When I explain this event to my non-Hispanic friends, I equate it with a debutante ball or a Bat Mizvah. Quinceañeras can be very lavish parties that can include live music, a large feast and many guests – much like a wedding. And like weddings, the cost of these parties can vary tremendously. For some parents, it is a point of pride and a desire to keep the traditions alive - and some families spare no expense.
"It is seen as a rite of passage in so many cultures," says Maggie Rodriguez, an event planner in Miami, Florida. Her company, Inspired Events, has been helping young girls and their families plan these parties for about ten years. "I have done some parties for $15,000 and some for $60,000," says Rodriguez, adding that themes for her clients have run the gamut from masquerade balls to an Eiffel Tower-themed party.
Traditions may vary from country to country and family to family, and can include a church blessing, having 14 male and female attendants to represent the previous 14 years of life, receiving a gift from your godparents and dancing the first dance with your father. Some girls wear long fancy dresses and tiaras, others don elegant cocktail dresses.
With the rise of Latinos in the US, this translates to big business for planners, photographers, dressmakers, florists and event sites. Even MTV is in on the action with their show, "Quiero mis 15."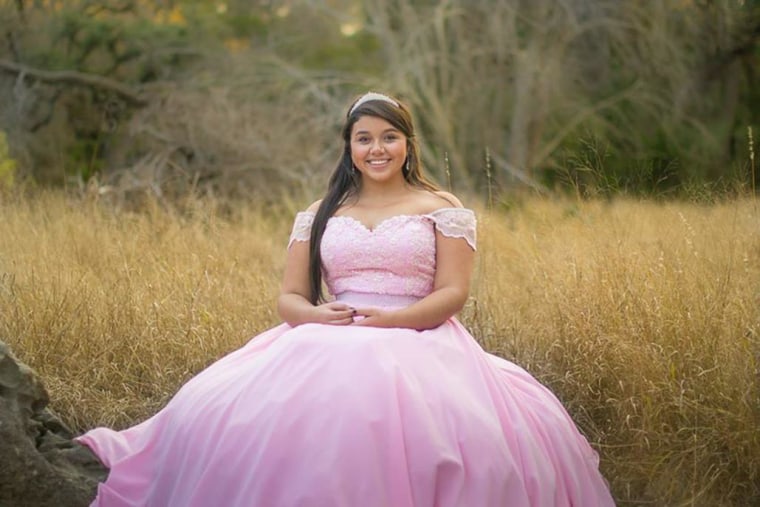 Margarita Machado-Casas went as far as flying her daughter Natassia from their hometown of San Antonio, Texas to Los Angeles to have Melania Cuadra, a seamstress that had worked with her grandmother while growing up in Nicaragua, make her dress. Natassia's quinceañera was a destination event, with 42 friends and family recently making the trip to Cancún, Mexico for a three-day celebration that included a blessing near a "zenote", a natural spring well, a waltz with her father and grandparents, and of course, mariachis.
"We decided to take the time to enjoy the moment," says mother Margarita, who opted out of a huge party at home. She hired a travel agent to deal with all the details and the stress. "Looking back it was the best decision of my life," says Machado-Casas.
For Krizia Lanza Franco, a high school freshman in Miami, Florida, her day could not come soon enough. "Getting ready for it, the make-up, the hair, and putting on the dress," was all worth the months of preparation, said the teen.
Her mom, Alina Lanza, of Cuban descent, said the party was a "gala in her daughter's honor." They went as far as commemorating the occasion with a special pre-quinceañera photo shoot in New York City where her daughter posed as a look-alike Audrey Hepburn. "We just decided to take pictures in NY for fun", says Krizia, "we wanted it to be different."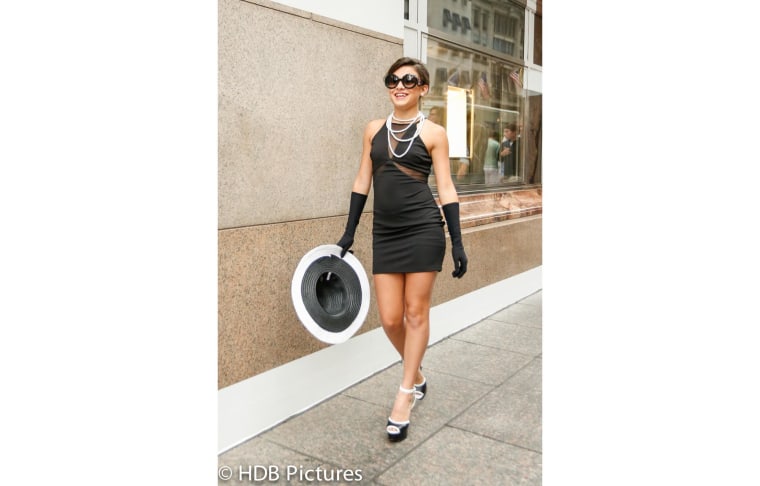 Alex Adaba, a hair stylist in Norwalk, CT, says her nine year old daughter, Sheily Gutierrez has been dreaming of her special day since she was six, and hopes to have a horse-drawn carriage and dance the waltz with her dad. It is a tradition in her family to have a big celebration, and her mom plans to have the party back in her hometown of Santo Domingo where it will be more affordable.
"I want it to be perfect" says Adaba, "so I have been saving for four years….Some people say it is too much money to spend, but you see how much your parents did for your own quinceañera, and it changes the way you see life."
Traditions are evolving, and many second and third generation Hispanic girls are toning down the big celebrations and choosing to have smaller events and parties to mark the occasion.
"There is a real broad spectrum, and it has changed with the times", says Ms. Rodriguez of Inspired Events. The part she loves most about her job is that she gets to help others mark this occasion, "You remember how special it was, and what it meant to you," said Rodriguez.
Thirty some odd years later my quinceañera means a lot to me, and it will undoubtedly be the same for my daughter as well as for countless other young girls.
Some traditions are just worth keeping.