Lionel Messi's decision to retire from Argentina's national team after he missed his penalty during the 2016 Copa America Final against Chile has been stirring up a boiling pot of mixed emotions. Most recently, Argentinian fútbol icon Diego Maradona backed up Messi's decision.
"I want to fight side-by-side with Messi against all the coaches who have abandoned him", Maradona said in an interview with Argentinian newspaper La Nación.
"They left him alone and I won't be one of them, leaving him by himself," Maradona added.
As fútbol fans know, it's a big deal for Maradona to support the younger player who has achieved as many records as Maradona except one glaring thing — lifting a title for his country. This was Messi's third straight major competition loss for Argentina.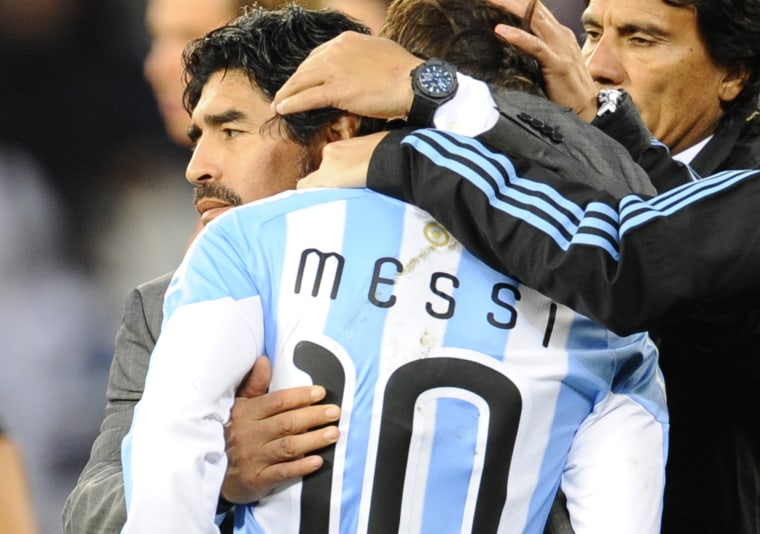 After the loss to Chile, Messi, who is known the world over for his stranglehold on European soccer as the star player for FC Barcelona, fell to the floor in tears. The emotions on his face not only resembled the personal struggle he's had as a player for his native country's team, but also the struggle of a nation that year after year tastes victory, only to have it snatched out of its mouth in the end.
According to the BBC, Argentina's President Mauricio Macri said he called Messi to tell him "how proud he feels of the national team's performance and asked him not to listen to the criticism."
Maradona continued to comment not only on Messi but also about the Argentinian Fútbol Association.
"Those saying he should quit don't want us to see what a disaster Argentinean football has become," Maradona told La Nación.
RELATED: Latino Soccer Fans React to Chile's Triumph, Lionel Messi's Heartbreak
In the U.S., most fans, especially those who support Barcelona, agreed with Maradona about Messi's decision.
"Messi should be supported as the best player in the world, and it is not fair to criticize him when titles are not won. Fans should be proud Argentina makes it that far every tournament due to having the best player in the world Lionel Messi", said Colombian soccer fan, Jorge D Acosta Maury, 22, from Hawthorne, New Jersey.
But as Northeastern University student, Viviano Cantu, 20, from Nuevo Laredo, Mexico told NBC Latino, this was not the case in Argentina, as he observed during his last trip there.
"When I went to Argentina, Messi wasn't really loved," said Cantu. "He was disliked because he played in Europe and not the Argentinian league. So I agree with him leaving since he's not exactly loved in Argentina right now, especially after that penalty."
But Cantu acknowledges the tables seem to be turning for Messi, even in Argentina, and soccer fans are rallying to his support following the traumatic loss.
Twitter erupted after Messi announced his retirement. Fans from around the world started to show their support. Even in Argentina where many would say he had fewer fans, the public cried out with hashtags such as #notevayasmessi (don't go Messi) #quedatemessi (stay Messi) #messiteamo (I love you Messi) #messielmejor (Messi the best).
One tweet in particular seemed to touch the hearts of soccer fans everywhere. The tweet from a little boy reads, "My dearest Messi: Even though I am little I don't give up. You're great, so you shouldn't give up either."
Argentina recently unveiled a bronze statue of the legendary forward. In recent days, more and more Argentinians are hoping he will reverse his decision before the upcoming 2016 Olympics in Rio.
Some fans agree with Maradona's comments that Messi cannot be entirely blamed for the country's string of losses. Some factors that should be taken into account, say some fans, is the performances of the other players.
"It is difficult to know what is going on politically in the Argentinian Fútbol Association, but if it really is that bad then maybe Messi should take a leave and return when everything is stabilized. There are other players potentially following his path, so it shows how widespread the problem is", said Daniel Arvidsson, 21, from Sao Paulo Brazil.
Up next for Argentina is the 2016 Olympics in Rio, where with or without Messi, the country hopes to finally take home a first-place medal.