NEW YORK, N.Y. — The Latino population in the United States has grown by nearly 20 million people since 2000, so it is time to amplify their voices and especially their votes, says a prominent Latina.
Award-winning journalist and media maverick Soledad O'Brien brought together prominent Hispanic leaders and activists at El Museo del Barrio in East Harlem in New York City on Monday for a spirited discussion on voting rights, public education expansion and Hispanics' changing representation in the mainstream media as part of the "I Am Latino In America Tour."
"In newscasts, the main issue is always framed around immigration, or not framed at all. We want to talk about so much more in the Latino community," O'Brien told NBC Latino before the event.
"We want to take those issues and put them into a public forum and have feedback from panelists, while having a dialogue and conversation about the issues that affect Latino communities," added O'Brien.
The idea for the tour originated with O'Brien's documentary series called "Latino in America," in which she explored the 2008 presidential election and highlighted the achievements of select Hispanics like Mexican-American boxer Marlene Esparza. O'Brien also explored the last name Garcia, which is the eighth most numerous name in the U.S., and what that statistic means in a changing and diversifying America.
"We are not part of the greater narratives of Latinos throughout the country," O'Brien said, especially when it comes to education. "There is a massive percentage of Latinos that are literally the subject of public education in America. Why are we not the face of that discussion? … We sort of get hauled out for the immigration discussion."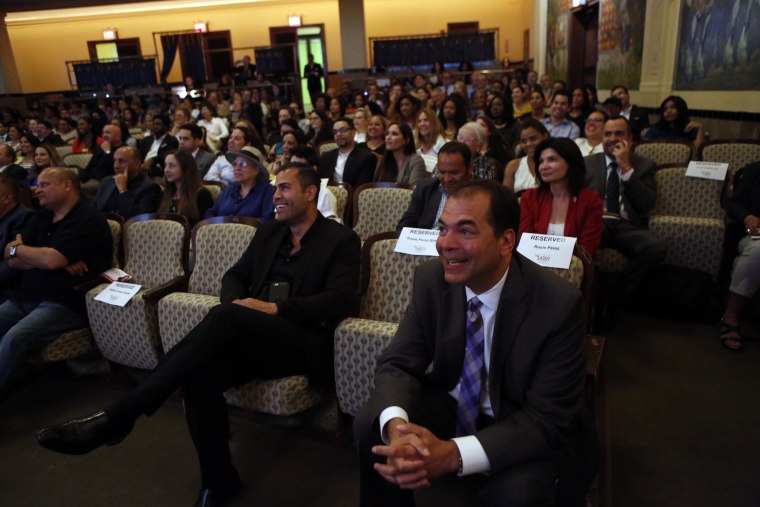 O'Brien said that for Latino voters, education is the top issue, followed by the economy and then healthcare; immigration comes in fourth. Staying true to what Latinos statistically care most about, according to O'Brien's reporting, each segment mentioned education as a means of giving Hispanic voters stronger platforms.
Hispanic Federation president José Calderón said changing these perceptions of Latino voters in the mainstream media landscape, and as a voting group, begins with educating youth about Hispanic history in the U.S.
Lily Eskelsen García, president of the National Education Association, and Carmen Fariña, chancellor of the New York City Department of Education, answered questions about the value of public education and offered their ideas to improve experiences for English-learners.
"So many times people talk about more and more Latino kids and English-language learners coming in like it is a problem," Eskelsen told NBC Latino. "The richness of diversity is makes us the country we are."
"We have an amazing opportunity to take a population that understands cultural diversity, that is language diverse, and say this is what will build the foundation of the future," Eskelsen said.
With the help of Hispanic Federation's Calderón, CEO of Girl Scouts of the USA Anna Maria Chávez and actress Rosie Perez O'Brien moderated the "Big Ideas" segment to discuss what everyday Latinos can do to help the community.
Chávez addressed a common trust issue Hispanic parents have with "sending their daughters to go camping in the woods with strangers." She said Latino parents could change this perception by become volunteers themselves.
Comedian Vladimir Caamaño, along with actor and U.S. Marine Corps veteran J.W. Cortés and producer and salsa great Willie Colón spoke on representation in entertainment, the portrayal of Latinos and how current stereotypes can be changed. Cortés, who sang the "Star Spangled Banner" at the opening of the event, spoke of his work helping Latino veterans in the field of entertainment.