The number of people applying to become U.S. citizens is at its highest level in four years, a Pew Research Center analysis of citizenship applications data has found.
A total 249,609 immigrants have applied for naturalization — the process of becoming an American citizen — from the start of October 2015 to end of January 2016, Pew stated in a blog report published Friday.
That is a 5 percent increase over the period from the start of October 2011 to end of January 2012, the most recent previous election cycle. It also is a 13 percent increase over the same period last year — from the start of October 2014 to the end of January 2015.
There have been reports of increased interest in applying for citizenship around the country and advocacy groups in Latino, Asian and immigrant communities have been working to get more of the estimated 8.8 million legal residents in the country who are eligible to apply to become citizens.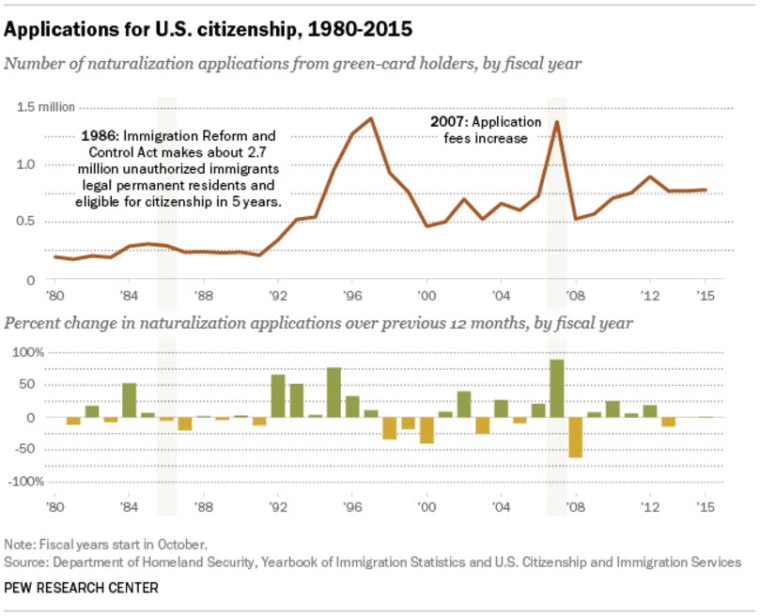 Some advocates say that the upswing is tied — at least partially — to fear of presumptive Republican nominee Donald Trump and his anti-immigrant statements and proposals, which include the mass deportation of people not legally in the U.S.
The advocates have held 300 workshops around the country and are doing other outreach to help people become citizens in time to vote in the November election.
The groups say they've probably reached about 500,000 people with their online, mail and phone call messages and have helped 12,781 fill out their applications. Lawmakers such as Rep. Luis Gutierrez, D-Ill., also say they are seeing increases in requests for help in filling out the 21-page citizenship application.
The White House also has been working to increase citizenship among legal residents.
Related: Groups: Trump 'Scaring' People, Driving Up Citizenship Applications
Increases in previous years have come in February through May, so just how much an effect Trump and the citizenship campaigns are having won't be known for a couple months at least.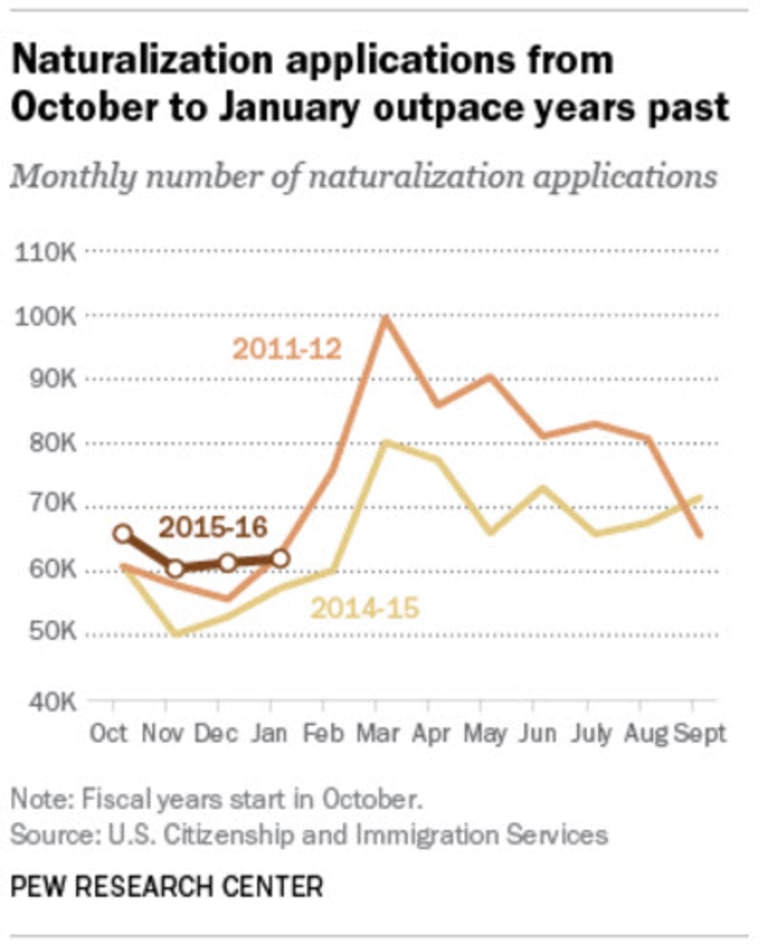 The advocacy groups say they want to see 1 million people apply for citizenship this fiscal year, which continues through the end of September. That would mean about 250,000 to 350,000 more people would have to apply this year than other years when about 650,000 to 750,000 applied.
The largest single increase in citizenship applications since the government started tracking them in 1907 was in 2007, just before a spike in the cost of applying, from $330 to $595, Pew reported. That year, applications reached nearly 1.4 million.
Other significant increases were seen in the mid-90s. The 1986 law granting legal permanent residency to nearly 3 million immigrants illegally in the U.S. and a tough 1996 immigration enforcement law are considered likely contributors to those increases.
There is a total of about 13.3 million immigrants in the U.S. who are legal permanent residents. Legal residents must have lived in the country five years to be eligible to apply for citizenship, unless they marry a citizen and then the wait generally is three years. Citizenship applications require paying $680 in application and fingerprinting fees, passing civics, English and a naturalization test, done in an interview.