FLAGSTAFF, Ariz. — Political candidates have been reluctant to invest in Spanish-language television ads, but in this high-stakes midterm year, a growing body of research suggests it can give candidates the edge that can put them over the top in a close election.
Albert Morales, senior political director of the polling firm Latino Decisions, has been studying markets where candidates explicitly went after Latinos in advertising, such as the campaign for Sen. Catherine Cortez Masto, (D-Nev.), who went on to win the election and make history as the first Latina U.S. Senator.
Morales said a look at polling before and after the Cortez Masto campaign placed Spanish-language TV ads showed a steady climb in Latino voter interest after the TV ads aired. "It was steady; she held that all through Election Day," he said.
As Matt Barreto, professor of political science and Chicano Studies at UCLA and Latino Decisions co-founder pointed out: "The data for the Nevada Senate indicate that Cortez Masto started [placing Spanish-language TV ads] in March 2016 and advertised consistently through November 2016, and this correlated with an increase in her favorability ratings among Latino voters, resulting in her winning 79 percent of the Latino vote," said Barreto.
More telling, said Barreto, is what happened in the areas where Cortez Masto did not go after Latino voters as aggressively with TV spots, such as outside the Las Vegas area.
"Latino turnout in the Las Vegas media market was 72 percent, while outside of Las Vegas Latino turnout was only around 56 percent," said Barreto.
Twenty to thirty percent of Latinos get their news in Spanish, said Morales, and failing to target them early and consistently can have negative consequences. In contrast to Cortez-Masto's aggressive Spanish-language advertising, Arizona Democratic candidate Ann Kirkpatrick's campaign did not have a strong strategy for Latino voters and Spanish-language messaging came late in 2016. She lost to Senator John McCain by double digits.
Melissa Michelson, an expert on Latino political participation and professor of political science at Menlo College, points out that one reason politicians may be skeptical is that there hasn't been enough research to show why political candidates should justify the expenditure.
"We don't know a lot about Spanish language ads," said Michelson. Most studies focus on self-reporting from voters, which means that Latinos who are already viewing Spanish language programming to get their political news may already be pre-disposed to participate anyways.
However, Michelson said the body of knowledge is growing. "There have been some experiments and observational studies, and those do point us in the direction of Spanish language ads."
Reaching out to Latinos, especially Spanish-speaking ones, is fraught with pitfalls, particularly for non-Hispanic candidates. President Gerald Ford, who was born in Nebraska and grew up in Michigan, famously campaigned at The Alamo in San Antonio, Texas, where he was handed a plate of tamales and took a bite of a tamal with it still wrapped in the cornhusk - a mistake still remembered and unfortunately captured on camera.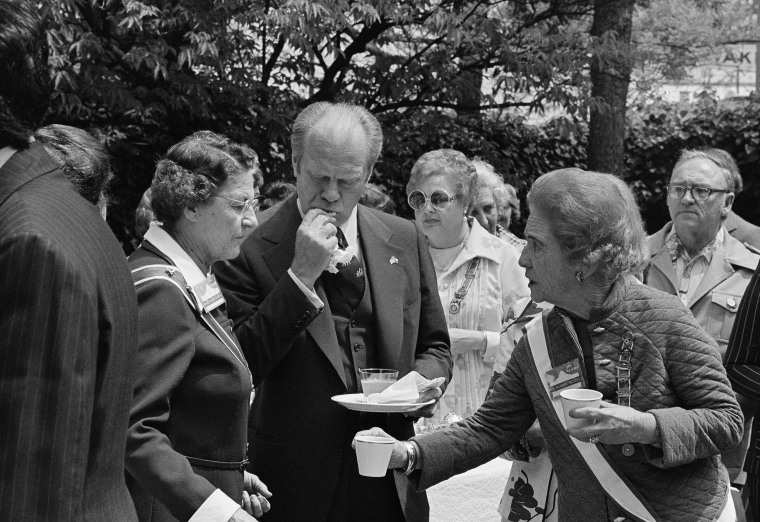 Despite the occasional difficulties in getting cultural cues right, candidates since President Eisenhower have used Spanish-language ads to appeal to Latinos. President Eisenhower targeted Latino voters by advertising on Spanish-language radio in counties across Texas in 1956 and Jacqueline Kennedy famously spoke Spanish in an ad for her husband, John F. Kennedy, in 1960.
Research by Rudy Alamillo and Loren Collingwood at the University of California, Riverside, argue that these appeals can have a positive impact on non-Latino candidates, and that the notion that shared ethnic backgrounds are needed for an explicitly ethnic appeal to work is misguided.
Cultural appeals by non-Latinos, such as Spanish-language ads, can bridge the gap between Hispanics and white candidates. Michelson agreed that these appeals have been shown to be important, even if awkward, so long as they are sincere.
What matters is not so much authenticity, but sincerity, said Michelson. "Even if a candidate is speaking in broken Spanish, Latinos may say, 'Wow that person is bad, [in terms of their Spanish], but at least they are trying.'"
Despite the advantages, researchers emphasize that the right messaging matters. "I think it would be unwise for candidates to ignore Spanish-speaking voters, however, candidates should carefully consider the content of these ads and who they intend to target," said Yamil Velez, an assistant professor of government at Wesleyan University.
Political scientists like Velez have been studying the influence of Spanish-language programming as it relates to voters and voter turnout. In a research paper presented at the American Political Science Association's annual conference in 2017, Velez reported findings that the expansion of Spanish-media programming could have a depressing impact on political participation in the short term.
For instance, the study looked at markets in Florida and North Carolina where the expansion of Spanish-language content that focused on entertainment rather than political news had a negative impact on political participation. Political science has in the past pointed to television as a culprit in the reduction of political activity by those who prefer entertainment to information.