When Spanish lifeguard Oscar Camps traveled to the Greek Island of Lesbos to help rescue migrants from drowning in September 2015, he was overwhelmed by the magnitude of the crisis—hundreds of men, women and children desperately throwing themselves onto barely seaworthy boats to escape from Turkey to Greece.
"When we got to Lesbos we realized that no one was there," Camps told NBC Latino, "there were no volunteer organizations or governmental institutions, and people were drowning. So we had to start working fast. And on our first day, we rescued people with almost no gear—swim fins and a neoprene wetsuit."
Since then, two islands in the Mediterranean—Lesbos in Greece and Lampedusa in Italy—have become battlefronts in a much wider political war about border security and immigration. Camps used his life savings to found the nonprofit Proactiva Open Arms, an organization that helped over 140,000 migrants reach land safely. It has also rescued another 20,000 caught adrift, trapped on coastal cliffs and in direct danger of drowning.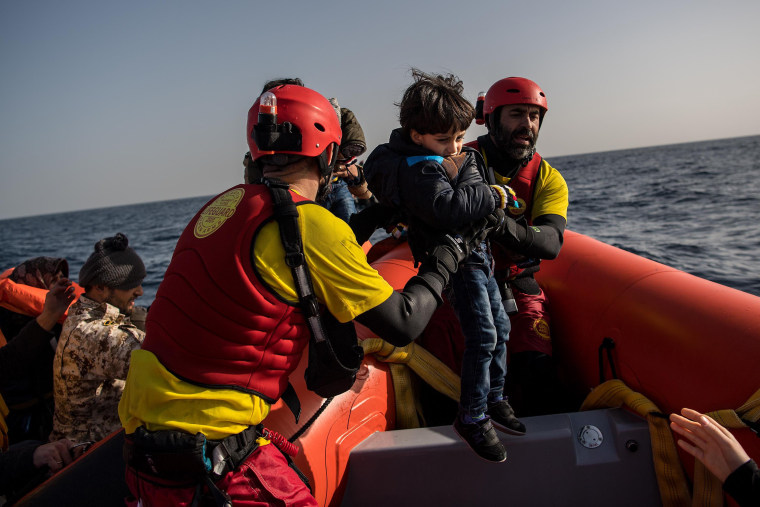 The organization is receiving the $100,000 ALBA/Puffin Award for Human Rights Activism in New York on April 16.
Camps told NBC Latino that the migrant crisis is a symptom of a much wider tragedy that impacts all of humanity.
"We [referring to Europeans, Americans, and other people around the world] have labeled immigrants in a very tendentious way as 'terrorists', 'economic refugees', and other adjectives that polarize public opinion against them," said Camps. "But all of these people belong to families. We rescue entire families who flee persecution from war because they refused to join one side or another."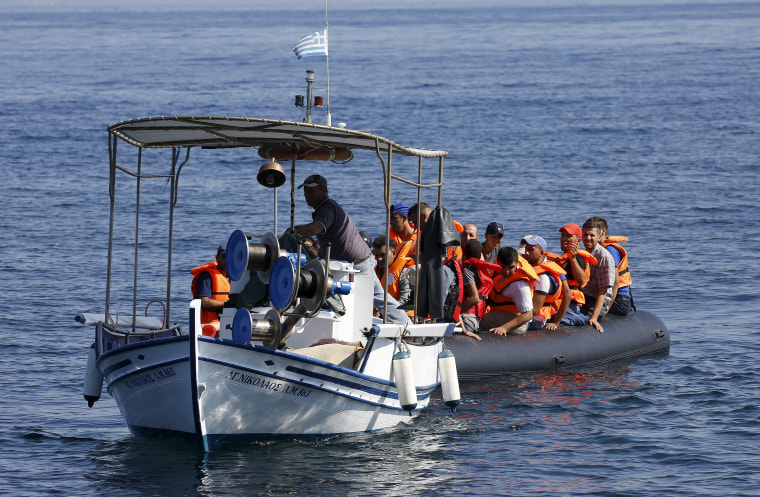 Two months before Camps reached Lesbos, the United Nations Refugee Agency reported that the majority of migrants who risked their lives to cross the Mediterranean in the first six months of 2015—137,000 men, women and children from Syria, Afghanistan, Eritrea, and other countries—qualified for refugee status. The agency calculated that over one million migrants crossed to Italy and Greece in all of 2015. And while that number has decreased to almost 345,000 in 2016, the migrant death toll rose to an all-time high—with over 5,000 dead or missing that same year.
RELATED: Here's a Place in Trump's America Where Refugees Are Welcomed
Proactiva organizers and volunteers say that immigration policies are pitting countries against migrants. But European cities and communities are standing up locally to defend immigrant rights. In 2016, for instance, the nonprofit raised over $2 million in nine months—96 percent came from private civilian donations. And organizers say that the $100,000 human rights award from New York will fund only 17 days of rescue missions at sea (roughly $5,855 per day, depending on the exchange rate.)
Laura Lanuza, a spokesperson for Proactiva, says that from the front lines, they see countries "prioritizing borders over people." She believes European countries could be offering more asylum to refugees instead of asking countries like Turkey to act as a border.
In the U.S., immigration rights activists have criticized the policies prioritizing border security and criminalizing immigration —from President Trump's executive orders banning immigrants from certain Muslim-majority countries to budget proposals favoring military spending and the building of a 30-foot Mexican border wall.
Lanuza explained that this tension between border policy and immigrants is not exclusive to right-wing European or American populists today, but part of a much older tension that is at the core of our national identities and has shaped the politics of our cities and countries.
"Not so long ago, they [referring to migrants today] were our grandparents, And now history repeats itself," said Lanuza. "How many exiles had to escape to France [and Mexico, among other countries] from the Spanish Civil War? Those were our grandparents. How many relatives and friends had to migrate internally in Spain for better job opportunities?"
Camps, who gave Pope Francis the life jacket of a 6-year-old girl who drowned in the Aegean Sea in 2016, explained that the solution for the crisis starts by telling migrant stories.
The Spanish lifeguard shared one such story at the Palau Sant Jordi arena in Barcelona last February in front of 16,000 spectators. He described the horrific story of a small girl, younger than 17-years-old, who after escaping from the jihadist group Boko Haram in Nigeria was forced into prostitution by another group in Libya. She disfigured her face with a fork so that her captors would find her unattractive enough to disown her.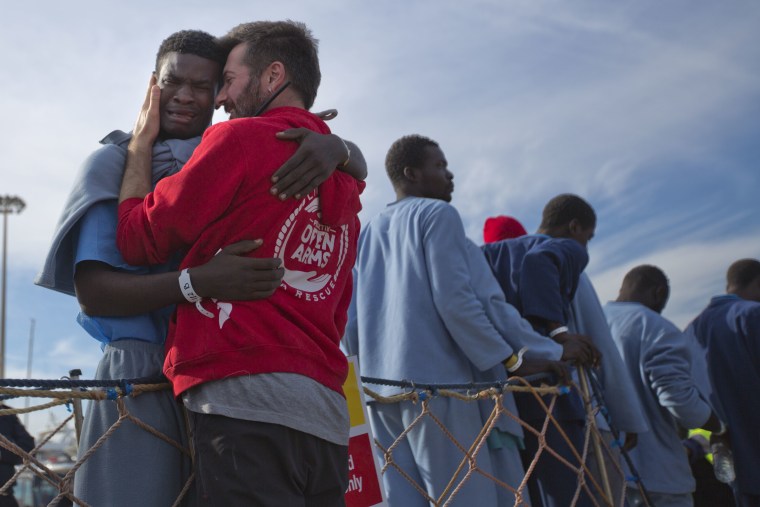 Camps told NBC Latino that while cities like Barcelona or New York are creating safe spaces for immigrants, it is not enough. And until countries work together at a larger human scale to create a safer planet for everyone, organizations like Proactiva need to continue jumping into the water.
"The presence of nonprofits at sea humanizes border agents," he said. "And if we intervene to save lives, we force them to do the same."
Proactiva launched a crowdfunding campaign to support ongoing missions.