WASHINGTON — The potential deportation of the wife of a Special Forces veteran underscores an ongoing shift in how the federal government is dealing with immigration and the military.
Elia Crawford, who is married to retired Sgt. 1st Class Bob Crawford, has a hearing set for Monday in Virginia, which was first reported by the Military Times.
Her attorney did not return several phone calls from NBC News on Thursday.
The Times said the couple has two children, ages 12 and 9, who Elia cared for while her husband deployed when he was active duty and now as a contractor. "My wife supported me the whole time I was gone — she ran the house," Crawford told the Times. "Behind every good soldier is a good woman."
Crawford and his wife tried for years to get Elia a green card, but they have been unable to do so because of a deportation order that dates back to 1999, according to the Times.
An Immigration and Customs Enforcement spokeswoman told NBC News that ICE was in touch with Elia's attorneys and "working to resolve the outstanding issues."
Margaret Stock, an immigration attorney who specializes in how the law affects military personnel and veterans, said it's not uncommon for someone to have an old, outstanding deportation order and still be able to get a green card.
"The other day (Defense) Secretary Jim Mattis gave a news conference and said we take care of our own," Stock told NBC News. "You can't run an effective military if you don't take care of the family."
A changing policy
Starting under President George W. Bush and continuing under President Barack Obama, government attorneys would agree to reopen and terminate such orders when they involved an active duty military or a veteran's family member, Stock said.
But that has changed under Trump.
"Only recently, the attorney general ordered (government) trial attorneys not to agree to terminate anyone's deportation order," Stock said. "They are maxing out deportation orders and trying to enforce every deportation order."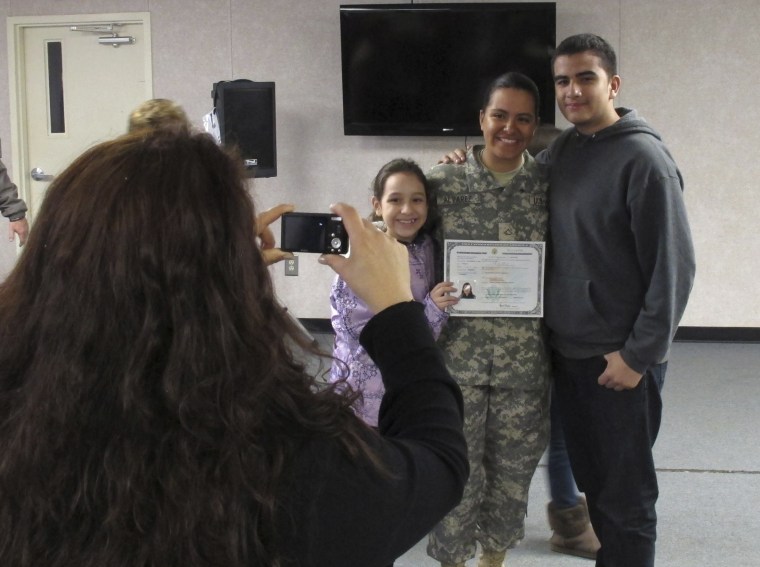 Stock noted that White House Chief of Staff John Kelly previously served as head of Southern Command and once wrote an opinion piece that stated Honduras was the most violent country in the world.
"To deport a Special Forces guy's wife back to Honduras doesn't make sense because she's going to be targeted by cartels because she's the wife of a Special Forces guy," Stock said.
Presidents have adjusted immigration regulations over time to accommodate military and veterans, in part to improve military morale and readiness.
Following the Sept. 11, 2001 attacks, Bush issued an executive order accelerating citizenship proceedings for active duty military. Similar orders had been issued in other wars.
That was followed by programs that allowed personnel to get their citizenship after completing basic training. As that program was installed it became common to see images of military personnel taking the oath of office abroad.
The Obama administration adopted a policy that lets children, parents and spouses of active duty personnel, reservists and veterans to be eligible for legal permanent residence, which grants them a green card. But the Crawfords can't use the program while Elia is in deportation proceedings.
Last year, the Department of Defense took over naturalizations for military personnel and put in place new, more complex background checks. Now, foreign-born military personnel must be certified by DOD to be eligible for the naturalizations, Stock said. Those checks must be passed before they can to start basic training, he said.
"The Marine Corps has stopped recruiting green card holders because of this," Stock said. She said there are 5,000 green card holders who can't get naturalized because of the change.
Stock said she's seeing more clients who have ended up in detention, including one who is an honorably discharged veteran who had no criminal background and was picked up because he had not attended college after joining the military.
He was a college graduate who had enrolled in a master's program at the University of Northern New Jersey, which he later learned was not a legitimate school, she said. He ended his enrollment with the school when he went into basic training. DHS has said students knew the school was a scam but students say otherwise.
Stock said Immigration and Customs Enforcement officers came to Fort Benning, Ga. to arrest her client on the day of his military discharge and held him in custody until a college professor from Beloit bailed him out.
"Basically, there's not justice any more. It's just numbers — let's try to get as many deported as we can, let's just lock them up so they can't get to a lawyer," Stock said.