Heroes often represent the highest values of society — humility, courage, honesty, integrity, perseverance and selflessness. Spider-Man struggles to become that hero in the new Marvel blockbuster "Far From Home," which premieres nationwide Tuesday. Dominican actor Hemky Madera says that the core of the web-slinger's values can be found in his friendly bodega — the name for the neighborhood corner store in predominantly Latino neighborhoods.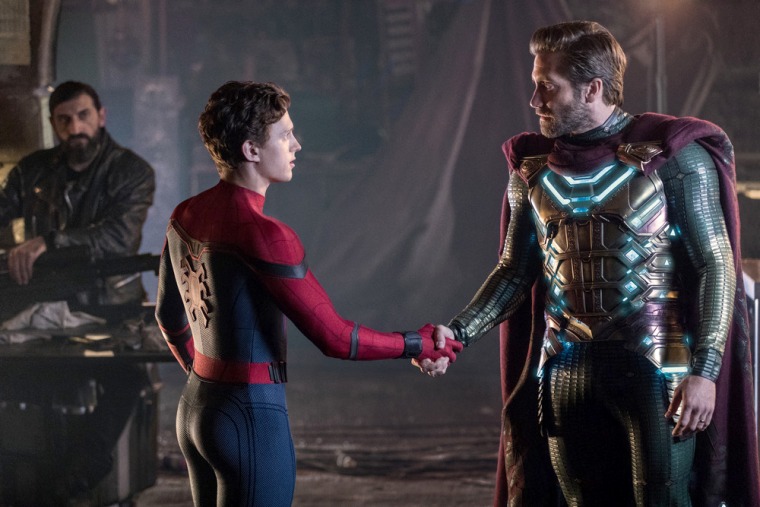 "Spider-Man tips his hat to all of those bodega owners that are almost part of your family and serve your community," said Madera, who plays the wisecracking bodega owner Mr. Delmar in the reboot of the superhero franchise. "They serve the community by selling the goods that everyone needs. They work hard and have a great sense of humor."
While "Far From Home" takes place mostly in Venice, Italy, and Prague, fans will see Mr. Delmar again in an exclusive short film on the Blu-ray release — when Peter Parker visits his bodega as part of a checklist before traveling abroad.
The bodeguero, or corner store owner, is one of the few characters who interacts with Parker every day in Queens. And Madera, who also grew up in the largest borough of New York City, recalls that this relationship is a throwback to the real bodega friendships that shaped his youth.
"The bodega was where I got my Wiffle balls before a baseball game. And my soda and chips after the game. And as I got older, it was where I also got my egg sandwich and juice. But the bodega was much more than a routine. It was part of my daily life," Madera told NBC News. "One thing you need to know about the bodegueros growing up is that they knew everything. If you had problems, they would talk to you. And Mr. Delmar seems to have that type of relationship with Peter Parker. They joke around with each other and see each other every day."
"Far From Home" takes place chronologically right after "Avengers: Endgame," when Parker and his family and friends are still coping with the aftermath of an epic battle that threatened the lives of billions all over the world. And as Parker tries to return to his normal life as a 16-year-old high school student, he will soon face another threat that will force him to suit up again.
The movie also introduces Quentin Beck (played by Jake Gyllenhaal) as a new mysterious hero from an alternate Earth who will team up with Spider-Man in Europe to fight monsters that are made from the primary elements of nature — air, water, fire and earth.
These larger-than-life creatures will remind viewers of the real-life dangers of natural disasters which can devastate the planet with powerful tornadoes and hurricanes, rising ocean levels, infernal forest fires and massive earthquakes. And this environmental crisis will test Parker — is he ready to step up as the superhero that the world is calling for?
In many ways, Madera says, Spider-Man is a universal story about the American dream. Parker is an everyday teenager who works hard to overcome difficult odds and transforms himself from an underdog to a mainstream hero. And the Dominican actor compares the superhero's drive to serve and succeed with the drive of the owners of bodegas and other neighborhood stores everywhere.
"Any immigrant that moves to the United States wants to move up to a better life," Madera said, describing the bodega as a milestone in the American dream. "They work really hard to buy or set up a bodega and serve their community. And these bodegueros sometimes stay for a lifetime and their kids take over."
In the movie, Parker has to pick between being a high school student and living up to the expectations of being a superhero. And in 2019, Spider-Man — like his real-life fans — finds himself stuck in a world where values are shifting, communities are changing, and people are becoming disconnected.
But Madera points out that Spider-Man compels viewers to develop their own Spider-Sense — Parker's beloved Aunt May (played by Marisa Tomei) calls this survival instinct a "Peter Tingle" in Far From Home — to help them find their place in the world. And for the Dominican actor, the web-slinging hero is helping Latino fans find their own place in mainstream culture by embracing diversity and the small neighborhood bodegas that helped build their communities.
"Latinos have a bad rap. I play a lot of villains, so playing a regular nice guy in Spider-Man is awesome," said Madera, who is best known for his TV roles as hit man Pote Valdez in "Queen of the South" and as Mexican drug cartel criminal "Ignacio" in "Weeds."
"Playing a bodeguero shows how immigrants helped build this country," said Madera.
FOLLOW NBC LATINO ON FACEBOOK, TWITTER AND INSTAGRAM.