While George P. Bush was telling Texas Republicans last week that it was time to get behind the party's presidential nominee, former GOP official Wadi Gaitan was on his way to leave his job in rejection of Donald Trump.
The two are hardly at the same political level. Bush is the son of the failed presidential candidate and former Florida Gov. Jeb Bush, nephew of former President and Texas Gov. George W. Bush and grandson of former President George H.W. Bush. Gaitan was a House Republican Caucus spokesman and is soon to leave his job as spokesman for the Florida Republican party.
But both are Hispanics in the GOP whose contrasting decisions depict the soul wrestling and political positioning some Latinos active in the GOP are engaging in as their party, community and family loyalties are being tested by the candidacy of Donald Trump, the GOP's nominee for president.
While George P. Bush has yet to elaborate on the reasons for his decision, Gaitan provided a statement to NBC Latino Monday, expressing gratitude for his two years at the Florida GOP and his eagerness to "continue promoting free market solutions while avoiding efforts that support Donald Trump." He'll go to work for LIBRE, a non-partisan group that promotes conservative ideas among Latinos.
Others in the GOP have had to make similar teeth grinding decisions of whether to work on Trump's behalf or reject him. Some are making their decisions quietly, but many in the political realm have made their feelings known or can't prevent them from being known.
Helen Aguirre Ferré, who used to blast Trump in tweets and in television appearances, now works for the party as the Republican National Committee's (RNC) Hispanic media spokeswoman. As part of her job, she appears on TV to explain or divert attention from Trump's statements or campaign gaffes.
She replaced Ruth Guerra as the party's Hispanic media spokesperson. Guerra left the job for a political action committee because of Trump, sources told various media outlets, including NBC Latino.
Aguirre Ferré did not respond to a request for comment about her decision on which way to go on Trump. Gurerra declined comment.
But Aguirre Ferré did respond to a question about George P. Bush's decision on behalf of the Republican Party. "It is not always easy to unite as a party, but it is important to support the candidate chosen by the voters thereby honoring their decision," she said.
The Texas Tribune first reported George P. Bush's remarks and obtained a video of the comments from an audience member.
"I know a lot of us in this room had dogs to fight in the primary leading up to the race, but you know what? It's time to put it aside," George P. Bush said. "And you know, from Team Bush, it's a bitter pill to swallow, but you know what? You get back up and you help the man that won and you make sure that we stop Hillary Clinton."
Trump frequently referred to Jeb Bush as low energy when the two squared off in the primaries. In July 2015, Trump retweeted a tweet attacking Columba Bush, George P. Bush's mother. The tweet said Jeb Bush "has to like the Mexican illegals because of his wife." His mother, Columba is an immigrant from Mexico.
Trump had declared that Mexican immigrants bring crime, drugs and are rapists when he launched his presidential bid a month earlier.
George P. Bush's backing of Trump, lukewarm as it may have been, and his asking others to do the same, surprised some, given Trump's attacks on his father and the fact that he had skipped the national convention, despite being the Texas GOP Victory chair.
In a report on George P. Bush's decision, The Associated Press reprised this May comment from him on not endorsing Trump at that time: "I've got two boys that are 1 and 3 ... I want them to be able to look at the Oval Office and see the presidential seal and say, 'That is somebody who I look up to.' And right now, Donald Trump's not satisfied that litmus test."
There were no responses to requests from NBC Latino for comment from George P. Bush or a spokesperson.
George P. Bush oversees the Texas Republican Party's effort to win other offices that are in contention this year, including court, legislative and school board positions. He's also responsible for leading fundraising for state Republican voter turnout.
He has been considered the next generation of the Bush political dynasty and was considered key to the party's effort to increase Latino members.
He also is seeking to move up the political ranks in Texas, where the GOP made a hard shift right two decades ago, where every statewide elected office is held by a Republican and where the state's GOP primary gets heavy turnout from far right conservative voters.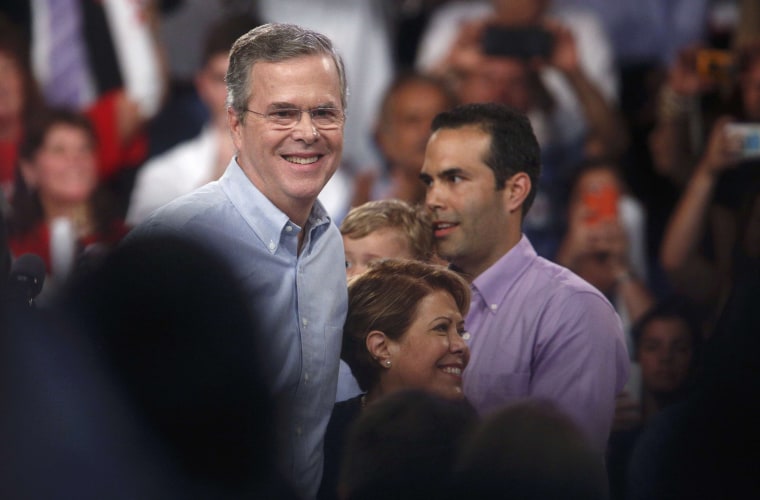 Diego von Vacano Camara, an associate professor of political science at Texas A&M University, home to the George H.W. Bush library and museum, said George P. Bush's backing of Trump suggests he looked ahead at the possibility of running for higher office in the state.
"As a Latino in a prominent family, he wants in a sense, to hedge his bets. He doesn't want to go the route Ted Cruz did and not support Trump in a red state," von Vacano said. Cruz, who gave Trump the biggest challenge in the primary, spoke at the GOP convention but was booed for not endorsing Trump in his speech.
Related: Clinton's Lead Over Trump Increases In Three Battleground States
State politics can be a part of the Latinos' decisions. Unlike Texas, California is a Democratic stronghold and has a primary system in which the top two vote-getters go to the general election, regardless of party affiliation.
Luis Alvarado, a Los Angeles-based GOP political strategist, was at a Colorado news conference in October 2015 where GOP Latino leaders vowed never to support Trump because of his rhetoric against immigrants and other groups. They also warned other politicians against adopting his positions.
Related: GOP Hispanics to Unite Against 'Deomonizing' of Latinos Before Debate
But since then some members of the group, including Alfonso Aguilar, executive director of the American Principles Project Latino Partnership, and Texas businessman Massey Villarreal, have changed their minds and are now backing Trump.
Alvarado said he "couldn't be more astonished by (Aguilar and others') reversal or their reasoning for finding Trump's candidacy attractive in any way."
"For me it was crystal clear that I had to stand on principle if I ever wanted to be considered for a conversation with my Latino community and day after day, Donald Trump has proven that I made the right decision, not just because of his insults to the Latino community, but most importantly his ineptitude in understanding the challenges of the presidency," he said.
Alvarado acknowledged George P. Bush probably went through an excruciating process to decide to back Trump. He said he has long considered George P. Bush to be a "man of character and high intelligence." But Alvarado said he was bewildered by the choice and wondered "by what process he found Donald Trump an acceptable candidate. I certainly question his decision."
Related: Group of Latino Conservatives That Once Bashed Trump Is Now Backing Him
In announcing his switch on Trump at the Republican National Convention last month, Aguilar said he and other members of the group had essentially decided he was a better choice than Hillary Clinton.
Villareal told NBC Latino that Hispanics in both parties "need to do a close examination of their nominee."
"Take away our party labels and look underneath the hood," he said. "Trump has said some things that are difficult to comprehend or understand. Hillary has done some things in her 30 years of public service that are very questionable. How do you measure said versus done?"
Lionel Sosa, a San Antonio marketing executive who helped craft George W. Bush's Latino outreach, seemed to have enough to make his measurement. He described Trump's nomination as abandonment by his party in a column published in the San Antonio Express-News in June.
"Here's my quandary. If my party's left me, where do I go? What should I do when there isn't a horse in the race that stands for the core values of the party that I loved? I may just go for the devil we know instead of the lunatic we don't know," Sosa wrote.
For Juan Hernandez, a political adviser who worked for George W. Bush and John McCain, the only place to go is to another party's candidate, Libertarian Gary Johnson. He said in an opinion column that he is "heartbroken" by the party's support for Trump, whom he said is the "most insulting and dangerous candidate." He said he reached the decision to back Johnson, a former New Mexico governor, after "a lot of reading, praying and debating family and colleagues."
Another Hispanic Republican, who did not want to be named in order to speak freely, said his decision to reject Trump is not just based on how Trump spoke about Latinos, but also Trump's disregard for principles that the Republican party has stood for for decades.
"It goes beyond their personal background and family," the Hispanic Republican said. "Are we a country that's going to be united? Are we a country that's going to bring people together? Our nation has been built on diversity and freedom of thought and religion. Those are American values that have united people from all backgrounds here in the country."
Alvarado said the looming question for GOP Latinos is what will happen after November, when – as he believes – Trump is defeated? "What kind of excuse or what kind of argument will they build" or give to explain supporting "a failed nominee?"
Related: Clinton's Lead Over Trump Increases In Three Battleground State
"I think the GOP still has strong leaders and can look to the future with the Wadi Gaitans and Ruth Guerras, he said.
"Those are they guys I'm going to follow. Those are the ones I'm going to believe in," he said. "Those are the only ones who can ask Latinos to consider the Republican Party in terms of betterment of their families."