Noted Latino activists, celebrities and legislators are taking part in a Hispanic-focused, bilingual voter registration drive whose mission is to prevent Republican presidential nominee Donald Trump from winning the presidency.
Legendary actress and singer Rita Moreno and civil rights leader Dolores Huerta partnered with the People For the American Way, a liberal advocacy group looking to bolster Latino turnout.
PFAW has sponsored digital and radio advertisements to play in North Carolina, Virginia, Ohio, Arizona and Georgia — key states in the election that also have large and growing Latino populations — to persuade more Hispanics to register themselves, their friends and family to vote.
In a press conference, Huerta said the anti-immigrant and anti-Latino rhetoric out of the Trump campaign could inspire more Hispanics to head out to the polls. She cited California's 1994 Proposition 187, a measure that denied undocumented persons access to any public services such as emergency rooms, which she credits for turning California into a blue state.
RELATED: 2016 May Not Be the Year of the Latino Vote, But Time is on Its Side
"Hillary Clinton has made clear that she stands with us, from pledging to introduce comprehensive immigration reform with a pathway to citizenship to laying out her plans for debt-free college, and Donald Trump continues to double down on mass deportation and lob insults at immigrant and Latino communities," Huerta said.
Huerta made reference to the candidates' running mates, who were to debate Tuesday night. She said Democrat Tim Kaine has a stronger record of supporting immigrant communities than Republican Mike Pence and criticized Pence's immigration record and support for efforts to end birthright citizenship.
The PFAW campaign enlisted Grammy-winning band Los Tigres del Norte to star in a video message urging Latinos to vote. Prolific political cartoonist Lalo Alcaraz contributed his own work to the campaign.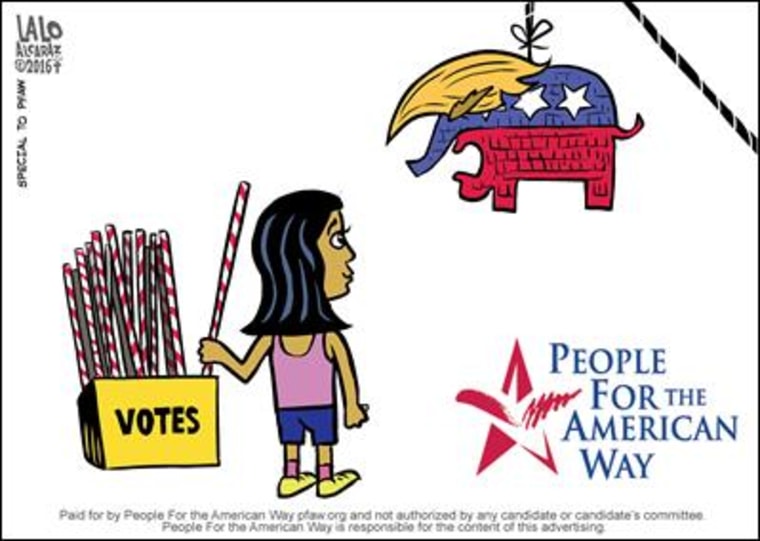 Rita Moreno said she fears a Trump presidency and that Latinos need to do more than express their outrage and offense to what Trump says and promises. She said she wants more potential Hispanic voters to register, and go to the polls to stop Trump.
"Never before have we had a presidential candidate as xenophobic and unhinged as Donald Trump, and never before have Latino voters had as much power as we do now, through our votes, to decide the outcomes of elections," Moreno said. "All those who aren't registered to vote should do so now – and remind everyone we know to do so as well – so that we keep a racist out of the White House."
In related news, Voto Latino, which focuses on registering young Latinos to vote, said that as of last weekend it had registered 101,720 Latinos, with its best results in Texas, California, Florida, North Carolina and Pennsylvania.
Voto Latino is one of the groups that told NBC Latino last month it had seen a drop in money spent on registering Latinos to vote.
"Despite the divestment in the Latino civic engagement space this election cycle, Voto Latino and our sister organizations will continue to work hard toward closing the voter registration gap, because we know that when Latinos register, they vote," said Voto Latino co-founder María Teresa Kumar in a statement.
In 2012, some 9.6 million Latinos eligible to vote did not register.