Many young Latinos are entering high school, and the decisions they make and the choices they take will be crucial to how they will fare in the next big step, college.
High school college counselors from around the country help, guide and advise students when it comes to courses, scholarships, leadership and opportunities.
We spoke to several Latino counselors, and here are their tips:
GET INVOLVED — In New Jersey, Palisades Park School District school counselor Annette Cruz-McCarthy has been advising her students for years on how to do and be their best as they work toward attending good universities and colleges.
Cruz, who is Puerto Rican, recently had an accomplishment of her own. Her daughter graduated from Fordham University in New York, and she also was able to obtain scholarships which helped offset the cost of tuition.
The same advice Cruz gives to her students worked for her daughter.
"I always advise my students to get involved, push themselves and always stay motivated," she says. "If you need help find it, if there's a club you want to join but has yet to be created, then create it."
Cruz tells students to join school clubs, activities, sports teams and get involved in community service.
Students who pick a few activities and commit to them through high school stand out and it's a way to explore connections and issues beyond the classroom.
SHOW LEADERSHIP — Students can show initiative and the capacity to lead by helping to head or manage their favorite club, group, or volunteer efforts. It also teaches the students how to work with others and how to organize to get things done.
DEVELOP AN ACADEMIC ACTION PLAN - Henri Cepero, the Instructional Supervisor in the Office of Career and Technical Education for Miami-Dade, works with a team that has helped 97 percent of the students who work with them graduate from high school; ninety-one percent of them have gone on to college.
Dedicated to seeing his students succeed, Cepero passionately told NBC News, "We are focusing on preparing kids for their careers."
Students can work with counselors, teachers and parents to map out the courses to take throughout high school to meet college requirements and to start defining possible college majors and interests. For example, a student interested in medicine should make sure he or she is taking the required maths and sciences that colleges will be looking at.
Students should make use of the opportunity to take Advanced Placement (AP) classes; they are college-level classes and a good score can allow a student to test out of introductory subjects in college.
Once students hit Junior year, counselors "assist students starting in 11th grade to identify colleges that have the programs that they are interested in," Cepero says, and to make sure they have the appropriate coursework that the colleges are looking for.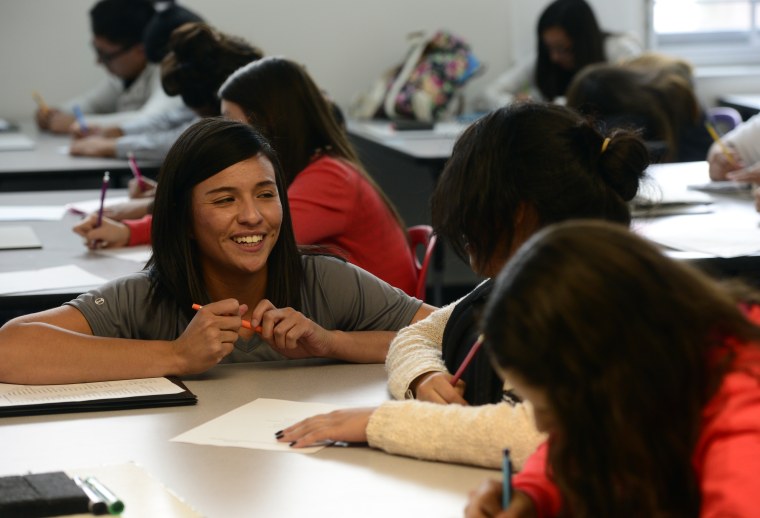 IF YOU NEED HELP, GET IT - Students should not be afraid to seek help; classes do get hard in high school. They should make use of teacher office hours and before or after-school tutoring. In California, students are given the opportunity to receive help outside their high schools through programs like 'Beyond The Bell', an after-school program paid for by state and federal funding.
Deanna Giron-Cardenas, high school college counselor from Abraham Lincoln High School in Los Angeles, says this is important since it allows students to pursue courses they might find tough.
RELATED: Ready For College? Why Some Students Are More Prepared Than Others
"Take the hardest classes you can and do the best you can. It will put you forward and make you a better [college] candidate", says Giron-Cardenas.
Beside help with classes, programs in school districts similar to Beyond The Bell offer tutoring and practice programs for standardized tests like the SAT and ACT. Good scores in these tests are essential for admission into most competitive schools.
START THINKING ABOUT COLLEGE AFFORDABILITY, SCHOLARSHIPS — "When it comes to college you need to be able to afford it," says Cruz. Many families are not aware of how expensive college is until they are applying, but families should be thinking of this early.
There are a wide variety of scholarships including ones offered for academics, athletics, the arts and some specifically aimed at minority students. Though they are more limited, there are even scholarship options for students who are not U.S. citizens.
Some families may decide community college is a good initial option if they can't afford a four-year university from the start.
Many scholarships are awarded for good grades, community involvement or sports, yet another important reason to go into high school with a mindset to excel and do one's best.
DEVELOP GOOD CONNECTIONS WITH TEACHERS AND COUNSELORS -Having strong connections with teachers and counselors expands a student's learning and connections, and builds friendships and mentoring that can last a lifetime. Moreover, teachers will be writing college recommendations, an important component of a college application, so the more a teacher gets to know a student the better.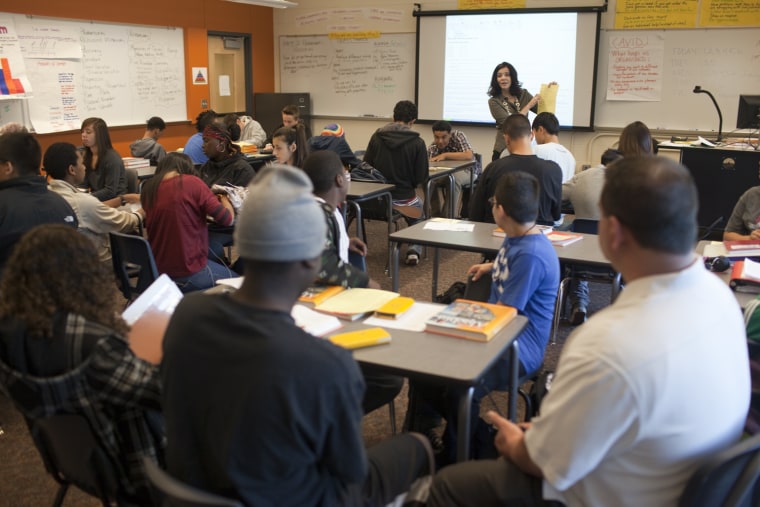 IF YOU'RE BILINGUAL, PERFECT YOUR SKILLS —"Maintain your native language, practice it as much as you can and be as fluent as you can, because it will put you ahead", Miami-Dade's Cepero says.
Being bilingual is an advantage, but this involves not only speaking it but writing and reading it correctly.
RELATED: Valedictorian Goes From Learning English to Earning Full Ride to Stanford in Six Years
"Being strong in your native language allows students to push themselves and think differently when they need to work in English," says Cepero. In fact, "students learning English will learn faster after their native language becomes stronger", Cardenas says.
Students should aim for advanced classes in the languages they know. For example, a high score on an Advanced Placement (AP) Spanish test can allow a student to test out of an introductory language class in college, thus saving time and money.
CHALLENGE YOURSELF AND DON'T GIVE UP - High school is hard, and classes and activities will get increasingly more complicated, time-consuming and tiring.
A tip that Cardenas was passionate about was something her mother taught her — not to give up.
"Don't give up and learn from your mistakes; if you allow mistakes to bring you down then you won't make it. You need to pick yourself up and allow yourself to be human and keep going," Cardenas says.
"Each of us has a talent. We find that talent and make it come out," says adds. Cardenas says she pushes the young people she counsels to harness their talent and passion. This allows students to learn what they are good at, and gives them confidence.
All these experts stress certain things: aim for excellence, seek guidance and most importantly, be active and involved.
Lastly, don't forget to have a little fun and enjoy what hopefully will be some memorable and great four years.