DENVER, Colorado — For most people, the best memories of college go beyond classes; it's the friendships and sense of community that students remember the most. For a growing number of Latino students, culturally-based fraternities and sororities provides them with just that.
For Beverly Gallegos, a sister of Pi Lambda Chi Latina Sorority, Inc. and alumna of the University of Denver, joining a Latina sorority gave her a "home away from home" as a first-generation student.
"For me it was that support network and that group of people that could help me through college," said Gallegos, who was a first-generation college student when she attended the campus. Navigating college initially was tough, she said, since her parents had not attended college and were limited in the guidance they could provide. Her sorority sisters gave her insights, support and confidence throughout her years at the university.
According to Daisy Verduzco Reyes, Ph.D, an assistant professor of sociology at the University of Connecticut, a growing number of Latino students are joining multicultural Greek organizations because they serve as a tool to integrate students to the campus community-at-large. Many of these students have grown up in all-Latino communities.
"Actually about a third of Latino students in K through 12 are going to all minority schools," said Verduzco Reyes.
Gallegos became a sister of Pi Lambda Chi six years ago. Her sorority is a Latina-based organization that was founded in Colorado in 1994 by nine women who felt that their needs could not be met by already established organizations on campus. Although the organization is labeled as a Latina organization, members of the group said it is open to women of all backgrounds.
The organization currently has six chapters at colleges and universities across Colorado. They have recently expanded, creating chapters at the University of Texas at Austin and a Professional Chapter in Pennsylvania.
Manny Navedo attended Rutgers University in New Brunswick, New Jersey and became the co-captain of the stroll team for his Latino fraternity, Sigma Lambda Beta International Fraternity. His frat, said Navedo, "was everything I wanted going into college." Navedo said he was drawn to the fraternity's community service initiatives and the deep support system.
While there are dozens of multicultural organizations throughout the country, there are no official enrollment numbers because many of the groups are private.
But Latino Greek members say they are growing in popularity, and they stress that multicultural and/or Latino based organizations are fairly different from traditionally white and Panhellenic groups.
"They [Panhellenic] recruit by numbers, they choose their members, they have to pay extensive amounts of money to live in houses, they have dues," said America Ramirez, a sister of Pi Lambda Chi. In multicultural organizations, "we really [founded] ourselves —it's quality over quantity."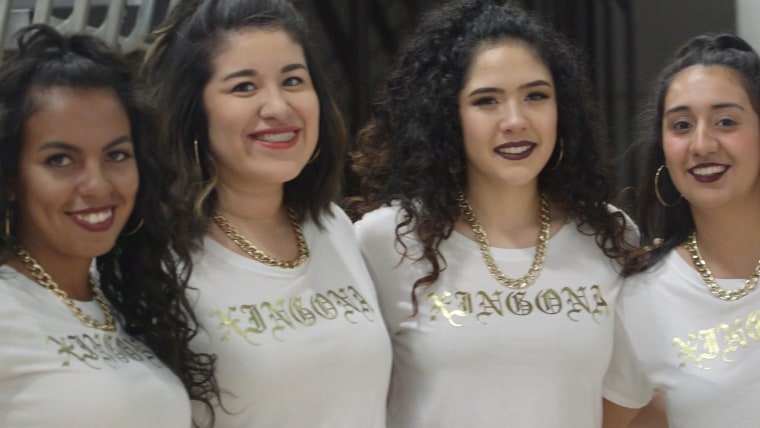 Ramirez, who is an alumna of the University of Colorado, said that many multicultural organizations focus on creating a strong sisterhood and brotherhood, being a support network for minorities on college campuses, giving back to their communities, all while preserving their culture and history.
One of the most popular and visual activities these organizations are known for is stepping and strolling, which typically includes several Greek members dancing or performing in unison. In their routines they showcase their organization's colors, Greek letters, and Latino heritage to showcase what makes them unique as an organization.
According to the U.S. Census, in 2015, 37 percent of Latinos ages 18 to 24 were enrolled in a two or four-year institution. Although these numbers have increased over the last decade, Latino students can still feel singled out on their college campuses. At the University of Denver, for example, fewer than 10 percent of the students are Latino.
Verduzco Reyes said that because of this many students look to sororities, professional clubs, and political groups to find a place to have fellowship with people like them.
"In my research I find that Latino organizations are really doing the work that their institutions are failing to do," Verduzco Reyes said. "Some colleges have great retention, so Latino organizations might have less to do, however some organizations might have to fill in that void."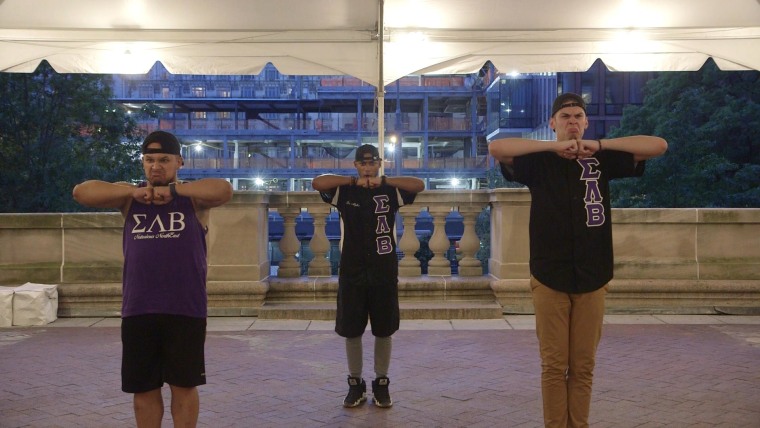 For many Hispanic students, their fraternities and sororities give them a deeper understanding into their culture and identity. Every time they are seen in their letters, they are representing a community, a network, a sisterhood, a brotherhood. Ultimately, these organizations unify students of color in a place where they might feel like they don't belong.
"You're a group of hermanas and I know that I'm putting my letters of PLC and I'm representing my organization," said Pi Lambda Chi sister Diana Oregon. "So It's more than just going to a party, it's giving back to where we came from, where our roots are."
NBCNews.com associate producer Marissa Armas is a member of Pi Lambda Chi Latina Sorority, Inc. Osej Serratos contributed to this story and is a member of Sigma Lambda Beta International Fraternity.