The death toll in an apparent gas explosion at a downtown Havana hotel Friday grew to 22 by early evening, according to state television in Cuba.
Among the dead were a pregnant woman and a child, Cuban President Miguel Díaz-Canel said after visiting the Hotel Saratoga and a hospital that was treating some of the injured.
Cuba's ministry of health estimated 74 people, including 15 children, were injured in the blast.
Diaz-Canel said the blast appeared to be accidental and related to a gas tank.
"Everything seems to indicate that it was an accident with a gas tank that caused an explosion and therefore structural damage and also a collapse," he said at Garcia Calixto Hospital.
" ... In no case was it a bomb, or an attack," he said.
The number of fatalities continued to grow Friday evening from the eight initially reported.
Search and rescue was underway at the hotel, according to the updates, citing Luis Antonio Torres Iribar, the first secretary of the Party in Havana.
Iribar said Friday afternoon that people are still trapped alive in the rubble and officials are preparing to rescue them.
The president's office said Old Havana Mayor Alexis Acosta Silva, informed them that the children from a school near the hotel were evacuated, and none were hurt.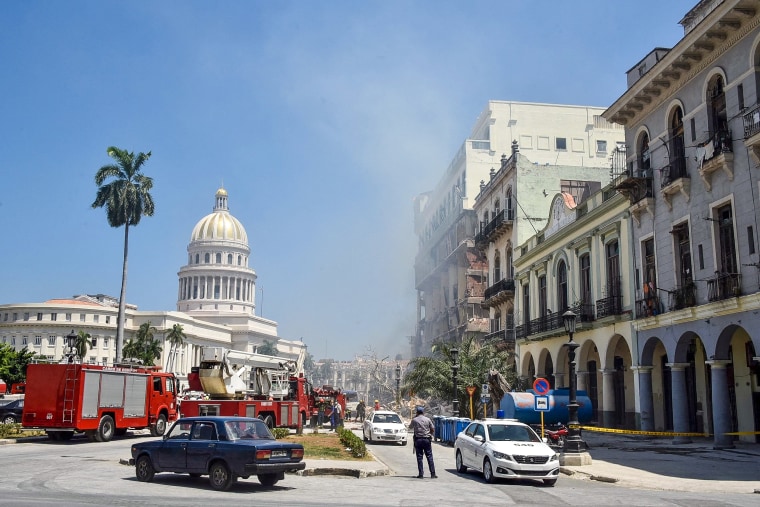 A student told NBC News that the explosion woke him. "I was at home and heard a loud noise and I stood in my balcony and looked in that direction," the student said in Spanish. "I thought it was coming from the store, but no, it came from Saratoga."
"It was a large explosion. I felt it, I was asleep and it woke me," he said.
Another witness saw smoke and flames coming from the building, according to Reuters.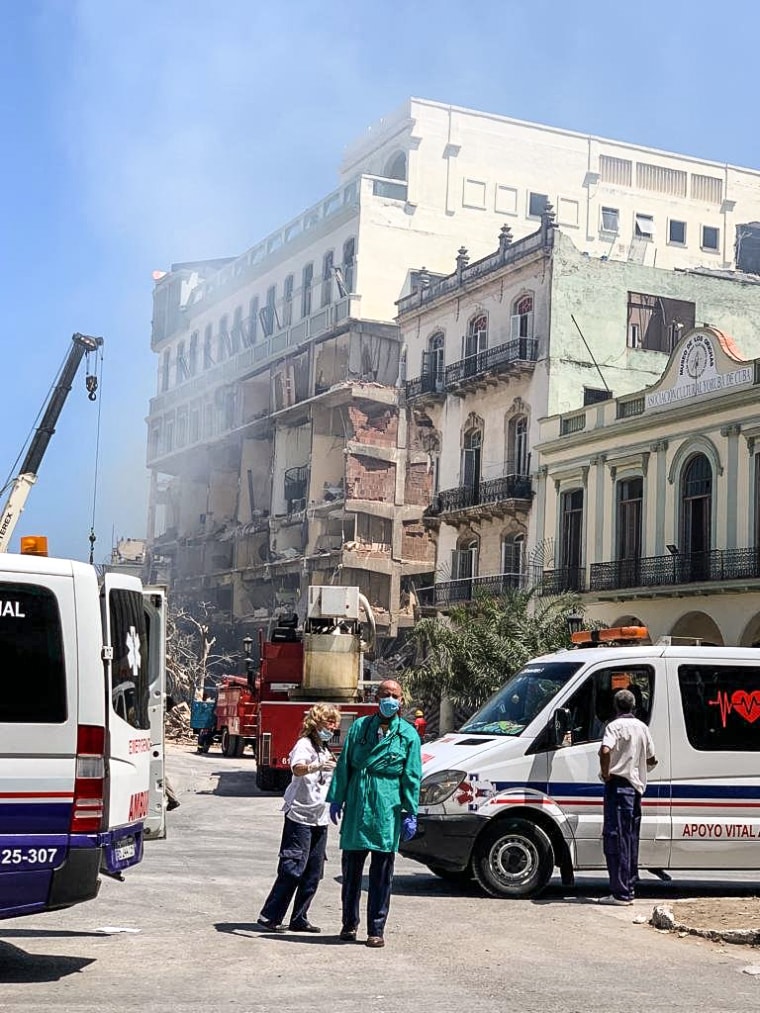 Photos from Granma, the Cuban communist party's official daily, showed images of the multistory Hotel Saratoga whose walls appeared to have been blown out by the blast up several stories.
Police and rescue workers flocked to the scene, cordoning off key points and buildings nearby, including the historic Capitolio building.
The Hotel Saratoga is on the prohibited accommodations list for U.S. citizens, issued by the U.S. Department of State in 2020. Previously, the premier hotel was frequented by U.S. celebrities.