It's been more than a month since the Montañez brothers — Nataniel, 14, and Jariel, 16 — stopped going to class after schools in Puerto Rico shut down because of the coronavirus pandemic. Since then, they've been taking classes online, but the transition has been tough.
"I have no internet in our house, and my kids don't have the latest cellphone models," their mother, Haydee Valle, told NBC News in Spanish. "And the fact that everyone else is also at home trying to use the internet doesn't help either."
The family lives in San Salvador, a remote, rural neighborhood in the town of Caguas, about a 20 mile-drive south from San Juan, the island's capital, and gets only shoddy internet connection through their cellphones.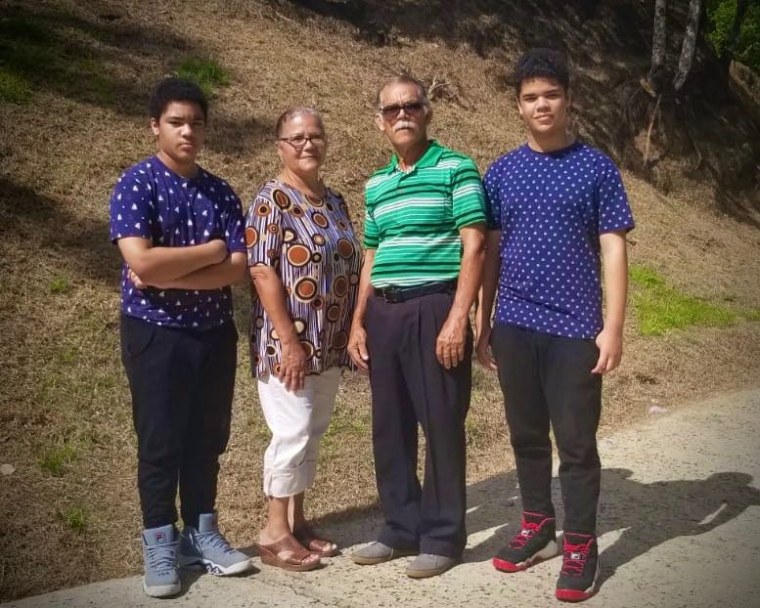 About a quarter of the island's children don't have internet access and 56 percent don't have a computer, according to the Puerto Rico Youth Institute, a nonprofit advocating for children's rights through public policy.
"Maybe they might have access to the internet through a cellphone, which is very different from a computer," Amanda Rivera, the organization's director, said during a web conference call this month.
'A very difficult transition'
Del Valle, 54, said the transition to virtual learning "has been very difficult." They initially had their cellphone service cut off because the family was unable to pay the bill on time after losing a significant part of their income due to the strict coronavirus closures and curfews. The family sells homemade and other goods as well as produce they grow.
After the family got their service restored, Del Valle received calls from teachers asking why they hadn't gotten the boys' homework. That's when Del Valle realized the attachments they sent didn't go through. Even though the teachers helped come up with a solution — the boys ended up sending the work through WhatsApp — her eldest son was anxious.
"He's scared of going back to school and have the teachers say to him: 'But what happened, you didn't do anything?'" said Del Valle.
Puerto Rico's education secretary, Eligio Hernández, announced Thursday that online classes are set to end during the first two weeks of May and the academic year will officially end on June 5th; schools will remain closed until August.
Hernández said all public school students will go on to their next grade regardless of current circumstances; schools will gauge what students were able to learn during the next academic calendar.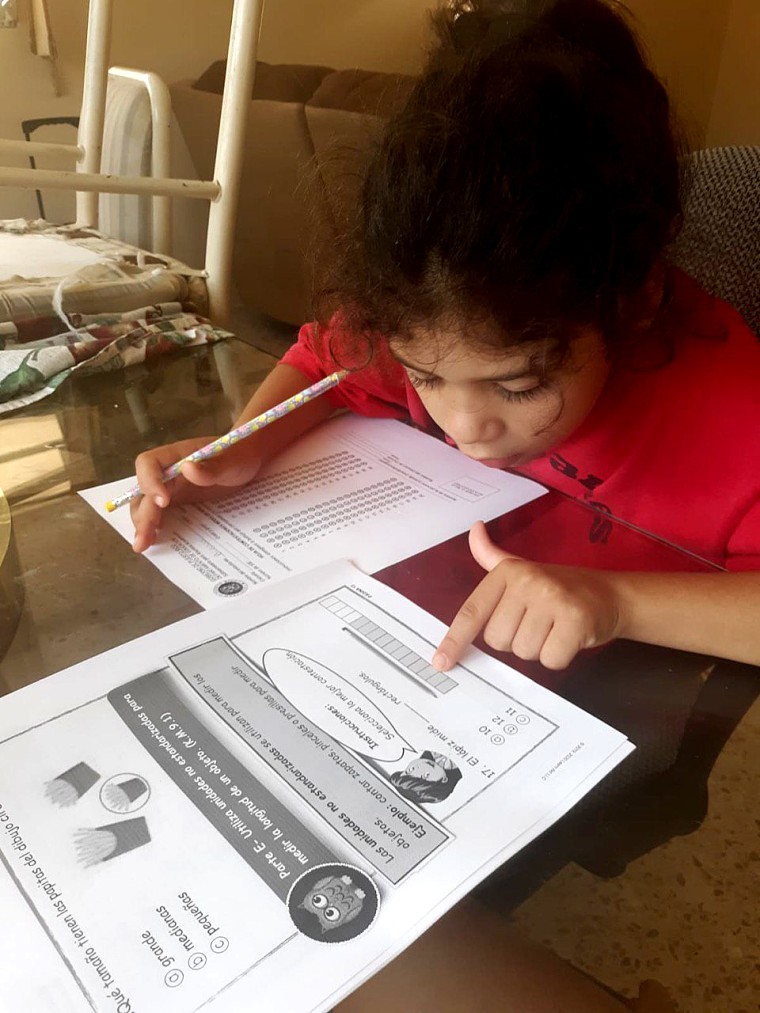 But with the uncertainty over when schools and businesses will be able to reopen, the remote learning challenges faced by families in rural or underserved areas are an ongoing concern for educators and local officials.
Rosachely Rivera, the mayor of Gurabo, about 30 minutes from San Juan, said it's been up to local officials like her to figure out whether students with no access to connectivity have been able to learn virtually.
"Basically, each parent and each school is currently responsible for their kids," the mayor said, adding she had been waiting on information from her schools' social workers to identify the children who are the most vulnerable, "whether they don't have a computer, or they're so poor we can't foresee some of their needs."
Nearly 600,000 children under the age of 18 live in Puerto Rico, and make up 18 percent of the island's population. An overwhelming majority of them — 71 percent — live in poverty or on the verge of becoming poor and about 38 percent "live in extreme poverty with incomes around $3,950 annually," according to a study commissioned by the Puerto Rico Youth Institute.
"Lack of money means less access to good-quality schools and to inputs that are accessories to a good education, such as books," among others, the study states.
About half of the child population in Puerto Rico is enrolled in the public school system, according to the Department of Education.
Government shifts resources
Hernández told NBC News that the island had made a series of resources available to schools seeking to effectively transition to distance learning to finish the school year, including online modules and virtual classrooms through applications such as Zoom, Microsoft Teams and Google Classrooms, among others.
As part of a record $787 million financial package to help alleviate the economic impact of the coronavirus in Puerto Rico, Gov. Wanda Vazquez made $250 million available to the Education Department to buy tablets, software and other items necessary to improve virtual learning.
The Education Department is in the process of acquiring 159,330 devices, such as tablets, worth about $137 million, Hernández said, adding that about 20,000 are expected to arrive in Puerto Rico for distribution every month starting in June.
"With that, we're already taking care of a significant portion of our students," he said, adding their hope is to get at least "113,000 laptops and 18,000 iPads for students as well as 30,000 laptops for teachers."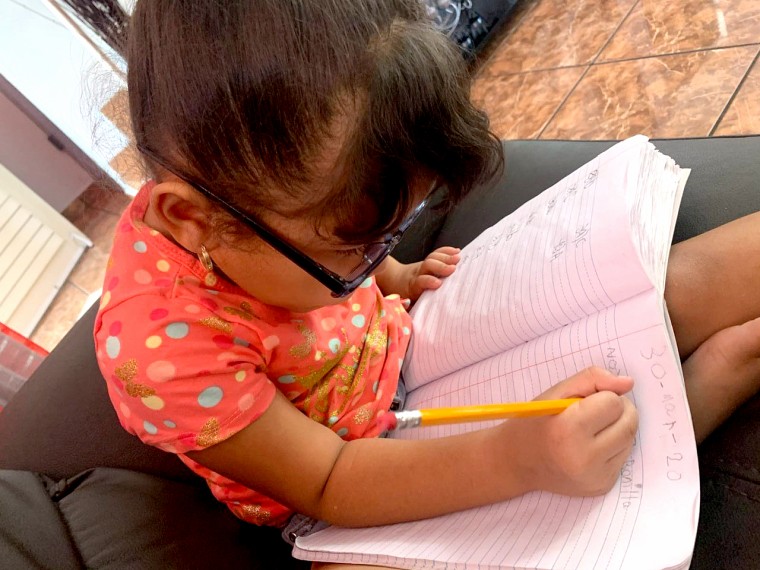 In Ponce, Puerto Rico's second-largest municipality, Mayor María Meléndez said most schools in the urban center have been able to transition to remote learning with the help of the online modules.
"But the students living in remote, rural areas worry me," Meléndez told NBC News, adding that she has been using a staggered schedule to keep some community centers with digital access open while preventing overcrowding.
Families who only have internet access through a mobile phone have raised concerns over the modules, saying they "aren't necessarily compatible with their phones," said Rivera in Gurabo.
"Some offer the option to print them but not everybody has access to that," she said, adding that some jurisdictions are trying to make their modules more mobile-friendly.
"They could give tablets to every kid, but if you don't have internet what are you going to do?" said Del Valle.
'Discard this semester'
Public school students missed about 78 school days because of Hurricane Maria in 2017. The government closed about a quarter of the public schools the following year.
During the first two weeks of this year, students in southern towns had their semesters disrupted by more than 1,000 quakes that jolted the island, weakening and destroying many buildings. Then, as students whose schools were deemed safe returned to their classrooms, the coronavirus pandemic hit.
"This has been an adrift semester," said Rivera. "But what we're seeing is that this is not affecting all children equally."
Rafael Surillo, mayor of the eastern coastal town of Yabucoa, describes the recent months as "extremely abnormal and atypical."
"I really think we should leave this semester behind and start over on the following one," said Surillo, "with a curriculum that takes into consideration the time lost."
Dreaming of the cap and gown
The Department of Education has not made an announcement on graduations.
Some requirements, such as community service hours and some environmental and occupational laboratory hours, were modified to help students be able to complete their semesters.
Despite the recent challenges, Del Valle's youngest son, Nataniel is anxiously waiting to hear if he will be able to celebrate his eighth grade graduation alongside his teachers and classmates.
"That's our greatest dream," said his mom, "being able to see them with their graduation gowns and their graduation caps."
Follow NBC Latino on Facebook, Twitter and Instagram.