WASHINGTON — Just over two months after the Trump administration announced it was rescinding the program that protects more than 800,000 young immigrants from deportation, hundreds of students staged walkouts Thursday and rallied at the Hart Senate Office Building in Washington, demanding Congress pass legislation for Dreamers and other DACA recipients.
"It's been a year and what has he done? " Bruna Distinto, a senior at Trinity Washington University and a Dreamer, told NBC News, referring to President Donald Trump's election last November. "He said he had the heart for Dreamers, then he rescinded DACA."
"We want to call attention to Congress that something needs to get done, that a Dream Act needs to pass and not wait until next year," she said.
The students were demanding a "clean" Dream Act, meaning legislation that stands by itself and is not tacked to other legislation.
Distinto, 22, was brought to the United States from Bolivia at the age of 6. Both she and her two sisters are DACA recipients. "This is personal for me," she said.
Distinto and the other students say they picked Thursday because Congress is running out of time to pass legislation before the end of the year, and it's a good way to mark the anniversary of Trump's election. The student walkouts from high schools and other institutions culminated in the rally on Capitol Hill. United We Dream and other organizations had been actively planning and promoting the events.
Dreamers like Distinto stress they cannot wait until the DACA program ends next March, saying it's important to show how these policies affect DACA recipients and their families on a daily basis.
"The walkout is a signal to Congress that they need to do something," said Distinto, who at the moment does not have a Plan B if DACA expires before any congressional action.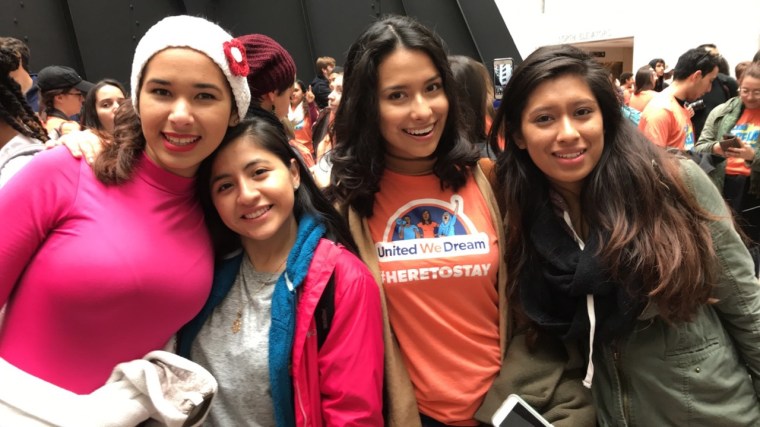 "I'm here to stay; we're not going anywhere, this is my home," she said. "I really don't remember much about Bolivia; I'm not going anywhere."
Meanwhile, 25 Democrats are threatening a government shutdown and have said they will not pass a budget bill if Congress does not take up the Dream Act legislation.