AUSTIN, Texas — It's not enough to increase Latino college and university enrollment or graduation numbers; higher educators need to prepare the ever-expanding young Latino population for the rest of their lives, states a report released Tuesday.
With 65 percent of Latino college undergraduates attending federally recognized Hispanic Serving Institutions (HSI) — their student body is at least 25 percent Latino — it's critical to see how well those schools are doing to prepare the young Latino population for college, according to the report by Excelencia in Education, Strada Education Network and Gallup Inc. pollster.
"If you are going to be serving Latinos, not just enrolling them, then you've got to be able to codify what serving Latinos means," said Deborah Santiago, co-founder and CEO of Excelencia in Education, a nonprofit that analyzes how well institutions are working to ensure Latino college completion.
The usual metrics used to measure Latino student success are graduation rates and whether the students finish in four years to six years.
But Santiago said it is just as important that the colleges and universities are providing support services, an inclusive environment and are engaging students on campus — factors that influence whether students complete college in a timely manner. It's also crucial to see if these institutions are preparing the departing students for the workforce and jobs that they will enjoy and thrive in.
In 2016, of the more than 3,200 nonprofit colleges and universities nationally, 492 met the definition for a Hispanic Serving Institution, according to the Hispanic Association of Colleges and Universities (HACU).
Another 333 nationally are considered "emerging" Hispanic Serving Institutions. With a greater share of the Latinos enrolled in college — about 73 percent compared to 70 percent for white students — there is every expectation that the number of such institutions will grow, experts told NBC News.
"Enrollment cannot be the core definition of 'serving,' " Santiago said. "It is a necessary precursor, but if you want to stand out as an HSI, you've got to deconstruct what it means to serve."
Excelencia in Education, Strada and Gallup surveyed alumni of 12 Hispanic Serving Institutions who had graduated five years ago or more to try to help articulate what "serving" means. The institutions were selected by the researchers for their commitment to preparing Latino students with tools such as mentoring, actively engaged professors and other activities needed to succeed in the workforce and their communities.
The 14,320 undergraduate alumni who participated in the Feb. 12 to March 13 online survey had graduated from participating institutions from 2000 to 2017.
In the survey, 26 percent of the graduates of the participating Hispanic Serving Institutions strongly agreed they have the ideal job for them, compared to 22 percent of college graduates nationally. Forty-one percent thought that the job they have gives them work that interests them, compared to 37 percent of college graduates nationally.
More than a third of graduates from a Hispanic Serving Institutions in the survey strongly agreed that their professors cared about them as a person — higher than the 32 percent of college graduates nationally, the research found.
"Leaders of all postsecondary institutions should consider how to lay the groundwork for Latino student success," said Brandon Busteed, Gallup senior partner and global head, public sector.
"Wherever they are enrolled, but especially at Hispanic Serving Institutions, Latino students benefit long-term from rich, experiential learning opportunities and strong relationships with faculty, staff and other mentors," Busteed said in a statement.
The survey also showed the need to improve in some areas. About two-thirds (66 percent) of the graduates of the Hispanic Serving Institutions participating in the survey found the alma mater's career services difficult or very difficult to access.
John Moder, senior vice president and chief operations officer for Hispanic Association of Colleges and Universities, said that despite their growing numbers and growing enrollments, Hispanic Serving Institutions are contending with underfunding.
"HSIs get about 68 cents for every dollar that goes to the rest of higher education, which includes Pell grant funding," Moder said.
Federal data shows about half of Hispanic Serving Institutions are community colleges, Moder said, so some of the lower funding is due to the type of institutions in the HSI universe. Because many of the four-year public schools also are regional institutions, they also don't get the sort of funding that flagship universities do.
But Moder said most Hispanic Serving Institutions did not set out to be one. They either became one because they are trying to serve the people who live in their region or because of a change in demographics in that area.
"One of the success stories we look at are the institutions that are intentional about dealing with what for them is a new population," he said.
"I am impressed by institutions that are looking at their K-12 (school) population in their region and seeing, if they have not been enrolling Hispanics, (that) they need to think about how to do a better job of that and how well they are prepared to educate what is often a first-generation, low-income population, Moder said.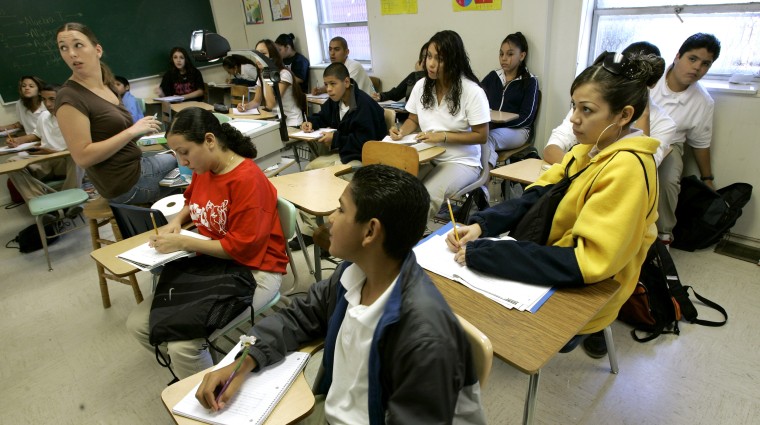 An example of a university that embraced Latino growth in the area it serves is Texas State University in San Marcos, Texas, about 30 miles south of Austin. It became an Hispanic Serving Institution in 2011, Moder said.
The university wrote a strategic plan in 2008 to become an HSI by 2011, which it has achieved. It now has over 14,000 Latino students, who are about 38 percent of the students enrolled.
"We've done very significant programmatic activities. We created a climate that is welcoming for students. Our music program has salsa and mariachi that the students actually brought to us and we developed it," said T. Jaime Chahin, dean of Texas State University's College of Applied Arts.
But he said they also have grants from NASA, the U.S. Department of Agriculture, Health Resources and Services Administration, Health and Human Services — "all of the grants that the faculty has sought out and received to help to sponsor and promote Hispanic students in the university," Chahin said.
He pointed out that there are over 300,000 students who graduate from high school in Texas each year and about half are Latinos "so there's a population out there to recruit and for whom you have to have a welcoming, supporting" environment, as well as faculty and funding sources to provide support.
"It's very important to create a climate, create initiatives and activities so you are not only recruiting, you retain and you graduate them," he said.
FOLLOW NBC LATINO ON FACEBOOK, TWITTER AND INSTAGRAM