WASHINGTON — A female Puerto Rican comic book superhero has landed at the Smithsonian alongside legendary caped crusaders such as Superman, Captain America and Wonder Woman.
"It's overwhelming. It's really surreal. When I walked up to the display, I was brought to tears of joy," said Edgardo Miranda-Rodríguez of his 2016 comic book creation, La Borinqueña.
The costume of the young female superhero, who gets her powers from the Taíno gods of her Puerto Rican ancestors, was added this month to the Smithsonian's National Museum of American History's Superheroes exhibition, which has a comic books section.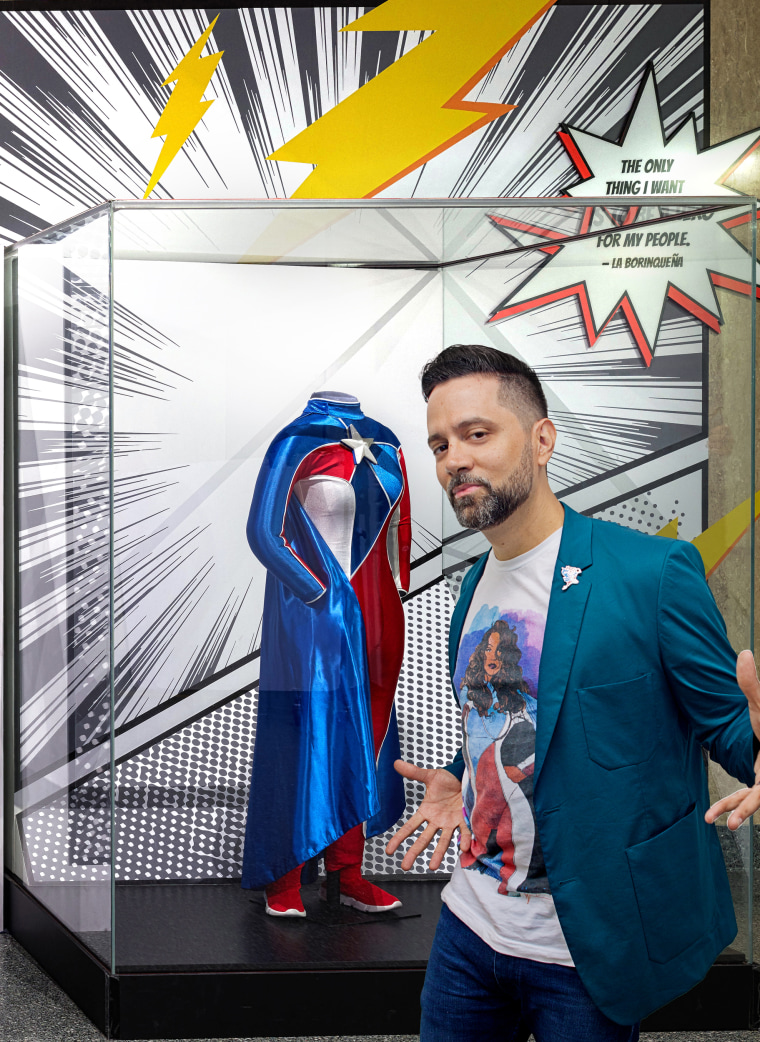 La Borinqueña's costume, with the colors of the Puerto Rican flag, made its first appearance at the 2016 National Puerto Rican Day Parade.
Miranda-Rodríguez, a New York-based Puerto Rican artist, created La Borinqueña in 2016 and has since received widespread attention for creating Marisol, a New York City college student turned superhero who uses her powers to save the environment and her beloved island of Puerto Rico.
Miranda-Rodríguez's character is the only superhero in the exhibit that was created and published independently and is not part of a large comic book imprint like Marvel.
La Borinqueña derives her name from Borinquen, the name given to the island by the Taíno indians, who lived there prior to Spanish colonization. It's also the title of the U.S. territory's anthem.
Miranda-Rodríguez said that to have his three-year-old comic book hero sharing equal space with the likes of Superman as part of a museum exhibit is "magical."
"One of the things I want to do with my work is continue to keep Puerto Rico in the national discourse. The exhibition reminds all Americans that Puerto Rico is a part of the United States and there are three and a half million American citizens living on the island and another six and a half million across the States," Miranda-Rodríguez said.
"It's important to have an opportunity with this popular culture exhibition to not only celebrate Americana," Miranda-Rodríguez added, "but to say look, we are part of that as well. We have our own hero, we have our own story."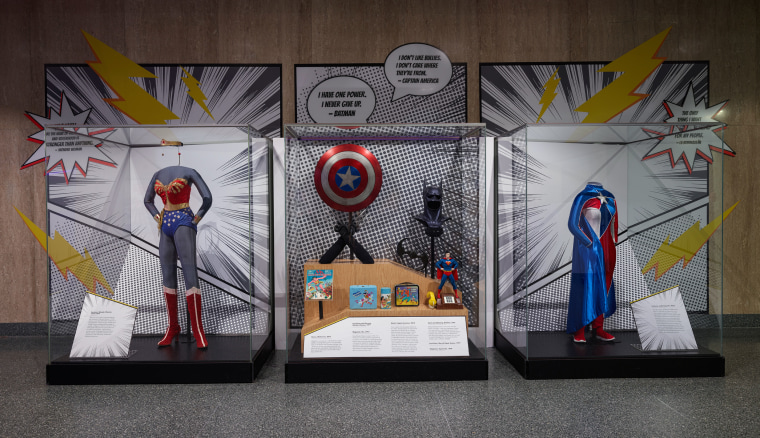 The exhibit, the artist said, is also an opportunity to showcase the importance of women in Puerto Rican culture, and to empower women "to see themselves as the heroes they've always been" and for young boys and men to recognize that.
In fact, the original lyrics of the island's La Borinqueña anthem were written by a woman, Lola Rodríguez de Tió.
The exhibit shows superhero items like Captain America's shield and Batman's mask. But when it comes to full costumes, it only displays two — those of Wonder Woman and La Borinqueña.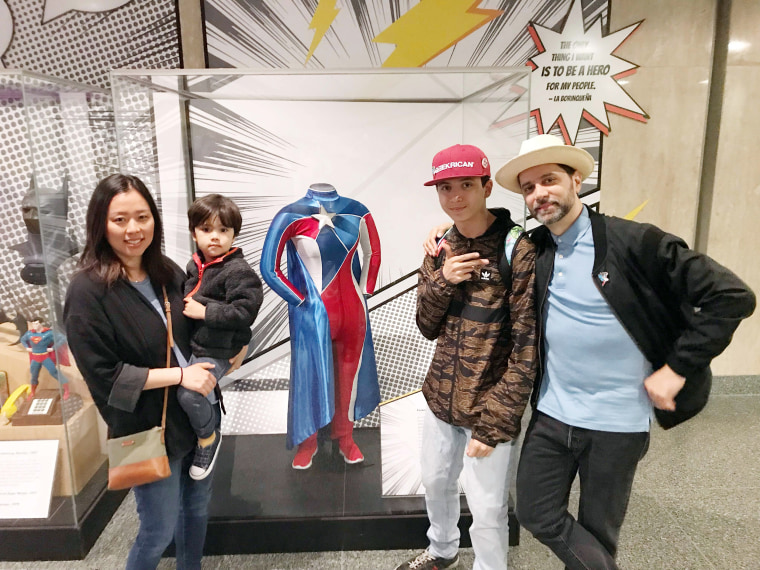 Melinda Machado, director of the Smithsonian's Office of Communications and Marketing, said they chose to display these loaned costumes to showcase that superheroes are not limited by gender or diversity.
"The fact that both of these costumes were worn by Latinas (Wonder Woman's Linda Carter is Mexican American) is fitting with the Smithsonian's American Women's History Initiative, #BecauseOfHerStory in which we are highlighting the many ways women play a role in our culture," said Machado.
The exhibit, which runs through September, has been garnering positive reviews.
Flavio Cumpiano, a Washington, D.C., lawyer who is a native of Puerto Rico, said he's happy that La Borinqueña is not only a Latina, but a Puerto Rican woman at a time when the island has gone through "major crises and disasters."
"Many kids, in fact people of all ages, will probably learn about Puerto Rico by asking about La Borinqueña, where she is from and who she represents," said Cumpiano. "She becomes an instrument for education, empowerment and, of course, entertainment."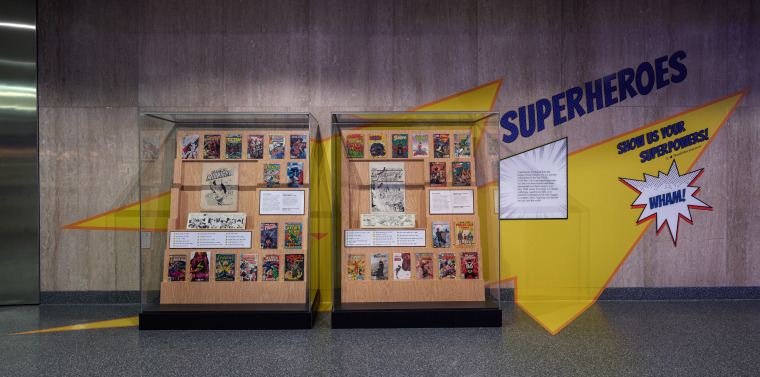 The fact that the exhibit is within walking distance of the corridors of power in the nation's capital is not lost on Miranda-Rodríguez, who says he wants to send a message of Puerto Rican heritage, history and resilience.
"To have this exhibit in Washington, D.C., is a complete affirmation of the power that is emanating right now with Puerto Rican women such as (Supreme Court Justice) Sonia Sotomayor and the new generation with (New York congresswoman) Alexandria Ocasio-Cortez," he said.
"We don't always have to make a political statement through a march or a protest, but also through the arts," Miranda-Rodríguez said. "And having this character powerfully stand in her superhero pose along these American icons is indeed empowering and a powerful message."
FOLLOW NBC LATINO ON FACEBOOK, TWITTER AND INSTAGRAM.