MIAMI - Romina Tibytt, a mother of 3, is the founder of a blog for Hispanic moms, Mamá XXI. She was one of 1,500 bloggers, journalists, marketing professionals and entertainment figures who came to Miami to attend the 5th annual Hispanicize conference, which kicked off on Tuesday and runs through Friday.
"Although social media allows me to communicate with a lot of people, here I get to experience it in real life," said Tibytt, whose blog gets around 100,000 page views per month. The conference, she added, helps her break out of the seclusion of her New Jersey home and "re-energizes her."
Hispanicize founder Manny Ruiz, a former Miami Herald reporter, calls the event the "Hispanicized" version of South by Southwest.
"I saw a digital convergence between industries that were bound to be colliding, collaborating, and co-creating in many unique ways - something interesting was bound to happen at the very least," said Ruiz.
Outspoken Cuban blogger Yoani Sanchez, whose international recognition outside Cuba is largely due to the power of social media and the Internet, traveled from Havana for the conference, where she was honored with a "Latinovator" award. She took the opportunity to announce the digital newspaper she has been planning just weeks away from its launch. Calling it her "baby," she declined to reveal the name of the publication until it goes live.
"I'm not a journalist by training, but I learned to be a journalist on the run," Sanchez said in Spanish in front of a crowded audience.
Other "Latinovators" recognized this year include veteran journalist Maria Hinojosa, Grammy award-winning singer Carlos Vives, and musician and actress Sheila E.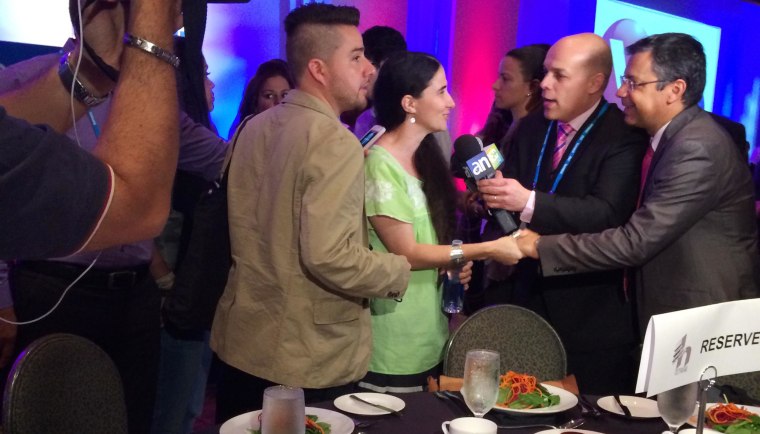 For Latino bloggers, the conference serves as a venue to mingle with their peers and get to know potential sponsors.
Daniela Ramirez has a fashion blog called Nanys Klozet. Though she has heard of other conferences for bloggers, she explained "this is the big one, especially for Latinos."
Previous Hispanicize conferences originally focused on bloggers and digital media. Now, those from the music and film industry have integrated as well, contributing to a convergence of digital media, entertainment, business and social issues. A special screening of the movie "Cesar Chavez" was attended by members of the Chavez family and was followed by a Q&A with the filmmakers. The conference also examine the current state of Hispanic journalism and its direction.
Latinos working on independent projects traveled to the conference to promote their projects and with hope of raising funding. Alessandro Pietri, who is working on a documentary on the impact of the Hispanic vote in key battleground states, arrived from Puerto Rico this week.
"I wanted to meet journalists who are covering the issue that I can reach out to and talk to about Hispanic voters," said Pietri, adding he also wanted to reach out to bloggers to write about the project.
"El Voto Hispano" or "The Hispanic Vote," has already raised $45,000 out of the $158,000 it needs through a Kickstarter campaign. Pietri was hoping that through his meetings with journalists and bloggers he can get the word out about his documentary.
Though the conference has its share of aspiring bloggers and entrepreneurs, big brand sponsors like P&G, Target, 3M and Toyota recognize the event as an opportunity to tap into a rapidly growing consumer market.
Patricia Pineda, group vice president for Hispanic business strategy at Toyota, is quick to point out the U.S. Hispanic market is larger than that of Canada and its buying power is projected to reach $1.5 trillion by 2015. When it comes to car purchases, Hispanics return to the new vehicle market sooner than the rest of the population, for example.
"I see the future of Latinos as consumers in the US as being very bright for brands that get it, that understand the Latino consumer and know how to effectively engage them," said Pineda.