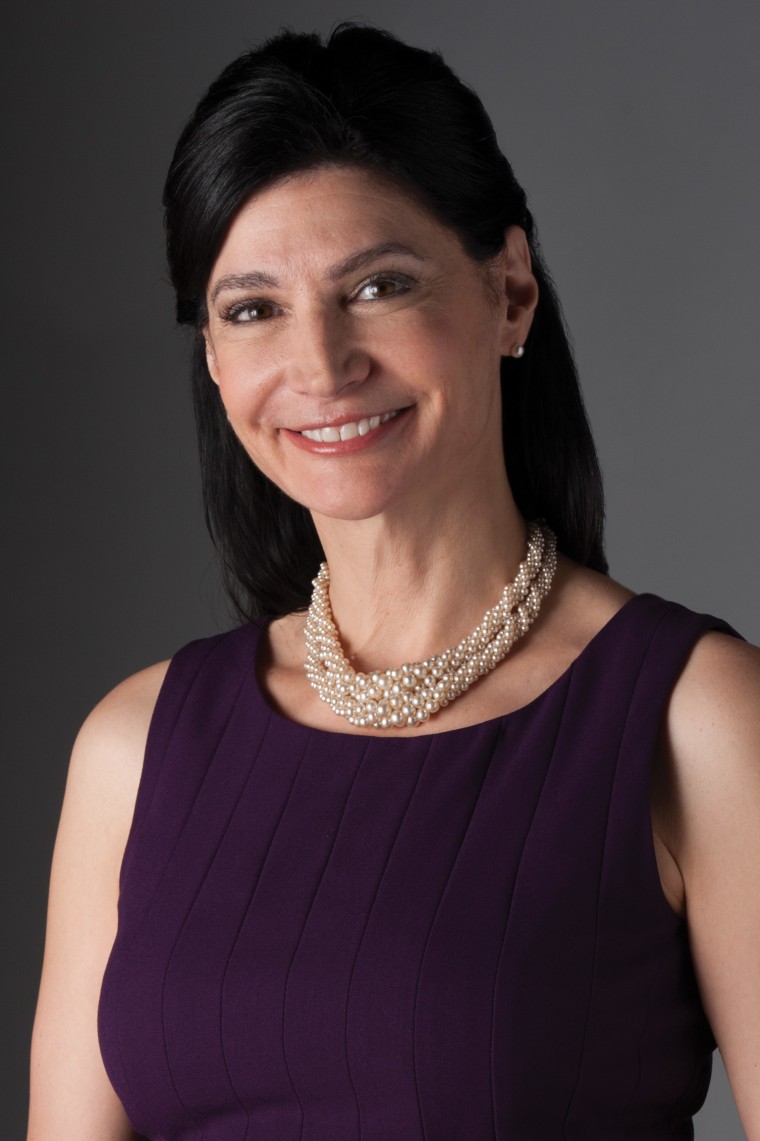 NAME: Lily Eskelsen García
HERITAGE: "My mom is from Panama and my dad from Mississippi."
HOMETOWN: Salt Lake City, Utah
OCCUPATION/TITLE: President, National Education Association
Lily Eskelsen García is president of the United States' largest labor union. Lily began her career in education as a school lunch lady and now leads a professional association of three million educators. She is the first Latina to lead the NEA and one of the country's most influential Hispanic educators.
How did you get into teaching?
I needed to get a job! A private in the Army does not make a lot of money so I went around to daycare centers and schools, looking for openings as a teacher's assistant. I went to a Head Start program and they told me, "We don't have anything in the classroom, but we do have an opening in the kitchen." So I became the lunch lady and was in charge of salad and dish washing. I loved working with the kids and the director let me apply for it when the next teacher's aid job opened up. So I'd bring my guitar and sing funny songs and it was a kindergarten teacher who tapped me on the shoulder and said, "You're really good with kids, you should go to college." And I did.
What was college like as a young mother?
When I went to college I was already 21 years old and my little boy was six months old. We had been married for a few years, we had a six-month-old and my husband was out of the Army and going to college full-time, so what a fabulous time to start, right? We worked it out — I worked part time, Ruel had the GI Bill, I would have Jeremy in his stroller to pick up Ruel at his math class and then he'd take the baby while I went to my English class. We just juggled this little baby for four years and all the while Ruel and I would play and sing in pizza parlors and bars for tips and pizza. And, we made it.
When I told my parents I was going to college, they were thrilled – they've been thrilled every step of the way from my first teaching job, to my graduate degree, to my run for Congress, to my work with the NEA. At the time, they had my little brothers and sisters (there were six of us kids) so they didn't have money to help me and it didn't even occur to me to ask. When I realized I wanted to start school, I immediately went to the financial aid office and said, "I don't have a dime and I want to go." Of course, back then it wasn't crushing costs like it is today. I think we were talking less than a thousand dollars to go full time for a year.
How did you come to get so involved with the union?
It was just in my bones. There was no thunderclap and I know nobody goes to teacher college with the aspiration that they're going to be a leader in their union. You become a teacher because you love teaching and you want to see that spark in your kids and that's what absolutely got me up in the mornings.
But I remember the year I had 39 kids in my room and I remember the time I had 12 special-ed kids in a class of 36; at the end of the day I'd just cry and think, "I don't know if I can come back tomorrow." But I thought, "If I quit teaching, who does that help?"
So I called my union and said, "Here is my situation," and they had a list of things to do: rally at the capital, write to the legislature, call some of these politicians and tell them what it's like, call a press conference. I was so impressed that they had a plan and I wanted to be a part of that plan, and I became a very active volunteer.
RELATED: Award-Winning Latina Librarian Is Educating, Empowering Community
As a fluke, I was named Utah Teacher of the Year in 1989 and that was also the year there was a statewide demonstration when we closed down the schools for a day to protest our dismal funding. All of a sudden I'm on TV and on the radio because I was giving speeches about what it was really like in the classroom. I had probably more press coverage than any other teacher of the year had ever gotten because 1989 was a devastating year for teachers in Utah. It was an incredible time and from there I ran for president of the Utah Educators Association, then from there to the NEA executive committee, then secretary-treasurer, vice president and president.
Your life has changed significantly over the years and your husband passed away in 2011, but you continue to move forward. What's most important to you these days?
Well, personally, I'm a newly-wed – my husband Alberto Garcia is from Juarez, Mexico and we're very excited about our future together.
Professionally, we have a major initiative to recruit more teachers of color as our student population becomes more and more diverse. It's a challenge because we know that as it becomes more expensive to go to university, a lot of our minority students who would love to be teachers look at the numbers and say: "I'm going to go to school for four years and have thousands and thousands of student loans and make $30,000 a year as a teacher?" And their families are telling them: "You need to make more money, you have to go into law or medicine." So people are making a financial decision not to go into education.
But there is no more important work a human being can do than preparing a child to live his or her dreams to the fullest. If anyone wants to talk to me about what a teacher makes I'll tell them: A teacher makes a difference. And I would encourage anybody who feels they have the talent and temperament to be a teacher to go for it. I can practically guarantee you won't get rich but you will, without a doubt, be the most powerful person in many people's lives.
Esther J. Cepeda is a Chicago-based journalist and a nationally syndicated columnist for The Washington Post Writers Group. Follow her on Twitter, @estherjcepeda.