WASHINGTON — There were tears, anger and anxiety as dozens of immigrants, supporters and allies gathered in front of the White House on Tuesday, chanting, singing and brandishing signs to protest President Donald Trump's short-circuiting of a program that lets young immigrants stay and work in the U.S.
Andrea A., 25, a recipient of the program, known as DACA, was too fearful to give her full last name.
"I'm scared because I don't know what will happen to me and my future, like school-wise," said Andrea, who is attending the Chamberlain School of Nursing, in Virginia. "I don't know what's going to happen to me ... Now I will be back to square zero."
Attorney General Jeff Sessions announced that the Trump administration was ending former President Barack Obama's Deferred Action for Childhood Arrivals program in six months, saying it was an "executive amnesty" that "violated the rule of law."
Referring to the young immigrants as "illegal aliens," Sessions said the DACA program took jobs away from other Americans and contributed to a "surge" of minors on the border, though these young people would not be eligible for DACA. Sessions said it would be up to Congress to decide what to do about the program.
With the decision, the Trump administration will stop considering new applications for legal status dated after Tuesday, but will allow any DACA recipients with a permit set to expire before March 5, 2018, the opportunity to apply for a two-year renewal.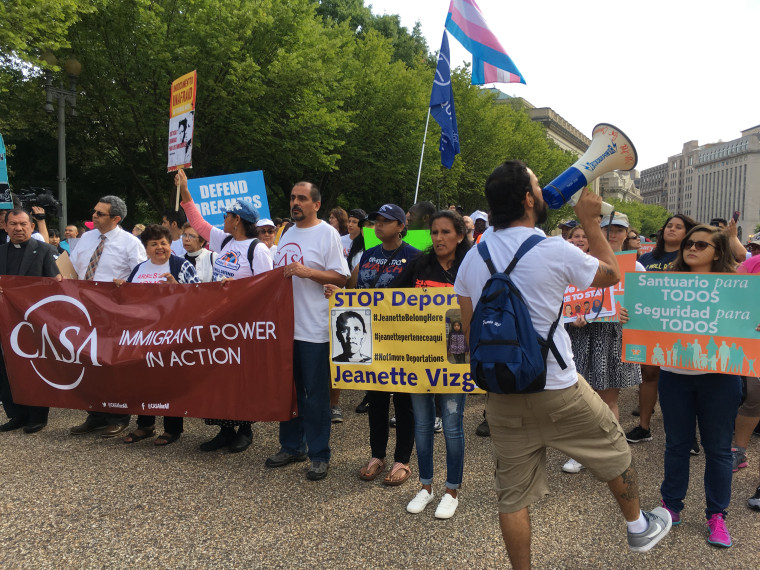 Across the country, young immigrants had been organizing and gathering for days hoping Tuesday's outcome would be different but preparing for the worst.
Soon after the announcement, students at several schools in Denver walked out of their classes started in protest. Reports of other walkouts in Arizona and New Mexico were being shared on Twitter.
Evelyn Mijares, 15, a junior at West Leadership Academy in Denver, was among those who walked out of classes. She does not have DACA, but her father was recently deported. Her mother is a legal permanent resident. She participated in the walkout to support everyone who is undocumented, she said.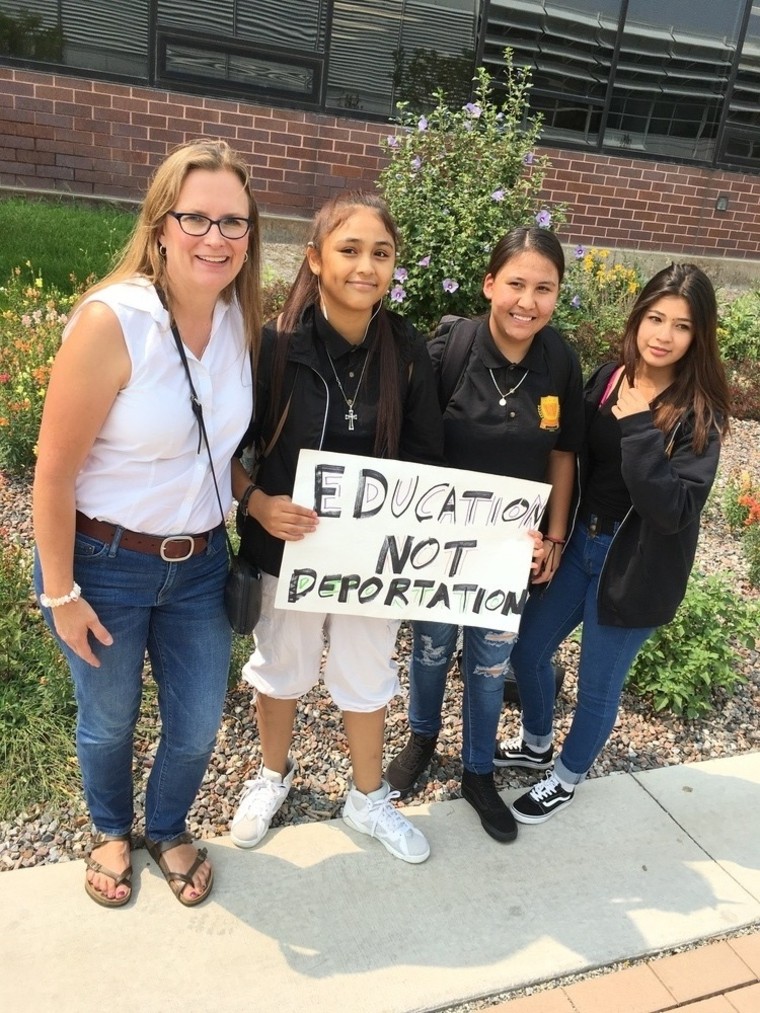 "I was surprised by the decision … It's like why have so much hate against Hispanic people? We're just trying to have an education.. it's sad," Mijares said.
Democrats strongly condemned the decision and vowed to fight.
New Mexico Attorney General Hector Balderas, a Democrat, said "it's a black eye for the country."
Balderas said the president chose "not to defend" young immigrants who had become teachers and even joined the military. "The legal fight has only begun," Balderas said.
Jacob Monty, a Republican who left Trump's Hispanic advisory council but has tried to support his agenda, said he has tried to believe Trump would "do the right thing on immigration."
But with Tuesday's announcement he said he felt disappointment, because it would not have been hard to continue DACA. Paraphrasing the Bible, Monty said the DACA children should not have to pay for the sins of their parents.
Related: Trump Ends DACA Program, No New Applications Accepted
Javier Palomarez, U.S. Hispanic Chamber of Commerce president, had remained on Trump's National Diversity Coalition despite heavy criticism. He had met with administration officials and at times defended Trump's policies on news shows and in media. Following the decision on DACA, Palomarez quit the diversity coalition.
"Let's lay the truth bare: President Trump has knowingly deceived the American people over the past seven months about his intentions to protect the innocent young men and women of the DACA program," Palomarez said in a statement.
For Ciriac Alvarez, the glimpse of a better life that DACA gave her has been replaced by a more uncertain existence.
The news is frustrating "because 800,000 of us have shown, when given a chance, we want to help our community. We want to build our community. This wasn't a free pass. This was something to show we want to work and we want to contribute," said Alvarez, 22, who lives in Salt Lake City, Utah.
Alvarez said as soon as she got DACA in her senior year of high school, she was able to get better paying jobs at a restaurant, as well as a laboratory and a non-profit to pay her college tuition.
Her brother and sister also got better jobs, so they were able to help out her parents more, and relieve Alvarez of that while she put more of her money to college. She graduated with a bachelor's degree in political science in Utah, has interned with a lobbying firm in Washington, D.C. and returned to her community and is working in a government office she did not want to name.
Born in Cuernavaca, Mexico, she has been in the United States since she was 5.
"Taking away DACA doesn't just hurt the 800,000, it hurts every person we touch. We are nurses. We are teachers … you are taking away from the community with no program to replace … You are just leaving us back in the shadows," she said.
Luke, who did not want his last name used, came with his family when he was 11 on travel visas and remained in the U.S. Now 26, he is in graduate school studying chemistry. Before DACA, he had kept his undocumented status as quiet as possible, which he said is common in the Korean community.
"I'm not glad about this six month thing at all. It's upending lives," Luke said. "To be honest I need to think about when my work permit expires – that's next year – I don't know what the next six months is going to hold.
"It's not just the Dreamers, the DACA recipients who are affected by this. It's the family, the whole community that is affected by this. That's why we are here at the White House. It feels like trying to break a rock with an egg but ….," he said not finishing the sentence.
Tom Perez, chairman of the Democratic National Committee, joined the protesters and was in front of the White House as the news became official.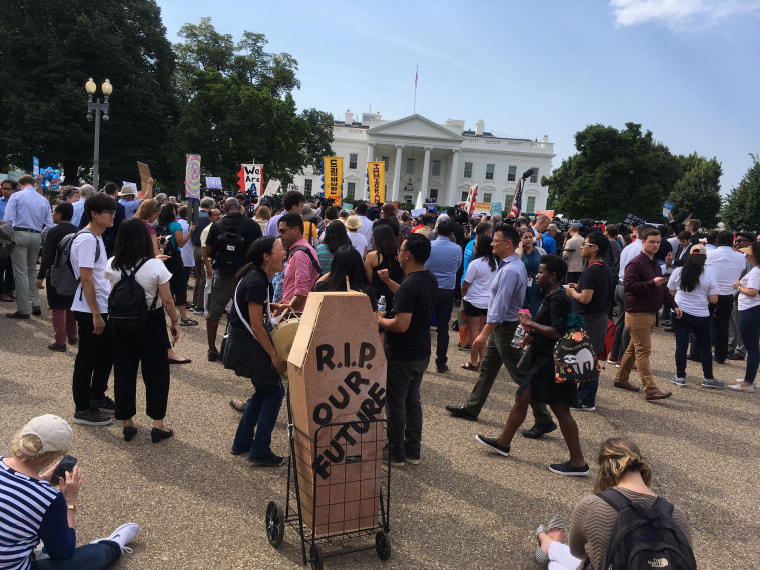 In a statement, he said Dreamers — a name young undocumented immigrants adopted to refer to themselves — "deserve far better from the president of the only country they've ever called home."
"Donald Trump has secured his legacy as a champion for cruelty. First, he took away protections for immigrant parents. Now he's going after their children. Rescinding DACA is the latest tactic in the Republican playbook to promote hate and discrimination," Perez stated.
Before the news became official, Norberto Lopez, 23, had been speaking defiantly, saying he was not afraid, but mad. Lopez had been working for $60 a day, usually on weekends, assembling tents and tables and other equipment for a parties and events before he had DACA.
He had dismissed going to college, thinking it was unavailable for undocumented children. Someone introduced him to another undocumented student who had gone to college and then with DACA, graduated from college and became an organizer with the AFL-CIO.
When the news became official, his eyes watered slightly and he took a deep breath. "It worries me a bit," he said.
But then his defiance quickly returned.
"It doesn't define me, being someone without DACA," he said. "A lot of people have done stuff without DACA for many years."
"We have to let people process the decision that is made today," he said, "and then we have to call them back out to action."
NBC News Associate Producer Marissa Armas contributed to this story.