Though there's a lot of work to do to continue increasing test scores and improving graduation rates among Latino students — especially in lower-income areas with less resources — seldom do we hear of the Latino game changers who are bringing solutions to education issues.
Several Hispanic educators who are making a difference are sharing their experiences on the program TED Talks: Education Revolution, premiering Tuesday, September 13 on PBS as part of the "Spotlight Education" week on the public channel. The programming is part of "American Graduate: Let's Make It Happen," a public media initiative to help communities ensure more students graduate ready for college and careers.
Filmed live at New York's Town Hall Theater, Education Revolution TED Talk features speakers like Nadia Lopez, the principal and founder of NY's Mott Hall Bridges Academy made famous by the internationally-known blog, Humans of New York (HONY,), when a 13-year-old boy credited her with being the person who's had the most influence in his life.
Another speaker is Dr. Victor Rios, a professor of sociology at the University of California, Santa Barbara. He was once a teenage gang member growing up in Oakland, Calif. but credits a teacher, Flora Russ, with changing his life.
Tony Award winner Sara Ramirez, perhaps best known for her decade-long portrayal of surgeon Dr. Callie Torres on ABC's "Grey's Anatomy," is co-host at the Talk, and also performs her single, "Rollercoaster."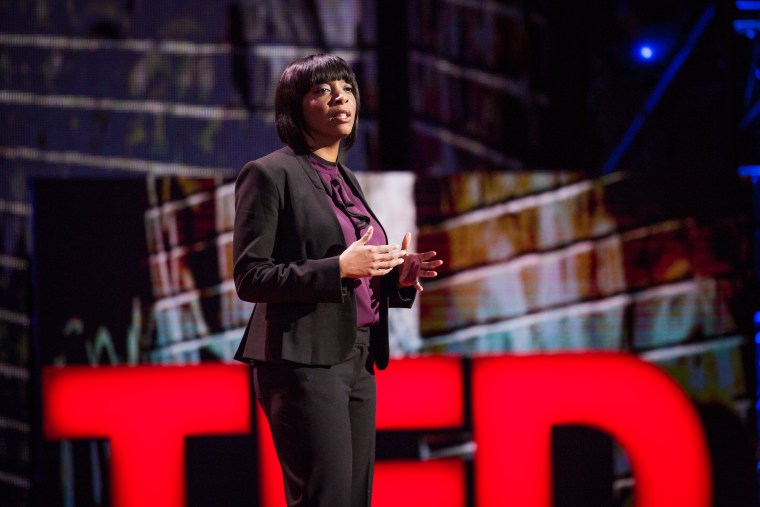 Principal Lopez, who grew up in Crown Heights, Brooklyn, in New York City, says she was always interested in middle schools, "because that was the time my parents separated in my life."
"It was very tumultuous to me not having a dad around," says the principal. "Luckily, I went to a very caring middle school — that was very helpful to me."
Before founding the middle school, Mott Hall Bridges Academy, in 2010, Lopez first founded the all-girls school, Urban Assembly Institute of Math and Science for Young Women - for grades 6 through 12th.
"I saw there wasn't enough support for our boys," says Lopez as to why she decided to write a proposal to the Department of Education to open Mott Hall Bridges Academy.
Lopez, who is also the author of "The Bridge to Brilliance: How One Principal in a Tough Neighborhood is Inspiring the World," calls her students "scholars" and has them where purple, the color of royalty.
"I want my scholars to know that even if they live in a housing project, they are part of royal lineage going back to great African kings and queens," she says.
She adds that what also truly makes a difference in her schools is working hands-on with her teachers and students.
"I read books with them, help them with their homework, eat lunch with them," says Lopez, who also has created entrepreneurship and mentorship programs for her students.
"I'm involved in many ways to let them know I'm invested in them," says the renowned principal. "I'd rather use any extra money for resources for my kids, because that's what's most important. I take the approach of 'We're a team.'"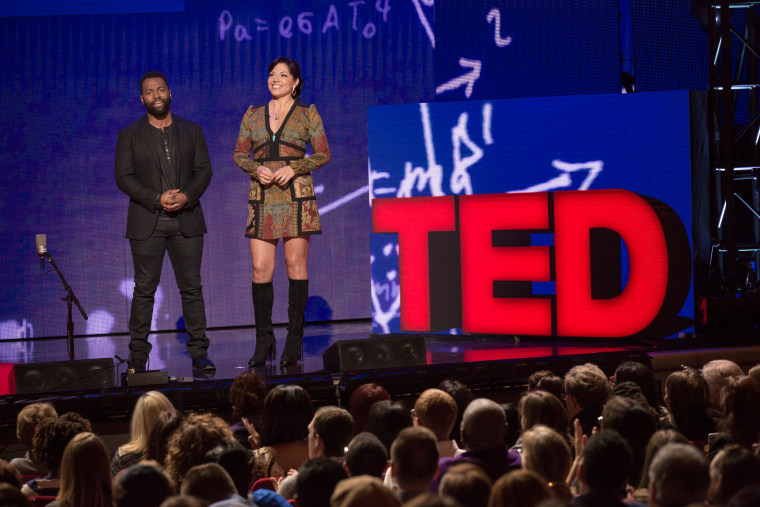 She says she also plays a proactive role in selecting the teachers at her school to further contribute to the team dynamic.
"We go a little further in terms of incorporating our students in the interview process," says Lopez. "[Often times] our scholars would say, 'I don't think they can handle us.'"
Lopez understands the importance of having the right teachers. She considers herself fortunate that her mother, who immigrated from Guatemala, found schools for her with teachers who cared about her learning.
"Parents have to get involved," Lopez continues. "You can't assume that someone else is going to take care of your kids and be present. Visit the school, attend school meetings, ask questions. [Many parents] are not speaking up on the student's behalf. At the end of the day, it's about working together."
Dr. Victor Rios, a Mexican-American immigrant to a single mom, concurs. He also had a difficult childhood - one of neglect - which led him to join a gang at age 13 and be incarcerated several times.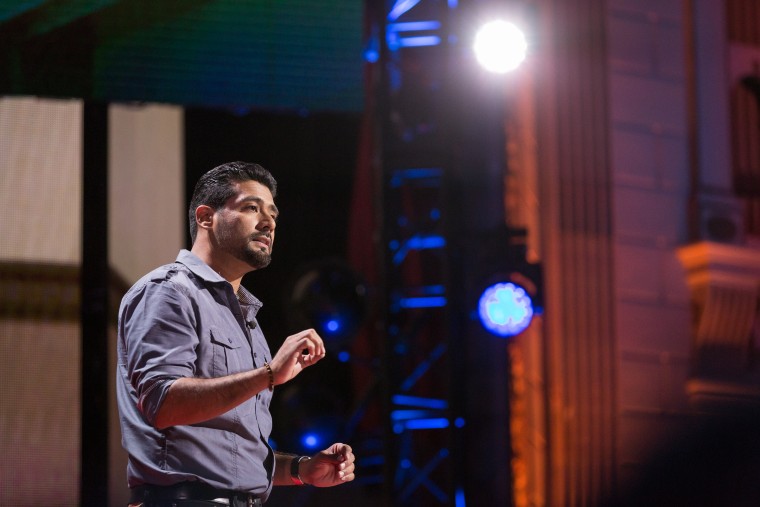 "My mom didn't know how to be there for us...she verbally abused us, and when I was 8 through 10, she would beat me and tell me she wished I was never born and could throw me in a dumpster," says Rios. "When I showed up to school, I had no confidence, I needed glasses, but we were broke, and the teacher would yell at me because I couldn't learn, but I couldn't see."
Rios says he would then get sent to the principal who yelled at him further.
"I couldn't look him in the eyes," recalls Rios. "In my culture, we don't look people of authority in the eyes, out of respect," says Rios. "I felt abandoned at home and pushed out at school. Very early on, I realized school is not for me. I remember telling myself I want to be accepted, but I'm not someone who deserves it."
He vividly remembers how he needed a supportive adult figure in his life. He says it was a specific teacher, Ms. Russ, who changed the direction of his life.
"I couldn't count on my mom, or any adults, but my teacher was the one who treated me with respect and honor, because of the people I came from," says Rios. "I realized I could choose between either world. I could choose between the world that rejects me, or the one that's giving me opportunity," says Rios. "
What we need in poor Latino communities are more mentoring, and college awareness programs — otherwise these kids feel they don't deserve to be there. You need to give children resources."
Rios is now an author to five books, including "Punished: Policing the Lives of Black and Latino Boys," and "Buscando Vida" ("Finding Life"), a book which explains the education system for parents in Spanish. He also teaches sociology and continually travels to schools around the country doing research on young people who have dropped out of school.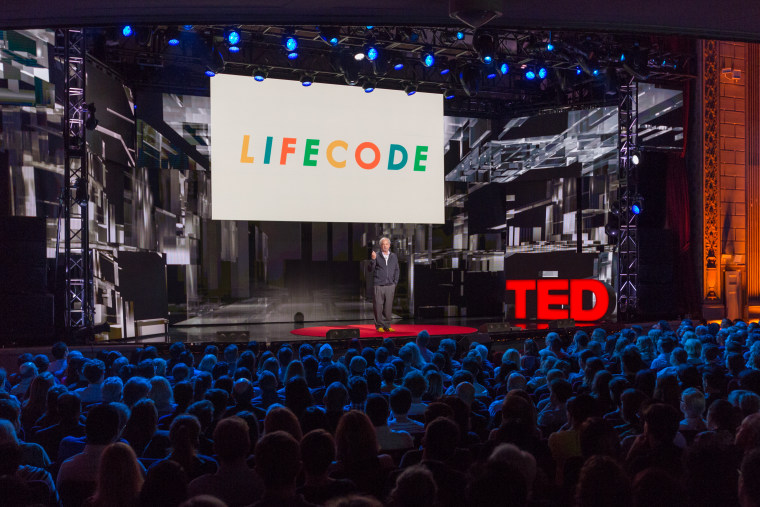 "I figure out what strategies work for them, and how do we replicate them for society," says the educator. "I do a lot of work with teachers. We actually run a curriculum called, 'Project GRIT' for poor kids who can't afford to go to summer camps - so we come to them."
Twice a month Rios travels and speaks; recently he's been to Nebraska, Washington and North Carolina to welcome new immigrant students.
RELATED: Model Ashley Graham Gives Empowering TED Talk on Body Acceptance
"One day, they will be contributing here," says Rios. "My goal is that this generation of Latinos doesn't have to suffer like I did, and that they can find resources."
The main issue, he says, is many Hispanic children don't feeling connected.
"I'm doing a lot of research right now on emotional support," says Lopez. "Why aren't Latino kids getting the same kind of support? Even if they have the same grades, that's not right. We should all be ideally treated on the same playing field."
Actress and singer Sara Ramirez says she believes she had an advantage growing up with a light-skinned, Irish-Mexican mother in a more affluent area of San Diego; she immigrated to the U.S. at age 7 from Mazatlan, Mexico. However, it still wasn't easy navigating both worlds.
"When my mom wasn't around, I would experience extreme racism - people would look at me like I was going to steal something. Kids would tease me and tell me to go back to Mexico," says Ramirez.
"I used to hear a lot of words which were imprinted on me. You feel like you don't belong wherever you go," says Ramirez. "If we are dark-skinned in any way, we don't exist."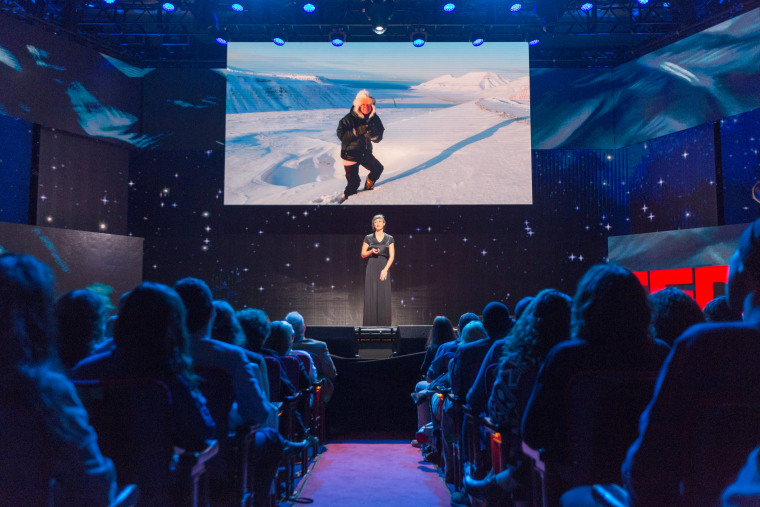 The actress says she remembers being incredibly distracted in school, and therefore, not invested in what she was learning.
"I understood that I was going to have to work a lot harder to succeed," says Ramirez, producer of the teen film, "Loserville," which tackles important issues like bullying and identity. "Education to me represents opportunity. To me, education represents power and the opportunity to change various systems."
For her, it was also one specific teacher who made a difference in her life in the 9th grade.
"My teacher, Ole Kittleson, took me by the hand and said, 'Who are you? You're amazing!," Ramirez recalls after he heard her sing for the first time.
The teacher then helped Ramirez get into advanced arts classes. "He saw something in me and changed the trajectory of my life. I will never forget him and always thank him in my heart and in my mind...Connecting as human beings make the biggest difference in the world."