The day-to-day experiences of a Puerto Rican family who moved from the island to New York City in the 1950s-1970s is part of a fascinating new exhibit in a museum that examines our country's evolving waves of migration.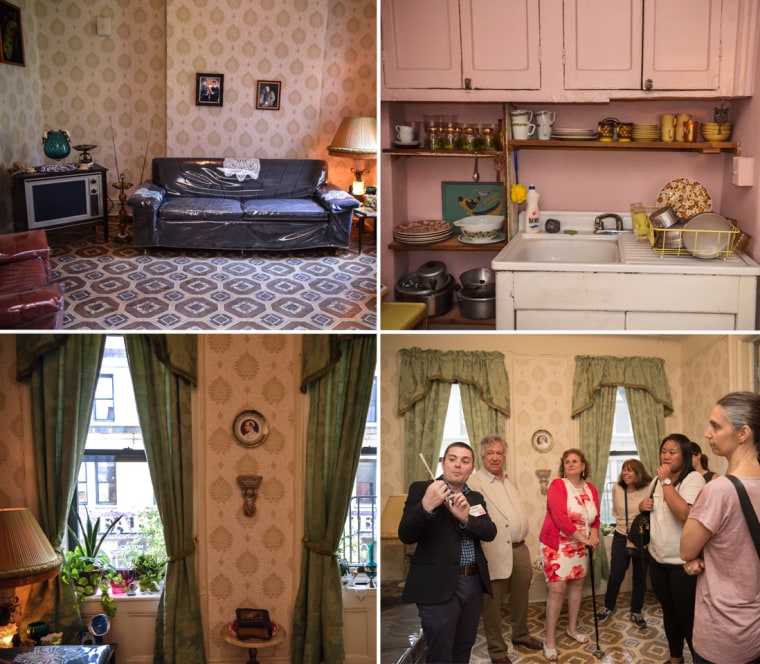 The New York City Tenement Museum's exhibit, titled "Under One Roof," sheds light on the lives of three different families who all lived in the Lower East Side of Manhattan, a neighborhood that has been for centuries a destination for immigrant families. The three families, who came from completely different parts of the world, all lived in tenements, which are a room or a set of rooms forming a separate residence within a house or block of apartments.
The Tenement Museum is located in a building that once housed thousands of migrants for over a century; now over 200 thousand people visit every year and get a glimpse of how it was like to live in the building as a newly arrived immigrant family.
In the current exhibit, three tenement residences have been frozen in time using some of the belongings of actual families who moved there during the 1950s and 1960s.
Related: 'Celebrating Latinidad': Google Creates Online Latino Culture Exhibit
One of those families was the Saez-Velez family, who migrated from Puerto Rico in 1955. Ramonita Rivera-Saez was a single mother who brought her two sons, Andy and José to New York City in the hope of finding a better life and work in the garment business. Ramonita would end up finding employment in the garment business and had a career that spanned 30 years in the industry.
"She was a fighter. She was really a warrior," Jennie Velez, Ramonita's daughter-in-law, told NBC News.
After World War II, Puerto Rican migration to the mainland catapulted. In 1945, there were only 13,000 Puerto Ricans in New York City, according to the Library of Congress. By the following year that number had nearly quadrupled. Puerto Rico is a territory of the United States and Puerto Ricans are U.S. citizens, so it has been easier to migrate to the mainland than for other groups. Once the 1950s arrived the influx continued throughout the mainland U.S.. Halfway through the decade, nearly half a million Puerto Ricans had left the island behind.
"The drive to come to this country and provide for your family is the same that it was 100 years ago or 150 years ago. If we forget that we lose a part of our soul as a country," Annie Polland, the senior vice president of Education and Programs of the New York City Tenement Museum told NBC News during a recent unveiling of their new exhibit.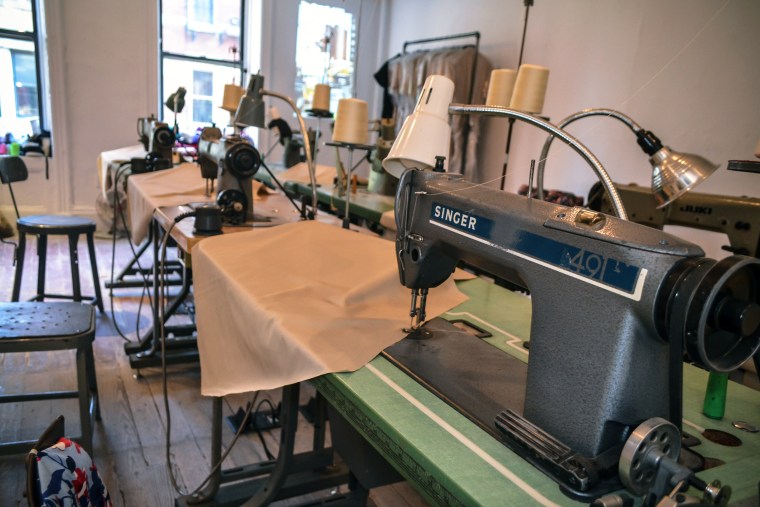 In Ramonita's apartment, there were plastic covers on the sofa, rosaries hanging throughout the house and artwork of The Last Supper.
"She would always pray the rosary," Ramonita's granddaughter, Andrea Velez, recalled as her eyes filled with tears, "That's something that's just like timeless."
Audio recordings narrated by Ramonita's sons tap into the nostalgia of anyone who can relate to a working mother who's trying to balance keeping food on the table while keeping her sons in line.
"If we burned the beans, we'd be in trouble," said her son José in the recording as he reminisced about coming home from school and cooking the beans his mother had left for them on the stove before heading to work. His mother always made herself present despite being at work all the time.
Andrea and Jennie Velez also lived in the tenements. They lived one floor below Ramonita, and Andrea remembers how her grandmother would hit a pipe with a spoon to check if anyone downstairs was home so she could bring them food.
Ramonita was the matriarch of the building. She was very loved and managed to have a relationship with everyone even if they didn't speak the same language. "She enjoyed being part of the different families that were there," said Jennie Velez.
One of the families Ramonita had a bond with were the Wongs. Their tenement is also a part of the exhibit.
Mrs. Wong worked in the garment district as well and lived with her four children plus her husband. They moved from mainland China to Hong Kong and eventually to the United States. During a video portion of the exhibit Mrs. Wong remembers the day of her naturalization ceremony in 1973 and how her daughter served as her interpreter.
The person taking her fingerprints asked Mrs. Wong's daughter what Mrs. Wong did for a living. Her daughter replied saying she was a garment worker. He laughed, "Your mom has done a lot of work," adding, "Her fingers no longer have prints."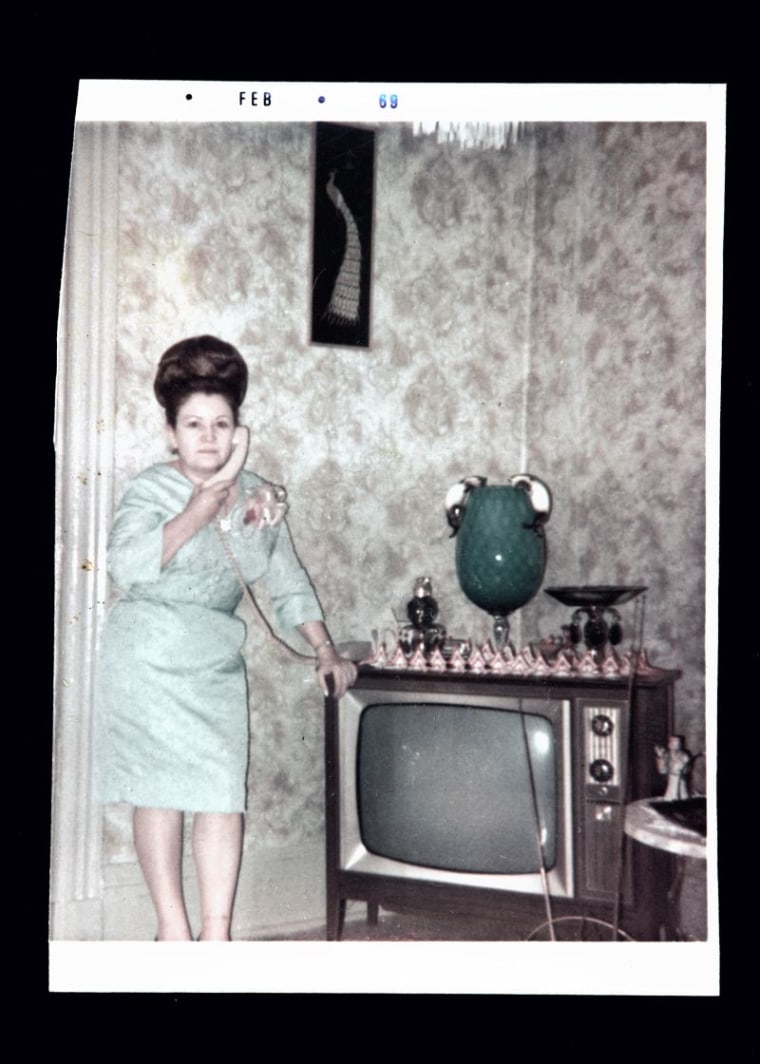 Related: 'Growing Up Gonzales': Playwright's Bittersweet Slice of Latino Identity
The museum also has a replica of what a garment factory used to look like in those days, with rows of sewing machines, Chinese decor, and wrapped packages of completed garments.
The third family highlighted in the exhibit are the Epsteins. The Epsteins were Polish refugees and Holocaust survivors. Regina and Kalman Epstein met in a displaced persons camp. Unlike the Wongs or the Saez-Velezs, the Epsteins never had the option to return from where they came from.
As you walk through their tenement you're greeted by the mezuzah at the entrance, something that one of the museum staffers described as an act of bravery given that the whole reason the Epsteins ended up in New York City was because they had been persecuted for their beliefs.
During the Epsteins' tenement tour you hear from their daughter, Bella. She describes how her accented parents were different from her friends' parents and the one song that made her feel truly American was Paul Anka's cover of "Oh, Diana."
"That was the song. That was played in my house more than I think anywhere else in the world. That was the song, it made me an American," Diana reminisced.
The exhibit took about 10 years to come together. The museum worked with the families and carefully picked out each and every item in the tenements. Some were donated by the families.
Related: Students Walk Out After Teacher Orders: Speak 'American'
Polland hopes that those who have hesitations about immigrants, migrants and refugees walk out with a new perspective.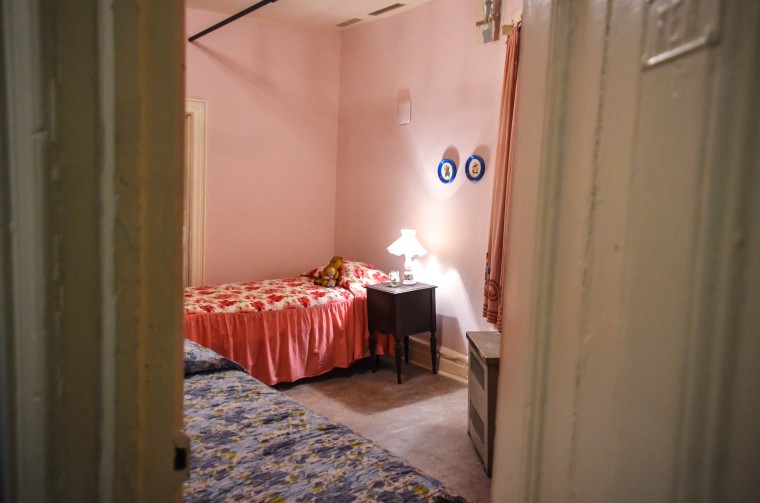 "People have a fear that American culture is going to disappear if 'these people' come, or 'I'm not going to have a job.' It's almost as if there's only so much America and you need to safeguard that, but they don't understand that by doing that they violate the very same principles that makes America what it is," Polland said.
Being American goes beyond language; it's about finding common ground in the small things. She hopes this exhibit portrays that. "Under One Roof reveals that being American is more than mastering English or passing a citizenship test," Polland said.
"It is about learning how to live, work, and play with neighbors who come from other traditions and cultures, while also discovering the similarities that connect all of us."