EDINBURG, Texas — La Herradura Taqueria wasn't a designated stop on the Laredo to McAllen leg of the campaign trail last Friday night, but a change of plans found a number of Democratic candidates for the state's top elected offices dining at the restaurant named for a symbol of good luck.
They ate bathed in blue light radiating from the neon sign bearing the restaurant's name and a giant upturned horseshoe — a fitting stop for a party hoping its political fortunes are about to change.
Democrats' dreams of a "blue wave" reaching Texas have been buoyed by President Donald Trump's waning popularity in the deep red state. But it's the rising tide surrounding Democratic Rep. Beto O'Rourke's campaign for U.S. Senate, with his increasingly strong poll numbers, massive fundraising hauls, packed rallies and viral videos that have other Democratic candidates feeling optimistic two months before the midterms.
"You can't look at a candidate like him and not think he's doing anything but good," said Miguel Suazo, who introduces himself to crowds as the candidate who is going to beat George P. Bush, the pro-Trump Texas land commissioner. "The people who are going to vote for him (O'Rourke) are probably going to vote for other Democratic candidates down ballot."
History would suggest that the congressman, shown trailing incumbent Republican Sen. Ted Cruz by just four points in the latest NBC News/Marist poll released Wednesday, and other Democrats seeking statewide office remain at a disadvantage. Still, political scientists said, there's some hope of a coattail.
The O'Rourke effect
Last Saturday at the historic El Rey theater in McAllen, Texas, O'Rourke was taking pictures with prospective voters after one of his campaign-organized Música con Beto rallies.
Though not Latino, O'Rourke, 45, is a fourth-generation Texan who grew up in El Paso and is comfortable speaking Spanish. He's introduced by comedian Cristela Alonzo and a musical set from bands like Arzalez and Little Joe y la Familia follows his speech.
As he was making his way post rally to a nearby bar-restaurant that served as an overflow room, O'Rourke told NBC News that he's "not into red and blue and this party versus that party." But O'Rourke, who has served three terms in Congress, had invited several Democratic state candidates to speak at the event and in two other rallies in the border cities of Brownsville and Laredo.
It was clear, however, that the big draw was O'Rourke himself.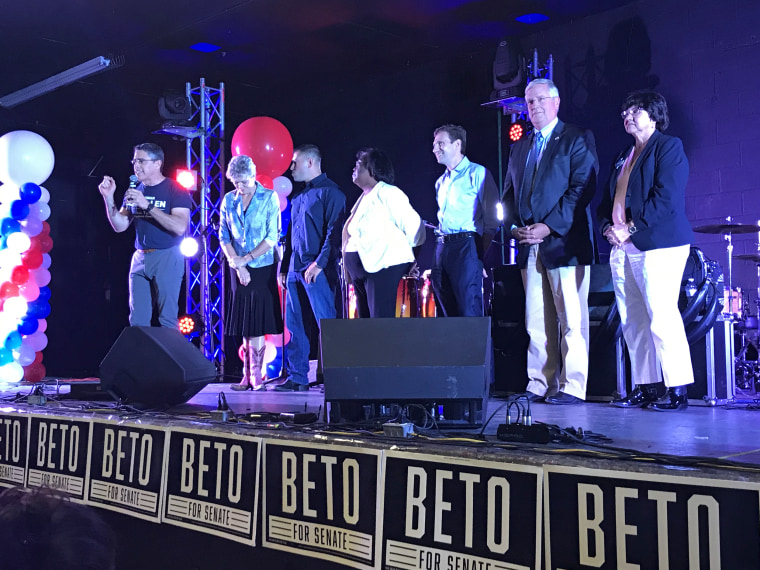 People at the rallies said they were already knowledgeable about O'Rourke or had heard about him through social media or television, but the names of the other Democrats who took the stage, including gubernatorial candidate Lupe Valdez, lieutenant governor candidate Mike Collier, Joi Chevalier for Comptroller and Suazo for Land Commissioner are not yet on the tips of voters' tongues.
As candidates delivered their stump speech, the excitement seemed to grow. By the time Valdez's turn came, the crowd was elevated, with some jumping to their feet to cheer for her.
Still, Republican Gov. Greg Abbott leads Valdez by 19 points in the same NBC News/Marist poll that has O'Rourke within striking distance of Cruz. Whatever effect O'Rourke might have at the ballot box, Victoria DeFrancesco Soto, a political scientist with the University of Texas LBJ School of Public Affairs, said it's unlikely to boost Valdez.
"He is going to have coattails and I think we are especially going to see that with congressional and state races," DeFrancesco Soto told NBC News. But she does not think O'Rourke's popularity will necessarily pull up Valdez's quest to become the next governor.
Valdez looks for her own boost
As she prepared to embark on the border tour early last week, Valdez's campaign was dealing with potentially damaging news that a gun loaned to her while she was sheriff was missing. Her opponent used the report of a missing gun to attack Valdez's qualifications to run the state.
On Tuesday, however, the Dallas County Sheriff's Officeannounced that it had found the gun, and apologized to Valdez. Missing since December, the gun was in the agency's property room where it had been turned in on Jan. 2 but not recorded in the inventory.
As she campaigned with O'Rourke over the weekend, Valdez, an Army veteran and the state's first Latina sheriff, found herself mostly an unknown.
James Coan, a retired Marine, former probation officer and retired teacher in Brownsville, didn't recognize her name. He was at Tony Gonzales Park Sunday after getting an election placard at his home from the O'Rourke campaign.
"I was hoping to hear more about what he has to say about veterans and their rights," said Coan, who came with his wife Yolanda to hear O'Rourke pump up volunteers before they set off on a block walk in Brownsville to register voters and urge support for the candidate. "I really want to see Ted Cruz out of office."
When told Valdez was the Democrats' gubernatorial candidate, he immediately brought up having supported and liking the late Democratic Gov. Ann Richards, only the second woman in Texas ever to hold the job.
Days earlier at La Herradura, Valdez decided to work the dining room before getting a very late dinner.
She had to tell the few families dining at the small restaurant who she is and why she had broken in on their meal, but walked away feeling she may have picked up a few votes.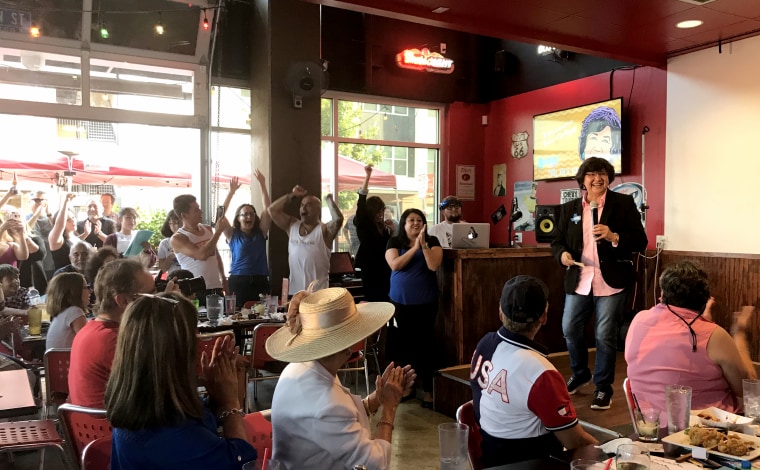 At her own events, the crowds were smaller — but her supporters said they felt a kinship.
Isaura Cisneros, 65, of Edinburgh, waited with her sister Rachel Flores, 57, at Poncho's restaurant, for an event sponsored by the Tejanas with Lupe Valdez. The two women had come to support Valdez after seeing a Facebook post that she would be in town.
"When I first heard she was running for governor, I said I'm for her," Cisneros, who worked for 32 years as a pharmacy technician, said.
"She knows what women go through," she added. "That she's a woman and done so much for herself … She represents the local women who have done for themselves."
At a campaign stop at Luther's Café in San Antonio, Valdez said, "There is a saying in Spanish that says, no más le pido Díos que me ponga donde hay — all I ask God is to put me within reach. Just put me within reach, and I'll fight like the dickens to make it home."
The power of 'la palanca' on the border
Suazo, the Democratic candidate for land commissioner, noted that there are areas of Texas where there is the possibility of a "reverse coattail," too, where candidates of color could help boost O'Rourke.
O'Rourke failed to conquer South Texas and several border counties in the primaries. When he was in the region last weekend, he came with a group of volunteers who called themselves "Border Surge." They were led by Democrat Veronica Escobar, who is on her way to becoming one of Texas's first women to represent the state in Congress.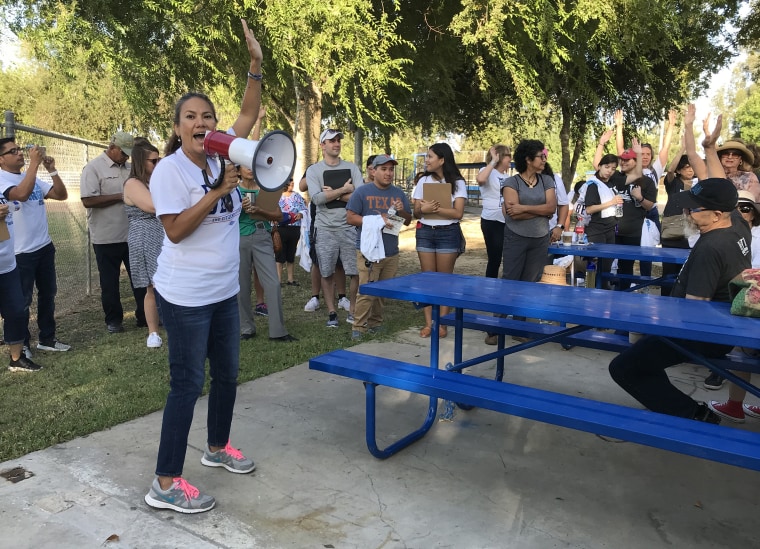 "We have to have good people serving in office who will work for communities, not against them, and for a very long time we have had members of our Senate, members of the Congress, members of the state Legislature, governors, lieutenant governors working against border communities," said Escobar, "casting us as violent unsafe places — places to be feared and to be controlled."
"Our communities are vibrant and beautiful," Escobar added. "They are the new Ellis Island for America and we should be electing people who reflect that."
Democrats are hoping that straight-ticket voting — voting for every candidate in one party — can be a boost for their candidates this year, especially with O'Rourke's poll numbers. In Spanish, it's known as pulling "la palanca," referring to the lever at the voting machine.
"One of the things we are pushing here is vote straight ticket," said Zulema Ortiz, the Laredo grassroots coordinator for O'Rourke's campaign.
According to a study from Austin Community College Center for Public Policy and Political Studies, straight-ticket voting is the dominant factor determining the outcome of general elections in Texas, especially in gubernatorial elections.
Republicans for the first time got less than 50 percent (49.74) of the straight ticket vote in 2016, when Clinton finished within nine points of Trump in the state. Meanwhile, Democrats did their best since 2000 with 48.38 percent of the straight ticket vote, according to the study.
This is the final year that Texans can do straight ticket voting, rather than vote race-by-race. The Republican-controlled Texas Legislature eliminated it in time for the 2020 election.
Soto, the political scientist, said that even if Democrats come close in November, it's a modicum of victory.
"I think when we are talking about Democrats in Texas you have to consider a win, a narrowing of the gap. If Beto loses by 4 percentage points, that's a huge win for Democrats in Texas," she said.