AUSTIN, Texas — The curator for this year's Texas Biennial was saying goodbye to friends in Mexico City when a historic 7.1 magnitude earthquake struck.
Texas Biennial Artistic Director Leslie Moody Castro, who curates art exhibitions in both the United States and Mexico, was at Proyectos Monclova gallery in Mexico City when the felt the earth shift around her.
"I heard the beams, the concrete beams of the building move," Castro said, who divides her time between Austin and Mexico City. "It lasted a really long time."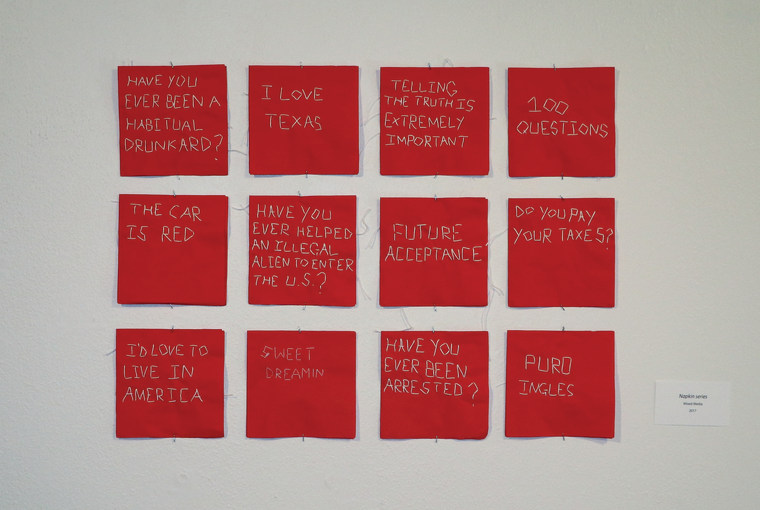 Castro's home was relatively unscathed. "I had it easy, compared to most people."
After arriving safely in Austin, Castro has been getting everything ready for what should be a dramatic new direction for the Texas Biennial, which opens on September 30. Founded in 2005, the event currently features 33 artists from in and around the state who will show work in a single converted furniture warehouse.
RELATED: Mexico Earthquake Survivors Rescued After 2 Days in Rubble
Castro discovered the Texas Biennial after returning to her native Austin from a long stint in Mexico City. She has divided her time between the two places for over a decade, and has also completed residencies in other cities and programs, such as the University of Texas at Dallas' CentralTrak.
Castro narrowed down the Biennial to three objectives. The first is the open call to artists, which has been the case with all of the event's previous incarnations. The second involves the exploration of Texas identity. The third is the exhibition itself, but in relation to the state as a border zone.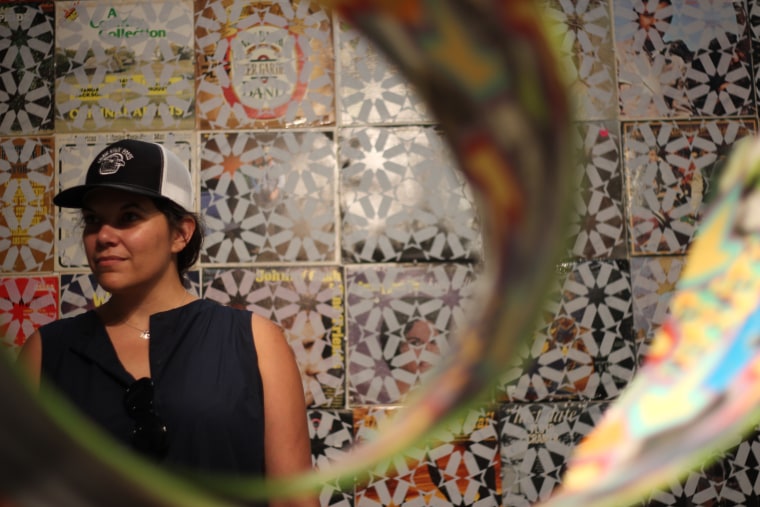 "We have a major border in the south with Mexico, but I really wanted to open that conversation and see what it would look like if it becomes much more blurry than that," Castro said. "We opened the parameters to include any border within ten miles of the state of Texas."
The question then became whether or not the surrounding states would respond to an event that was branded so heavily as Texan.
RELATED: Latino Comic Crusaders Convene to 'Represent' At First Texas Latino Comic Con
"I did get some submissions from New Mexico which I thought was really cool. I didn't get any from Oklahoma but I wish I had," Castro said. She did, however, receive "a ton" of entries from along the Texas/Mexico border.
Just how does one event encapsulate contemporary art in a state that's roughly the size of Afghanistan? Castro immersed herself by way of the most Texan of pastimes: A road trip. She actually refers to the state as "small" at one point when breaking down the expansive journey on which she embarked. "We had 80 partner organizations, so I went to visit all of them. The final count was 26 or 27 cities," Castro said.
When feasible, Castro added additional places outside of the most populous cities to her route. "Corpus Christi was one. Laredo was one. Amarillo. Then also at the end, I added Matamoros and Juarez," Castro said.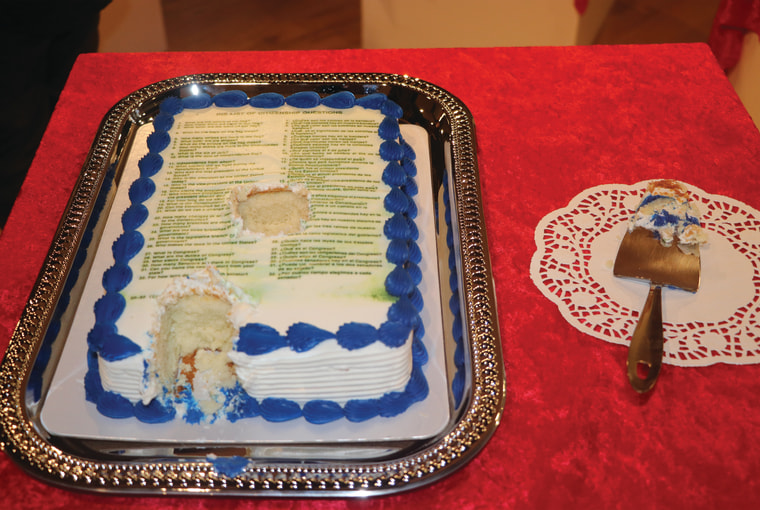 Fabiola Valenzuela is one of the selected artists tackling the themes of borders and identity in this year's biennial. Hailing from Grand Prairie, Texas, Valenzuela was already exploring some of this particular subject matter in relation to being a first-generation American and her family's experience gaining citizenship.
In a recent solo exhibition that she called Cake, Valenzuela examined the letters American presidents send to new citizens, including the official correspondence her parents received.
She then printed the images on cakes set around a room, much like the one bestowed upon her father at his job when he gained citizenship. Art patrons were then encouraged to consume the baked goods.
RELATED: Hispanic Heritage Month: #NBCLatino20
Valenzuela also incorporates actual materials from the jobs her family has held and key moments they have lived. She has sewn different pieces of uniforms from her parents' respective places of employment together.
"At first they wouldn't understand why I was trying to borrow random things of theirs," Valenzuela said. "Now they understand more. 'Oh, you want to borrow a letter from Bill Clinton?' You want to borrow a certain tool that my dad uses when he works on cars? They're very supportive about it."
Valenzuela was taken by surprise by the actual content of President Clinton's letter when she read it. She recites a series of paraphrased sentiments as she recalls it.
"Don't mess up. You've gotten so far. Be one of the good ones. That's what I felt was the tone in that letter. Compared to Obama, which was more welcoming," Valenzuela said. "Being an American is more than what you're trying to say in this letter. My parents have always been worthy of being called an "American."
While much of her past work has focused on her parents, she is now shifting to herself for inspiration in pieces that incorporate fibers and text. She counts visual artist Glenn Ligon and poet Claudia Rankine as influences, who are both known for addressing issues of ethnicity in their work.
"I'm focusing on the word, pocha which is a derogatory term you call someone, where you'd say, 'Oh, why isn't your Spanish so great?,'" Valenzuela said. "You're brown on the outside, but white on the inside. Pocha is also a 'rotten fruit,' so that gives you a hint of what that means."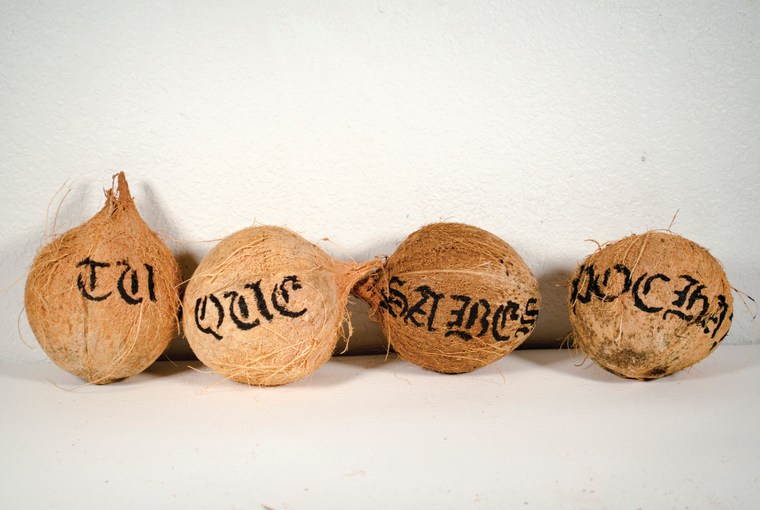 While Valenzuela is moving away from cake as a medium, she hinted that her Texas Biennial contribution will still involve food.
Back at the airport, Leslie Moody Castro is reflecting on the experience she had getting to this point, one more connecting flight away from Austin to put the final touches on this year's Texas Biennial.
"I tried to get out of my neighborhood but I couldn't because we had so many collapsed buildings," Castro said. After collecting a friend's dog that was locked inside a nearby structure, she sat on her front stoop with her neighbors. They were blasting a wireless radio loud enough for her entire block to hear the latest information on the earthquake.
The power returned to Castro's building that evening. Only half of her neighborhood had electricity. Her house became a gathering point.
"The tequila was completely, totally intact. It had not fallen off the refrigerator. Once I had power, I texted everyone that I had power," Castro said, laughing. "There was a revolving door of friends coming in and out to charge their phones, get water, have some tequila to calm their nerves a bit. I stayed at home after that."
The Texas Biennial 2017 runs from September 30 to November 11. The event is located at 211 Alpine Road in Austin, Texas.