SAN ANTONIO, Texas — Jessica Azua trusted fate when at 14 she traveled alone from Mexico and crossed the Rio Grande to be with her father in the U.S.
But as a young woman without permanent legal status working to turn out Latino voters in this election, she is not willing to put her trust in polls showing Democrat Hillary Clinton inching within two to four points of Donald Trump in deep red Republican Texas.
"It's like the phrase in Spanish, 'no hay que tirar la toalla' (We shouldn't throw in the towel)," Azua, 25, an organizer for Texas Organizing Project, said as she moved from address to address of inconsistent Latino voters in south San Antonio.
"I feel like we should not just trust the numbers, and should do the best we are doing and keep talking to people and talk about the issues and talk about the candidates," said Azua. She is shielded from deportation through the Deferred Action for Childhood Arrivals, DACA, program and has a permit to work.
The possibility of a close, single-digit finish in this state, where Republicans have held every elected office since 1998, has set off some boot shaking and excitement, although there is hesitancy to utter upset. After all, the last time a presidential candidate won Texas was in 1976 by Jimmy Carter.
Democrats aren't saying Clinton may win, but they do see the slim daylight between the candidates at the top of the ballot as a hopeful sign for those further down ballot, even with congressional and legislative district maps that still need fixing. They also see it as a hopeful sign of things to come.
"We are very encouraged to continue to see multiple single-digit polls that show that the gap is narrowing in Texas," Manny Garcia, Texas Democratic Party deputy executive director, told NBC Latino.
"Our mission has been entirely clear in 2016. We are working to build a permanent infrastructure in this state, so we can best represent Texas families in their government," he said.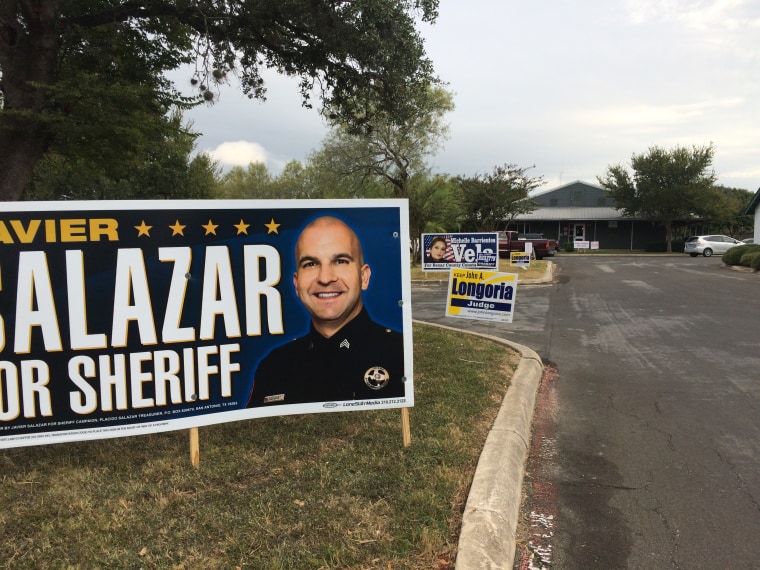 Brexit and erroneous polls that showed voters would reject Britain's exit from the European Union is often mentioned by Republicans asked about the tight race here.
"I think in this climate there's not a lot of confidence placed in the polls," said Ramiro Peña, pastor at Christ the King Church in Waco and a Trump surrogate.
"We can see what happened both with what the far right wing of the (Repbulican) party has done, unseating establishment people and Brexit … I think people are a little bit skeptical of the polls, especially when we see so much energy in support of Mr. Trump," Peña said.
There was no response to calls and email requests for comment from the Texas Republican Party about the tightened race.
Related: No, the Presidential Election Will Not be The Next 'Brexit' for Pollsters
Mitt Romney won Texas in 2012 with 57.2 percent of the vote to President Barack Obama's 41.4 percent. But in Bexar County, which includes San Antonio and has a majority Latino population, Obama won with 51.6 percent of the votes cast.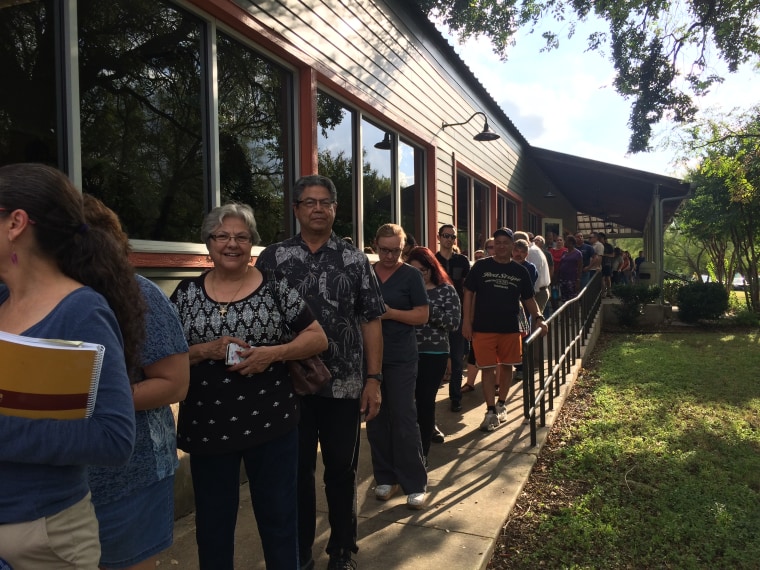 The state's Latino population, the second largest in the country behind California, has tended to be more conservative than other states with large Latino populations. Republicans have won some 30 to 40 percent of the Texas Latino vote in state elections. About 28 percent of the state's eligible voters is Hispanic. In the CBS/YouGov poll that showed a 46 percent to 43 percent Trump lead, 31 percent of Latinos polled said they'd vote for Trump.
However, in a Latino Decisions poll of registered Latino voters, 68 percent said they would vote for Clinton and 18 percent said they'd vote for Trump. The poll, conducted for the National Association of Latino Elected and Appointed Officials Educational Fund and released Wednesday, interviewed 400 Latinos in the state and conducted interviews in English and Spanish.
But Trump has turned off some Republican Latino voters and in this state they are playing a meaningful part in keeping Clinton nipping at Trump's heels here.
Just this week, Lionel Sosa, who designed political outreach campaigns targeting Latinos for several GOP candidates including former presidents George W. Bush and Ronald Reagan, announced he would be voting for Clinton. Sosa had said a months ago that he was leaving the party, but he had been supporting Gary Johnson.
"I want to do everything I can to see that Trump doesn't get elected," he told the Texas Tribune.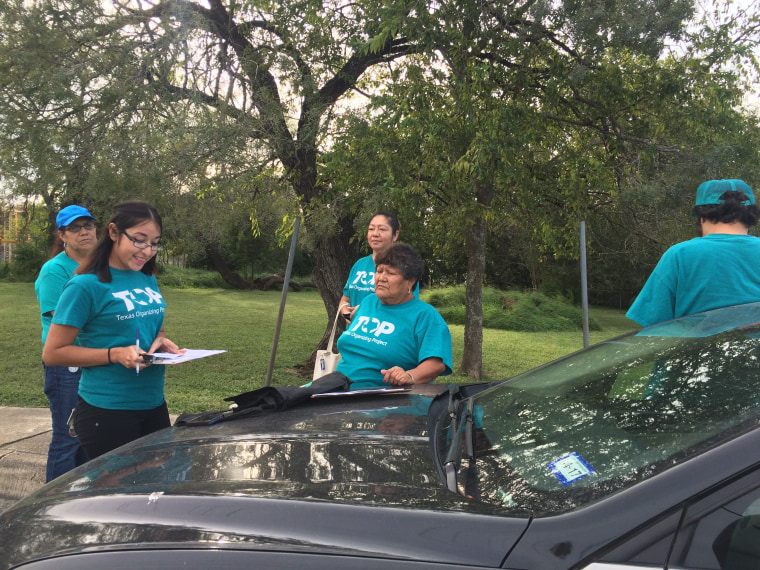 Several other Texas GOP Hispanics have been outspoken in their disdain for Trump and their unwillingness to vote for him, though not all have taken Sosa's step and endorsed Clinton. Several were part of the contingent of Hispanics that had worked to bring more Latinos to the party and had helped build the GOP's dominance in Texas.
Yolanda Melendez, a physical therapist in San Antonio, voted for George W. Bush in 2000 because of his anti-abortion platform. But by the time of Bush's re-election, she had grown disenchanted by his decisions on other issues beside abortion. Trump's candidacy has pushed her further from the party.
"I saw the social programs and the other things that my people use devastated because of the [GOP] policies," Melendez said. "That's when I started saying, okay, you need to be looking at the whole picture, you can't just be a one issue person."
"Make America Great was let's go back to the good ol' boys, let's go back to no women's rights, let's go back to white, Anglo Saxon." Yolanda Melendez, a Clinton supporter.
Having studied the candidates to see "where the Latinos would be better served," she voted for President Barack Obama and is voting for Clinton this year. She sees Clinton's experience as an asset.
Melendez said she's always enjoyed political conversation with family members who are Republican – until this year.
"We had to make a house rule that said, no politics," Melendez said. As a young girl, Melendez interviewed for a school project a local man in Longmont, Colorado, where she was living who told her about a time when posted signs stated, "No Dogs or Mexicans Allowed."
"The stuff that spews out of that man (Trump) reminds me of being exposed to, in that little town, all that racism," she said. "Make America Great was let's go back to the good ol' boys, let's go back to no women's rights, let's go back to white, Anglo Saxon."
"I would sooner slit my own throat than vote for Hillary Clinton," Marco Rodriguez, a Donald Trump supporter.
Marco Rodriguez said he's been unhappy with some things that have happened since the primary and said he feels "sick to my stomach with all that's going on" with Trump and Clinton. But he said his support for Trump has "hardened" since the convention and he'll be voting for him on Election Day. So will his son, who is now 18 and will vote for the first time.
Rodriguez, a combat veteran who was a GOP convention delegate, said he doesn't like Clinton's policies and doesn't want her to leave a liberal imprint on the Supreme Court with appointments of new justices. He also said Clinton is a "globalist" while Trump puts America first.
Related: Union Leaders, Activists: Latino Voting 'Wall' Will Block Trump From White House
Rodriguez considers Trump innocent until proven guilty on some of the allegations of sexual assault and harassment and says Clinton is helping "slaughter" young minority children through her support for abortion rights and Planned Parenthood.
"I would sooner slit my own throat than vote for Hillary Clinton," Rodriguez said.
Related: Los Trumpistas: Meet The Latinos Supporting Trump
In a poll by the University of Houston's Hobby School of Public Affairs — one of the polls showing the tight race — 41 percent of Texans who said they were certain or likely to vote planned to vote for Trump; 38 percent supported Clinton. The margin of error was plus or minus 3 percent and included 166 Latinos; the margin of error on their polling was plus or minus 7.5 percent.
A look at the state's Latino voters
Robert Stein, a Rice University political science professor who helped oversee the poll, said Texas is experiencing an aging up of Hispanics, many of whom are deciding to vote as they age.
"What's happened is they are older. They are more likely to be married, have jobs, have kids and have homes and more importantly go through college. They are voting at a much higher rate (than previously) and the older Anglo voters who had been voting at very high rates are dying or they are dead," Stein said.
Meanwhile, younger Latino voters are "reacting a bit to the extremism of the Trump campaign," said Texas A&M associate professor Diego von Vacano Camara. He said he sees much more political activity and participation among his students.
"They are becoming more interested in politics because of what they are seeing, the racial dimension of the campaign. That will eventually transform Texas politics at the presidential level. Eventually (the state) will go Democrat, but I think it will take a while," von Vacano said.
Related: Trump's Battleground Map Makes Rosy Assessment of Toss-Up States
A third of Hispanic eligible voters are 18 to 29, while just 24 percent of all Texas eligible voters fall in that age range, according to Pew Research Center.
More than 15 million Texans registered to vote this year, about 1.5 million more than in 2012.
The state's Democratic Party has seen an uptick in Spanish-surname registrations, suggesting an more Latinos have registered to vote. The party acknowledges that is not the best tool for assessing Latino participation. But what is certain is that about 1 million Latinos turn 18 each year and that has meant 4 million more voting-age Latinos since 2012.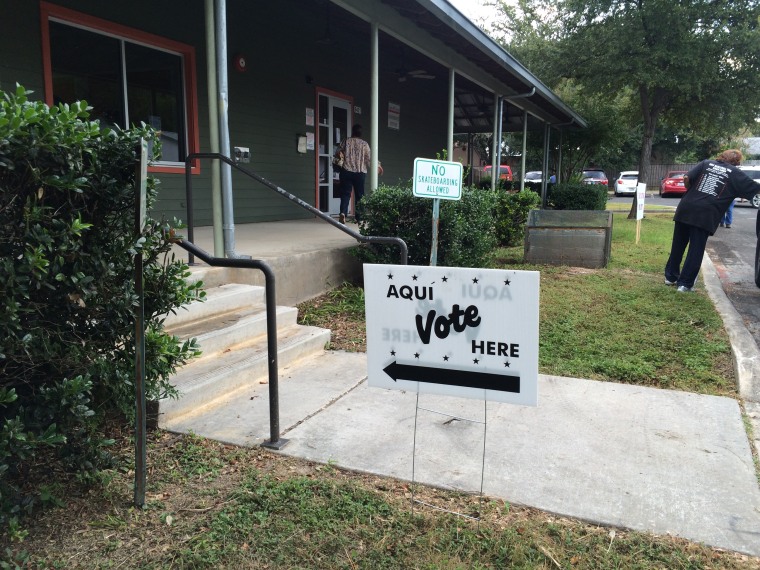 If the state does see more Latino voters, volunteers like Azua have played some role — despite the fact that as an immigrant with deportation relief under Obama's DACA program, she can't register voters.
Texas' new voter laws requires people who register voters to be U.S. citizens, take a voter registration course and be deputized for the country where they are registering.
So Azua goes from home to home explaining to residents how voting impacts their daily lives.
When she has encountered someone who couldn't vote, she has referred them to Texas Organizing Project volunteer Manuel Garcia, who is deputized.
Garcia, who walks with a cane because part of his right foot was amputated, said he had been registering voters daily up until Texas' Oct. 11 deadline. Now he's coaxing them to turn out to vote.
"I go to the malls on the West Side," Garcia said, referring to an area of town that historically had been where most Mexican Americans lived. "They've got an area where people wait for the buses — I walk from one bus stop to the other … I'd walk from one end to the other end. I was doing that every day."
In early voting, a record-breaking turnout
The state began early voting Monday and saw record-breaking turnout in several counties.
In the city of Leon Valley, a city the northwest side of San Antonio but not annexed, cars drove in and out of the city's municipal building Monday. Late in the day, a long line snaked along its wraparound porch.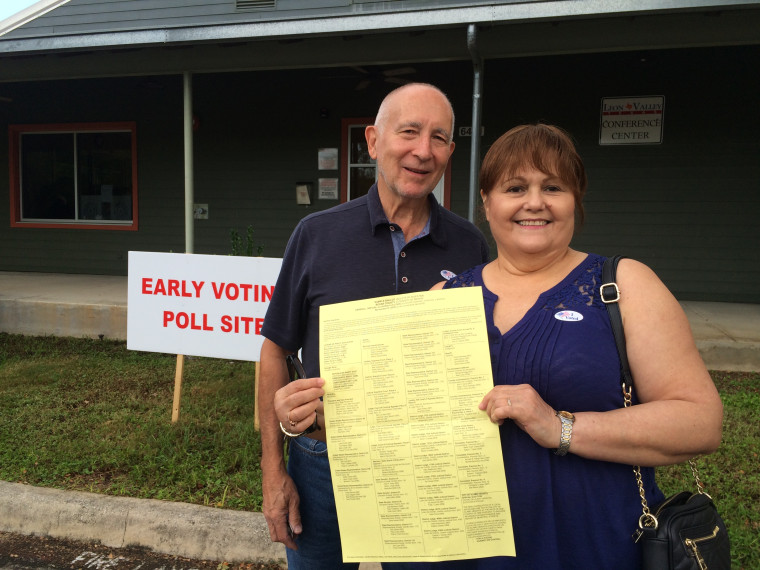 Evangelina Goltz, 71, one of the voters to arrive the morning early voting began in Texas, said she had voted for Trump.
"We need a change, first of all, and I feel like he has the strength to empower us and doesn't bring any bad ideas to the table," said Goltz.
Goltz said she feels the media has been "so cruel" to him and her vote is a way to "fight against injustices." She said she was unbothered by Trump's comments about kissing and groping women that were captured on video, because "men are men. Men are pigs."
"That doesn't make me decide who I want to represent me in Washington," Goltz said. "He has what it takes to be president."
But she was followed later by John Cano, 52, who said he voted straight Democrat. He usually votes Democrat but said he had voted for George H.W. Bush.
"I work in air conditioning contracting and I could see the difference in business, the decline (during the Recession) and then the increase now. Everyone is saying it's so bad but I don't see it," he said.
"Work had declined so much back then, but it's practically quadrupled now," Cano said. "When you see that you got to know it's working."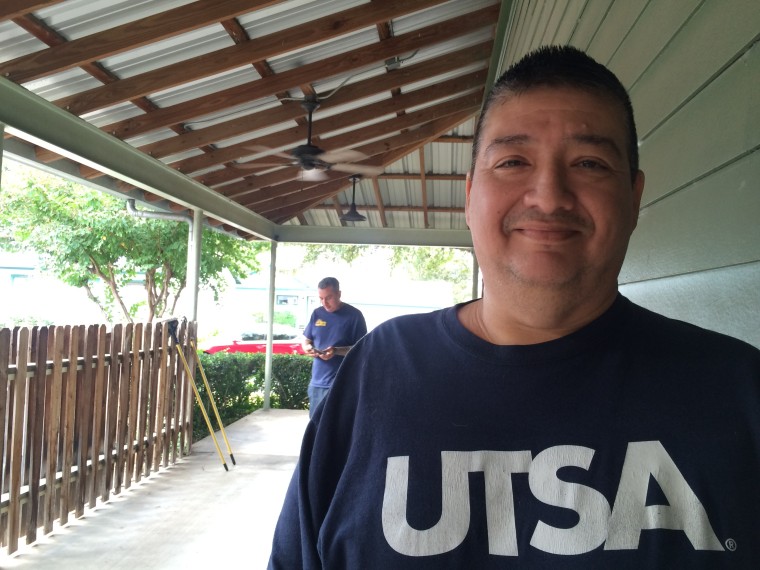 He said he listened to Trump, but "everything that came out of his mouth, he pretty much dug his own hole. He's hateful … He's out right in the open being prejudiced," said Cano, a father of three daughters.
"If she (Clinton) doesn't win that's pretty sad, because of all the bad things he said," Cano said. "Do you like someone being a jerk? I don't and that's being really nice about it."