NEW YORK, New York — The décor in the dressing room at the Marquis Theater is perhaps not what you might expect from two acclaimed Broadway stars. On one counter, toy soldiers and model aircraft surround a portable keyboard and what looks like a paper crown from Burger King. A nearby corner is overflowing with stuffed animals, miniature pumpkins, beanbags and a snow globe. On the door are hand-drawn calendars labeled "Christmas Countdown" and "New Year's Countdown."
Welcome to the backstage world of Alexandria Suarez, 16, and Eduardo Hernandez, 10, who play Little Gloria and Young Emilio in the smash musical On Your Feet! The Story of Emilio & Gloria Estefan. These two young people are enjoying the experience of a lifetime starring in a Broadway show – while still finding time to be normal kids.
In their shared dressing room, Hernandez is an ebullient presence. "I'm the King of Africa!" he declares, donning a homemade paper sash and his paper crown. He eyes Suarez, sitting calmly at her dressing table. "And you… you're the princess of Paterson, New Jersey!"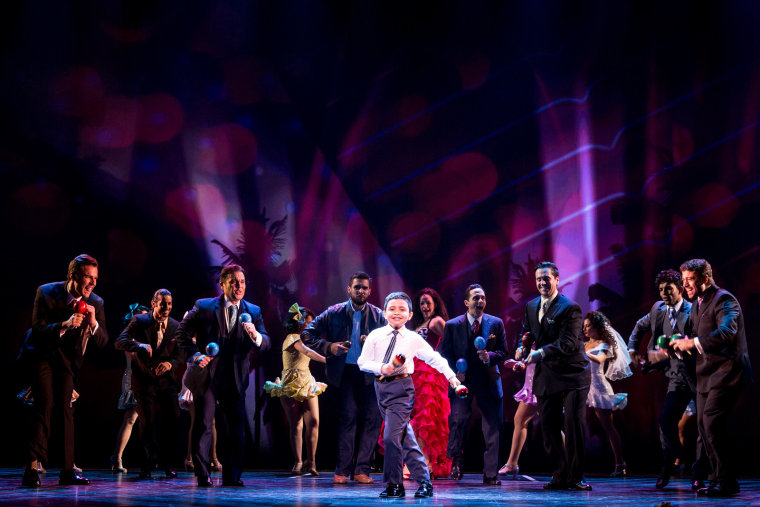 Asked whether she lived in Paterson, New Jersey, Suarez replied "Umm, no," before dissolving into giggles with Hernandez.
On Your Feet! tells the true-life story of the Estefans, including the triumphs, challenges and tragedy that they encountered on their journey to becoming musical icons and household names.
Suarez and Hernandez seem like two siblings who happen to get along exceptionally well, which is probably a good thing given that they spend a great deal of time together. Along with their alternates, understudies, and "wrangler" Felicia Velasco – the adult who serves as backstage chaperone of sorts for the show's children – Suarez and Hernandez are at the theater for six or sometimes eight shows a week. This means putting on and taking off makeup, getting wired with microphones, and multiple costume changes – all in addition to their energetic stage roles.
RELATED: 'On Your Feet!': Broadway's Proud Latinos Ana Villafañe, Josh Segarra
But this is a life that Suarez clearly loves. For as long as she can remember, she told NBC News, she has wanted to be a performer. She shot a magazine advertisement for Tylenol before her first birthday. Starting at age 6, she voiced the animated character "Backpack" on Dora The Explorer DVDs and TV shows. An honors student who took the SATs while she was in 7th grade, Suarez appeared in the pilot (first) episode of the TV show Blue Bloods, playing a traumatized kidnapping victim. Her other TV credits include The Today Show, 30 Rock, Saturday Night Live and Law & Order: SVU and numerous radio and TV commercials.
Suarez has won raves for her performance. In its review of On Your Feet!, the New York Times singled her out as "terrific." Looking back, she recalls opening night as "surreal."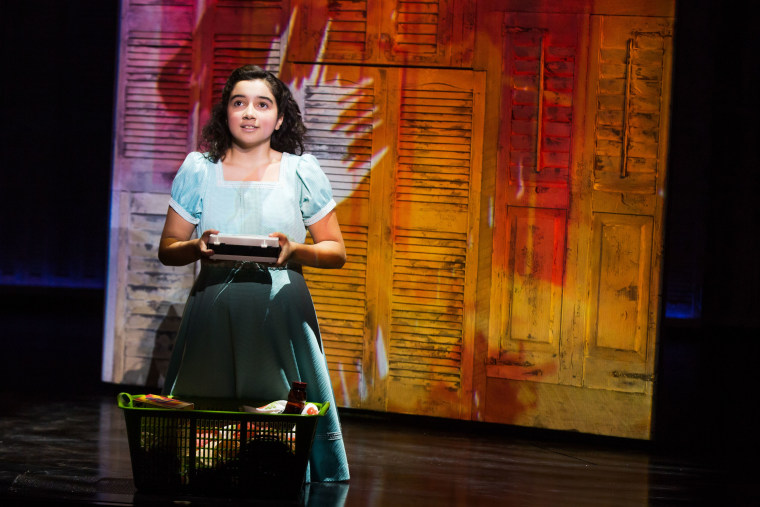 "It was a gift going out on stage and having a completely different energy than any other night we had stepped on stage," she said. "It was amazing."
When she is not onstage, Suarez does her school work backstage (she is currently taking AP courses online), plays board games with Hernandez and prepares for other projects and auditions.
Suarez also loves listening to stories from the real-life Gloria and Emilio Estefan whenever they are around the theater. Suarez describes them as "like the cool aunt and uncle you always wanted."
While they seem like regular kids, Suarez and Hernandez are members of an elite group of Latino working performers on Broadway. According to Actors Equity, the theater union, only 2.9 percent of its active members are Hispanic and roles for children are even fewer than those for adults.
In the future, both Suarez and Hernandez plan to go to college and continue their performing careers.
On Your Feet! is actually Hernandez' first acting role. Before On Your Feet!, the young boy was a competitive Latin dancer. In fact, he won the 2014 Latin Dance Cup in his age division. From there, it was on to America's Got Talent, where Hernandez made it to the semi-finals. While he was appearing on AGT, a producer for On Your Feet! spotted him and invited him to audition for the show.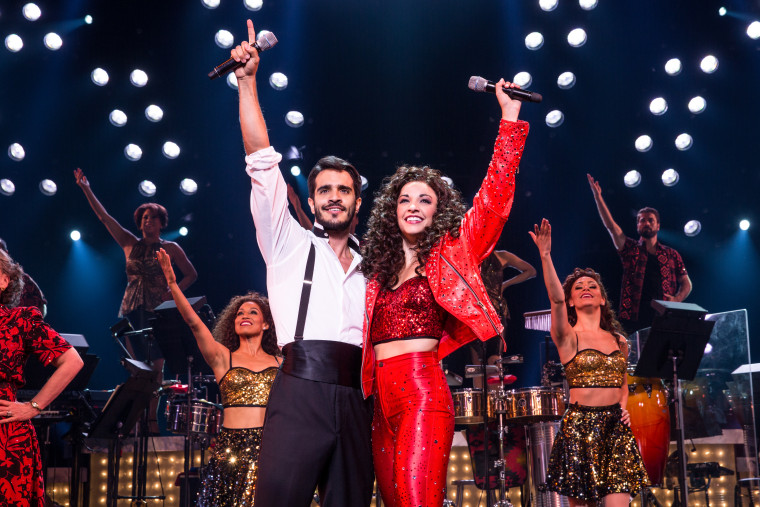 Since then he has done everything from dancing in the 2015 Macy's Thanksgiving Parade to performing at the White House and meeting Michelle Obama. He recently appeared in a cameo role in Mozart in the Jungle on Amazon.
Like Suarez, Hernandez has won raves from theater critics. During On Your Feet's pre-Broadway tryout, Entertainment Weekly praised him as an "eye-popping little dancer." The Hollywood Reporter dubbed him a "dancing dynamo."
Hernandez is still a regular fourth-grader who attends school and does his homework on the bus or backstage. Due to the demands of the show, he sometimes has to miss family get-togethers or friends' birthday parties. However, he says it is worth it, because he loves performing and the cast is like a second family to him.
Gloaria Estefan, he confided, "makes you feel like you are part of the whole family."
Hernandez has a full range of extracurricular activities backstage. During intermission, he runs a lemonade stand outside his dressing room for members of the cast; he very politely offered the NBC Latino team an elaborate selection of teas.
Even being in a long-running hit, Hernandez sometimes has to attend brush-up rehearsals. And there are the occasional onstage mishaps. "Once, in a serious hospital scene with Andrea (Burns), who plays my grandma, I'm supposed to call her abuela," he told NBC Latino. "And I called her papi! So I just said, I mean Hi papi, oh, I mean abuela!"
Aside from hearing the nightly applause, Suarez is aware that On Your Feet! is having a positive effect on people. "When you come out the stage door or anywhere, people stop you and say 'I just wanna thank you," she said. "They say that we made their families' night, you made us so happy." She finds it refreshing, she explained, to help people take pride in their culture.
"What's great about this family (the cast) and this show is that we can send a message without getting too political, without getting too specific," Suarez said. "You just send a message of love. That's the universal message, it's the best message – and it's for any ethnic group."