Somewhere in the rainforest there is a Puerto Rican Amazon Parrot named Heineken. And the story of how the gorgeous tropical bird got the name of a Dutch beer brand is telling of the passion, adversity, and length that island-based conservationists face to save the species on the verge of extinction.
It's an inspiring story about devotion and ingenuity that will be featured in a new episode of Nature called "Viva Puerto Rico," airing Wednesday, April 12. The film, narrated by award-winning actor Jimmy Smits, will also stream on PBS all month.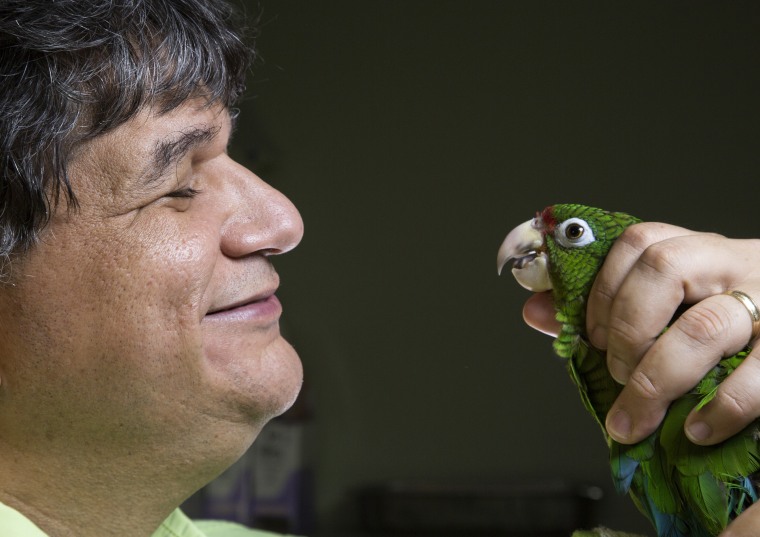 "When we first began the work, there were 13 Puerto Rican Amazon Parrots," explained aviary biologist Jafet Vélez-Valentín. "We didn't have a way to tag the birds we were studying and encouraging to breed. One of the scientists suggested we use polished beer caps and before we knew it, we had parrots named Corona, Corona Light, Medalla, Coors Light, even a Peruvian beer, Cusqueña. In fact, Heineken fell in love with Cusqueña."
This season alone, Veléz-Valentín says there are 130 parrots being prepared to be released.
"When I think of the numbers of parrots we are releasing into the wild, it makes me so proud to be part of this work," he says. "The parrot's comeback represents the capacity for Puerto Ricans to move forward in the face of adversity."
RELATED: Polls Show Most Latinos Back Strong Environmental Policies
Vélez-Valentín's compelling conservation story is one of three remarkable efforts featured in this Nature episode.
Turtles have been a passion for marine biologist Carlos Diez since he was a young boy. He remembers the first time he saw a leatherback while volunteering on Isla Mona, a tiny island in the archipelago of Puerto Rico.
"It was massive, like a Volkswagen," explained the world-renowned turtle conservationist. "It hauled its huge body to the beach, made a deep hole and laid nearly a hundred eggs, then it went back to the ocean." The moment left an unforgettable mark on Diez, who was then 14.
According to Diez, turtles have been part of myth and lore all over the world. They have been around since the dinosaur age and were once considered sea monsters. And like the Puerto Rican Amazon Parrots, sea turtles once numbered in the millions in Puerto Rican waters before Europeans arrived to the island. But with the loss of habitat due to land development, deforestation, hotel and marina development, light pollution, industrial fishing and poaching for their carcasses, the beloved ocean creatures face extinction.
"Leatherbacks have an incredible journey trekking more miles than any other creature and yet never forget the beach there were born in," he says. "These turtles also have the most sophisticated internal GPS of any creature."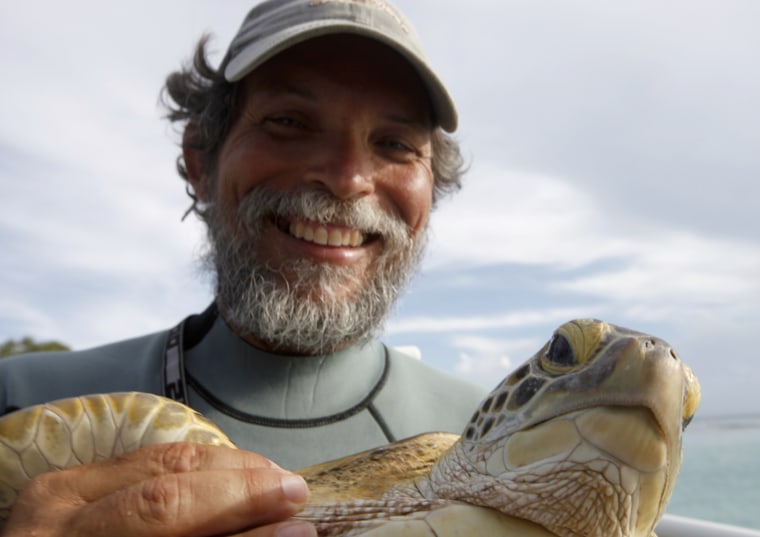 Diez began working with conservation efforts two decades ago and his studies helped ban fishing of Hawksbill Turtles, known on the island as carey, a delicacy to islanders.
"Healthy turtle populations result in healthy oceans," he explains. "They play an incredibly important part in the chain and ocean and land ecosystem." For instance, some of the turtles – there are seven species—eat jellyfish, others sea sponges that if not controlled can destroy coral reefs."
"Turtles are hunted for their shells to make jewelry and their eggs for the alleged aphrodisiac properties—a myth. "I just say to men, just take a Viagra."
The manatee, another species on the extinct list, also received attention in the film. According Dr. Antonio "Tony" Mignucci, there are only 700 manatees left in Puerto Rican waters. In the film, Mignucci and his team are seen rehabbing a 600-pound manatee to perfect health. On the day of its release, school children, a gaggle of community members, scientists, and even the National Guard escorted the beloved marine mammal to cheers and tears.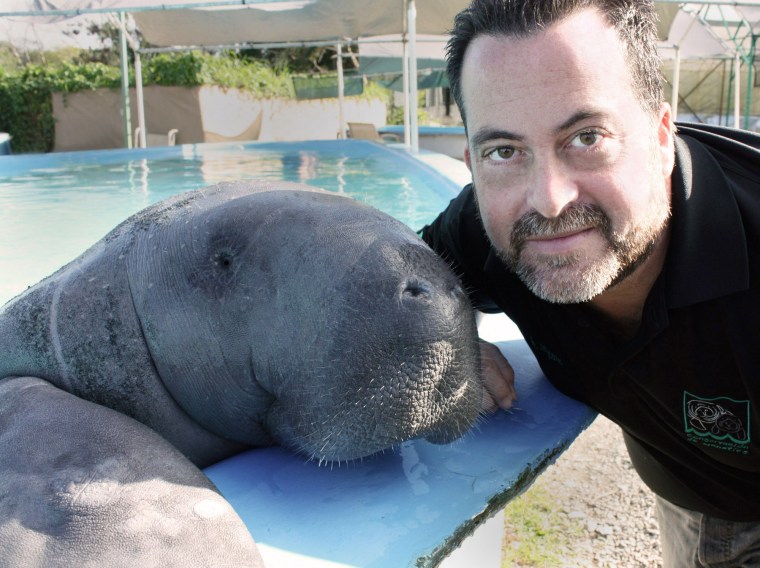 "Puerto Ricans love their island, and once they know they are part of the conservation ecosystem, they come out to help," Diez said "We can't do this without the help of folks who love the environment."
"As biologists we worry about funding," says Vélez-Valentín who has spent the last three decades working to restore the beloved Puerto Rican parrot.
"People have sent donations and call us to see how they can help. Once people know what is at stake, and the role they can play in helping save the environment, they come out," said Vélez-Valentín.
Actor Jimmy Smits was one.
"I was so moved by the stories," said Smits. "The film was shot beautifully, shows parts of Puerto Rico that I remember from my youth, and with so many climate change naysayers, this film exemplifies that everyone can do their part."
RELATED: Bumble Bee Species Declared Endangered in the U.S. for First Time
At first Smits said he refused to narrate because Sir David Attenborough, the esteemed broadcaster and naturalist whose iconic voice has graced the occasional Nature program, did the original narration. But the film's producers thought differently. They thought that Smits might give the noteworthy episode emotional resonance since Smits has a personal connection with the island. The actor's mom is Puerto Rican and he spent his formative years on the island. He happens to be the voice in the welcome narration at El Yunque Rainforest, a which is part of the U.S. National Parks system.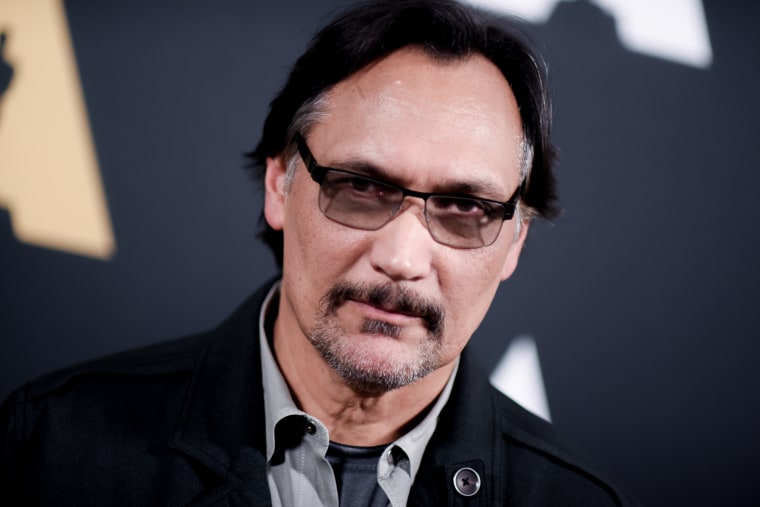 "I just had to help," said Smits. "The world is facing many environmental concerns but each of us in our own way can contribute our part. Here are stories of people who with limited resources are finding ways to help protect endangered species," Smits told NBC Latino. They are educating young people in the process and are doing it with such love."
Over the years, friends and the community at large have chipped in when funding was low, the conservationists say. For instance, some send in kind donations to feed the parrots, others volunteer to create turtle nesting watch groups and lawyers volunteer their time for free; they help with legal fights to keep hotels and golf courses from developing on pristine beaches where turtles nest or cut trees for hotel development in the forest.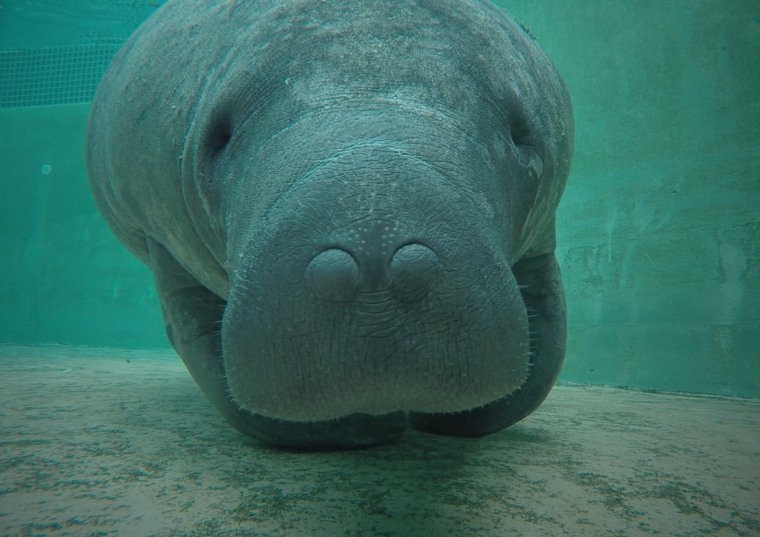 "Puerto Rico is going through a period of economic crisis that most Americans are not aware of," explained Smits. "Because of the island's commonwealth status and the United States' recent economic non-action, we have been left to drift," Smits added. "After years of corporate tax shelters many companies have now left. Unemployment is at an all-time high with all the cyclical social ramifications that accompany those facts."
RELATED: Environment News: Climate Change, Energy & Conservation
For Smits and the conservationists, the island's natural beauty is breathtaking and worth saving so that everyone can enjoy its enchanting delights.
"There are beautiful stories all over this island that are positive and inspiring and uplifting," Smits said. "I hope in some small way this helps to revitalize interest in "La Isla del Encanto" (the Island of Enchantment).
"Viva Puerto Rico" premieres Wednesday, April 12, 2017 at 8pET on PBS (check local listings) and streams at pbs.org/nature.