SAN RAFAEL, Colombia — In a small rectangle clearing carved into a densely wooded hilltop a few kilometers east from the Colombian town of San Rafael, 24-year-old single mother Lina González Portela reaches for her pair of secateurs and begins snipping away at the dry ground, carefully removing twigs, leaves, moss and other foliage.
With the soil cleared of debris, she sweeps the area from right to left with her Italian-made Ceia metal detector; one-meter-high sticks dipped in paint mark her progress. The tree canopy provides a welcome shield from the scorching midday sun.
Given that Portela is searching for land mines – or more accurately, improvised explosive devices (IEDs), often crudely produced and hard to detect – the dangers of the task leave her remarkably unfazed. "If we stick to the procedures, then obviously we can be confident in what we are doing."
Portela, clad in a thick padded vest and protective helmet, is one of 450 young men and women employed by British demining charity The Halo Trust to carry out IED clearance work in Colombia, one of the most land mine-affected nations in the world.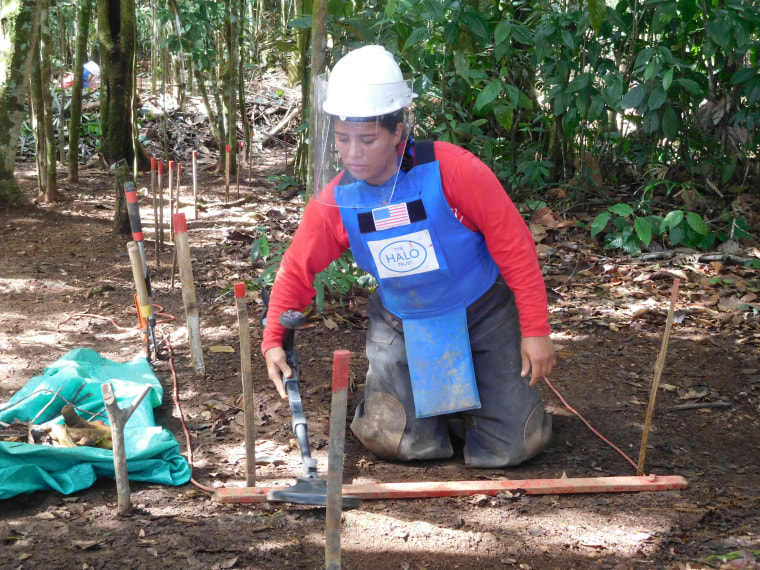 For three decades, leftist guerrilla groups the Revolutionary Armed Forces of Colombia (Farc) and the National Liberation Army (ELN) have routinely used IEDs to defend strategic positions, hamper military offensives and protect illicit drug transit routes. According to official figures, 673 of Colombia's 1,122 municipalities have had some level of contamination, covering 52 million square meters of land. Since 1990, these deadly devices have killed or injured over 11,500 combatants and civilians.
Now, with a peace accord in place between the government and the Farc, and negotiations underway to strike a similar deal with the ELN, Colombia has pledged to rid itself of anti-personnel land mines and other explosive devices by 2021.
Eliminating this hidden enemy is essential for rebuilding Colombia's battle-scarred countryside and creating a safe passage home for internally displaced people.
"I feel good because I'm doing something for the community, as well as for ourselves, because we've had to live through this violence," said 20-year-old Julián Daniel Gallego, who enlisted with Halo four months ago.
The search for IEDs
Gallego and Portela form part of a 25-strong Halo team tasked with clearing this small stretch of forest – a former guerilla encampment that locals have dubbed "Alto el Matadero", or "High Slaughterhouse" – located in the southeast corner of Antioquia, the department with the largest number of land mine victims in the country.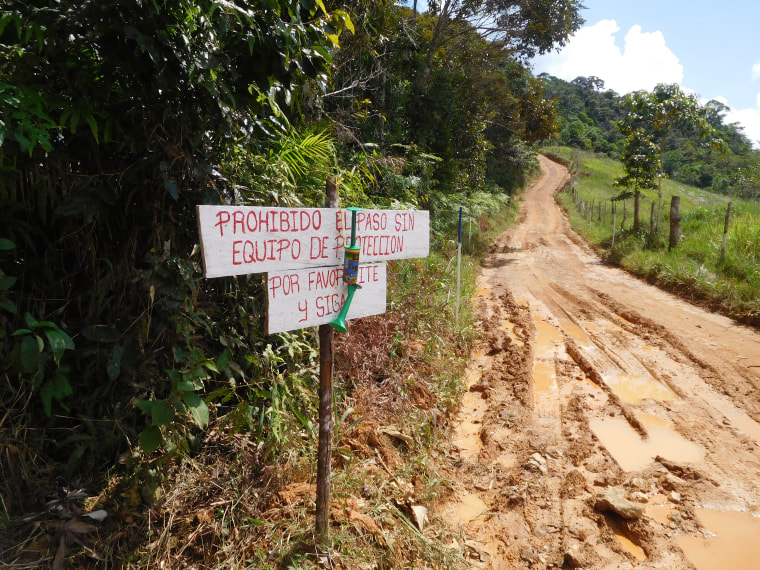 The recruits – all trained paramedics – begin duties at 7a.m. and finish at 4p.m., with a 10-minute rest period every hour and a break for lunch. A mud track lined with red skull and crossbones hazard signs slices through the forest, leading up to a makeshift camp where the young workers live for up to four weeks at a time.
"I miss my town, my family, and above all my son. I get a little down sometimes, melancholic, but I guess that's normal," said Portela.
The work to uncover the mines is meticulous and slow moving. With a detector and good terrain, a deminer may clear 20- to 25-square meters in a day; when more labor-intensive excavation methods are required, this drops to 3 square meters.
In the municipality of San Rafael, about 233 miles northwest of Colombia's capital city Bogotá, non-technical surveys with local communities have identified 28 suspected land mine contaminated areas. To date, Halo teams have cleared six of these, locating and destroying 36 land mines in the process, a relatively small number given the size of the minefields.
"The mines have been laid tactically, normally in ones and twos," said Chris Ince, Halo's program manager in Colombia. "In Cambodia, a square kilometer of minefield might have up to 200 mines. In each square kilometer of minefield in Colombia you probably only have somewhere between three and five."
The charity, one of six civil organizations alongside a military battalion carrying out land mine clearance in Colombia, claims over 20 different kinds of IEDs have been deployed countrywide, some costing as little as $2 to produce.
"These IEDs are deliberately designed to have a low metal content, and so are harder to find," Ince said.
Towards a mine-free Colombia by 2021
According to government de-mining agency Descontamina Colombia, 50 people were injured or killed by land mines last year, down from 89 in 2016, and from 1,232 in 2006 – the deadliest year to date. Some 180 municipalities have been declared free from the suspicion of land mines, while over 5,600 mines have been destroyed.
Despite the scale of the task ahead, and fears that guerilla splinter groups, paramilitaries and drug cartels are muscling their way into former Farc-controlled territories and laying their own IEDs as they go, the government insists it is on track to meet its 2021 goal.
"The challenge is enormous, without doubt," Deputy Defense Minister Aníbal Fernández de Soto told NBC News. "But the commitment is there, and we are doing everything we can to meet this target."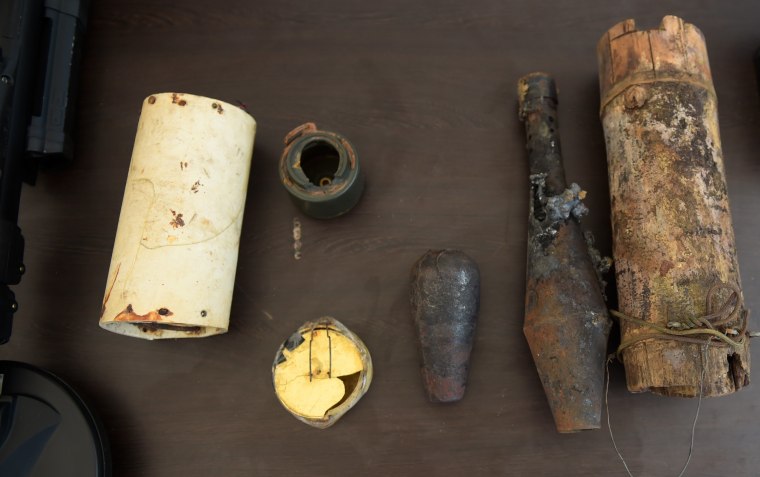 On the frontline, young Colombians like Portela and Gallego are doing their bit to help create a permanent peace in this conflict-weary nation. Where the state so often fails, charities like Halo offer them a fighting chance to better themselves.
"There's little work in the municipality where I live, the pay is low, so this is a good opportunity for me, both financially and personally," said Gallego.
As part of the peace agreement between the government and the Farc, Colombian security forces and former guerillas agreed to work alongside each other to remove land mines from a select number of ex-conflict zones.
Since 2014, Halo has hired a total of 56 ex-combatants, with 22 still serving in its ranks. "(De-mining) is a very effective way of reintegrating people into the local communities from where they originally came," said Ince.
For former Farc member Inlen Manrique, carrying out land mine clearance is an opportunity not only to support his young family, but also to repair some of the damage he felt he did during his time fighting the state.
"I thought, if I could survive five and a half years (in the guerrillas), then why can't I do this, something I know, and for a just cause?" he said. "People tell me it's a positive change, they congratulate me, and I feel good."