For the past two years, María López has been making small changes and touchups to the home in Houston, Texas that she and her husband bought, even though they don't know if one day they will have to leave it behind.
The López family bought the home not long after President Barack Obama announced that the U.S. government was going to make it possible for people not legally here but with U.S. citizen and legal resident children to stay in the country and legally work. The program is known as Deferred Action for Parents of Americans and Lawful Permanent Residents.
"I felt a great relief knowing that I would no longer have to live in fear of being deported and separated from my daughter," said López. Now she is frustrated and afraid.
López came to the United States from Mexico 14 years ago. She and her husband, who's also undocumented and works in construction, have a 12-year-old daughter who's a U.S. citizen.
The fate of the family now rests with the U.S. Supreme Court. The justices are set to hear oral arguments on Monday in a lawsuit filed by Texas and 25 other states challenging the president's authority to grant deportation relief and work permits to millions of immigrants not legally here.
The intricate legal arguments, the signals in the questions from the justices, the politics of the unfilled seat of Justice Antonin Scalia, who died in February, swirl around the legal case.
But it's the lives of people like the López family that are at the center of the argument and that hang in the balance.
Immigration advocates say the DAPA program has the potential to change lives just like the Deferred Action for Childhood Arrivals program that Obama announced in 2012 for undocumented youth who came to the U.S. as children. Since then, some 700,000 people in the U.S. have DACA, one in 500 people in the U.S.
RELATED: Latino Groups React to Supreme Court Taking On Immigration Actions
Angélica Hernández, who was 9 years old when she moved to Arizona from Mexico with her mother and sister, said the DACA program "opened opportunities in every level of my life."
She was just about to start graduate school at Stanford University in California when DACA was announced. Once approved, she was able to work as a teaching assistant while pursuing her master's degree in engineering. After graduating in June 2014, she moved back to Arizona and now works as a project engineer.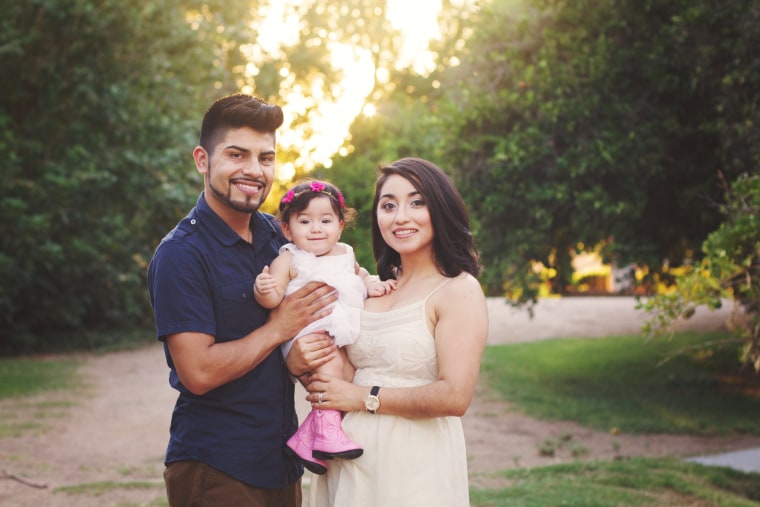 Her husband Juan Amaya is also a DACA recipient and an engineer. The Phoenix couple recently became parents and purchased their own home.
"DACA changed my life completely," Hernández said. "I was able to get a job in something I studied and have a degree in. I was able to buy a home and do something as simple as starting to build credit."
Hernández said she hopes her mother and stepfather will soon get the same opportunities as her. They're both eligible for DAPA because they have a 15-year-old son who's a U.S. citizen and have been in the U.S. for nearly two decades.
"DACA changed my life completely," said Angélica Hernández, an engineer.
The states argue the president overstepped his constitutional authority and didn't follow proper administrative procedures when he announced the Deferred Action for Parents of Americans and Lawful Permanent Residents and expanded the existing Deferred Action for Childhood Arrivals.
Both programs would benefit as many as 5 million people, or nearly half of the nation's estimated 11 million undocumented immigrants, according to the Migration Policy Institute.
The White House argues the president acted within his legal authority when he took executive action on immigration and that the states lack legal standing to sue.
The Supreme Court is expected to make a decision by late June. A ruling favoring Obama would allow his administration to implement the DAPA and expanded DACA programs before he leaves office in January.
It's possible that the eight justices could reach a 4-4 decision. If that happens, the 5th Circuit Court of Appeal's refusal to lift an injunction blocking Obama's executive actions on immigration would stand and a trial in Texas on a permanent injunction would go forward.
Alvaro Huerta, an attorney with the National Immigration Law Center, said he believes Obama didn't exceed his powers. Instead, the president exercised prosecutorial discretion in order to prioritize which immigrants are deported using the limited resources his administration is given by Congress to enforce immigration law, he said.
"It doesn't make sense to deport people who have been here since they were children or who have U.S. citizen or lawful permanent resident children and are tying to work hard to provide for their families," Huerta said.
RELATED: Immigrants Qualifying for Executive Actions Deeply 'Embedded' in U.S.
But John Eastman, a constitutional law professor at Chapman University, disagrees with that argument.
"I believe the president has acted unconstitutionally," he said. "I don't think a wholesale changing of the rules qualifies as prosecutorial discretion, but amounts to a suspension of the law."
The court was to consider whether Obama violated his constitutional duty to "take care" that the laws be "faithfully executed." But how far the justices go in considering that argument could be affected by the vacancy.
It's possible that the eight justices, down one following the recent death of Antonin Scalia, could reach a 4-4 decision. If that happens, the lower court's decision blocking Obama's executive actions on immigration would stand.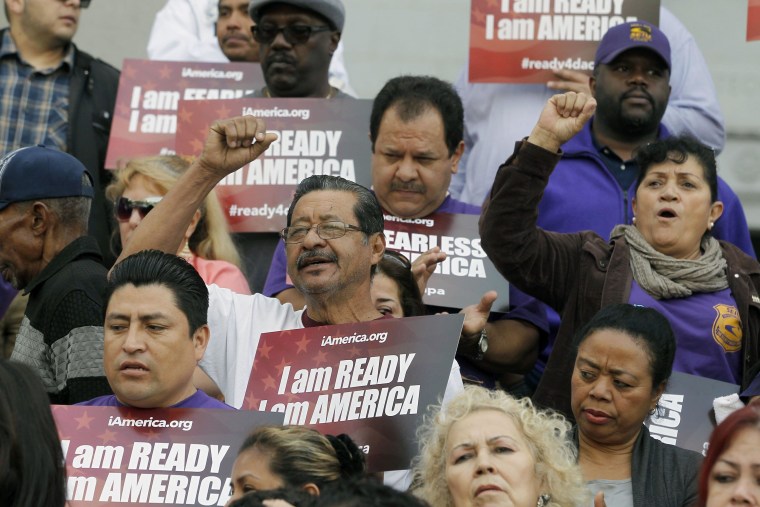 Thomas Saenz, president and general counsel of the Mexican American Legal Defense and Educational Fund, is one of the attorneys representing three mothers who could qualify for DAPA.
"I think it's important that the justices understand the human impact," Saenz said. "So far, the case has really been presented as a war between political entities and the factions that control those political entities."
RELATED: Latino Lawmakers Defend Obama's Executive Action With Their Stories
Many undocumented immigrants who would benefit from DAPA and expanded DACA share Gelasio's sense of uncertainty and their allies are rallying at the steps of the Supreme Court on Monday to show their support for the president's executive actions on immigration. Similar rallies also will be held in more than 20 cities across the country as the court meets.
Huerta said he believes the rallies will help "show the number of people who have a stake in the outcome of this case." He added that he thinks the testimonies of the three undocumented mothers from South Texas will also make a difference.
"I think it always helps when the courts are able to hear from people who are affected," Huerta said. "The law can be a very distant thing. But when you realize what it means to people who are living through the effects of it, it jars you and it makes you understand a little better what's at stake."
RELATED: American Dream: After Qualifying For DACA, Young Immigrants Buy Homes
Gelasio, who asked not to use his last name, said he hopes the Supreme Court will side with the president so that he and his wife, Xochitl, can apply for DAPA. The couple, originally from Mexico, have two U.S. citizen children. They've been living in Auburndale, Florida for more than a decade and work together picking citrus fruits.
"I often stop and think about what would happen to my children if my wife and I were deported," he said. "We don't have any family here, so I don't know who would take care of them."