From the Broadway stage in New York to the Staples Center in Los Angeles, Latinos were everywhere at the 58th Grammy Awards.
The cast of Lin-Manuel Miranda's Broadway hit "Hamilton" performed the first-ever broadcast from Broadway on the Grammys. After the electrifying performance, the cast received a Grammy for Best Musical Theater Album.
Miranda, the writer and one of the stars of the show, was more than prepared; he rapped his entire acceptance speech, thanking his cast, crew, family and whoever inspired him along the way.
"We write music, we write songs to tell the story whether you're King Kendrick or Jeanine Tesori," he spat into the mic. He ended speaking to his son and said, "Sebastian, daddy's bringing home a Grammy for you."
When the cast took the stage to accept the award, actor Anthony Ramos held up a Puerto Rican flag clearly and proudly over his head.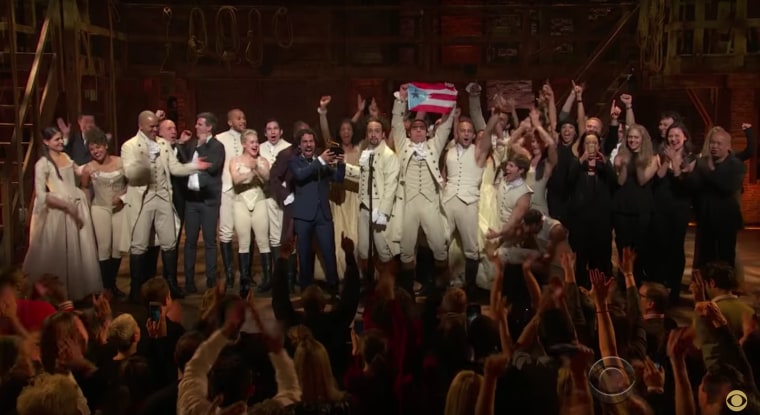 While the Hamilton cast brought bombastic happiness to the stage, the Grammys also remembered those artists whose music still endures. The late Celia Cruz's image appeared on screen with numerous other artists winning a lifetime achievement award. The official recognizing the Queen of Salsa's lifetime achievement takes place at a special ceremony in the spring.
RELATED: Celia Cruz to Be Remembered with Grammy Lifetime Achievement Award
Mark Ronson and Peter Hernández — who is more commonly known as Bruno Mars — won Record of the Year for "Uptown Funk." Before Beyoncé, who was presenting the award, announced the winner, Bruno Mars was heard shouting, "Let's go, Beyoncé! Let's go." from the audience.
Along with "Hamilton," six Latino albums snagged Grammy awards.
Los Tigres del Norte won Best Regional Mexican Musical Album for their work on "Realidades." The group won their seventh Grammy award for an album that tackled LGBT discrimination, gun violence and other challenges in Latin American communities.
Panamanian artists Rubén Blades and Roberto Delgado won Best Tropical Latin Album for "Son De Panamá." The same album won a Latin Grammy for Best Salsa Album in November last year.
Puerto Rican singer Ricky Martin won his second Grammy award, this time for Best Latin Pop Album for "A Quien Quiera Escuchar." His album "Vuelve" won the same category in 1999.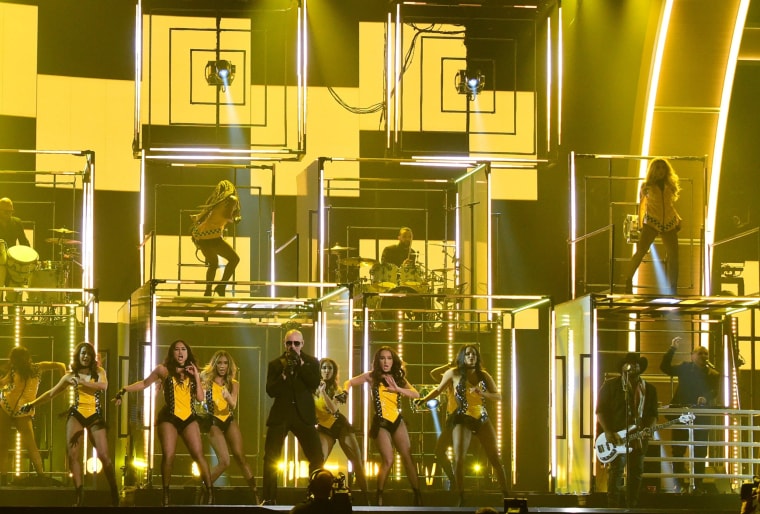 RELATED: Check Out 15 Latest Songs From Our Latino Artists
Cuban rapper Pitbull and Mexican musician Natalia Lafourcade tied for Best Latin Rock, Alternative or Urban Album. Pitbull's "Dale" was his first Spanish Language Album. Lafourcade's alternative "Hasta La Raiz" also won a Latin Grammy in November.
After all the Grammy awards were handed out, Pitbull headlined the closing performance. Mr. Worldwide brought out Joe Perry, Travis Barker and Robin Thicke to perform "El Taxi" and "Bad Man." While Pitbull rapped center stage, actress Sofia Vergara revealed herself on stage and danced by his side.