CARTAGENA, Colombia — On a cobbled street in Cartagena's historic center is a building that stands out from all the shops, restaurants and hotels nearby.
Inside there's a trendy restaurant with exposed piping, plain flooring and exposed bricks. It has a very hip, cool Colombian vibe with classic and contemporary Latin music playing as guests take their seats. The walls are painted with images of colorful plants and flowers found in the jungles along the northern coast, and its cuisine showcases locally sourced food from there.
Outside, the heavy metal door and small window with thick steel bars are the only outward signs that this is a women's prison.
Restaurante Interno (which means inmate) is located at the heart of one of Colombia's most popular tourist destinations. The entrance is painted bright pink with a discreet sign declaring "second chances." It's a message the 150 inmates hope the public will embrace as they step inside the prison walls to get a glimpse of what life is like behind bars.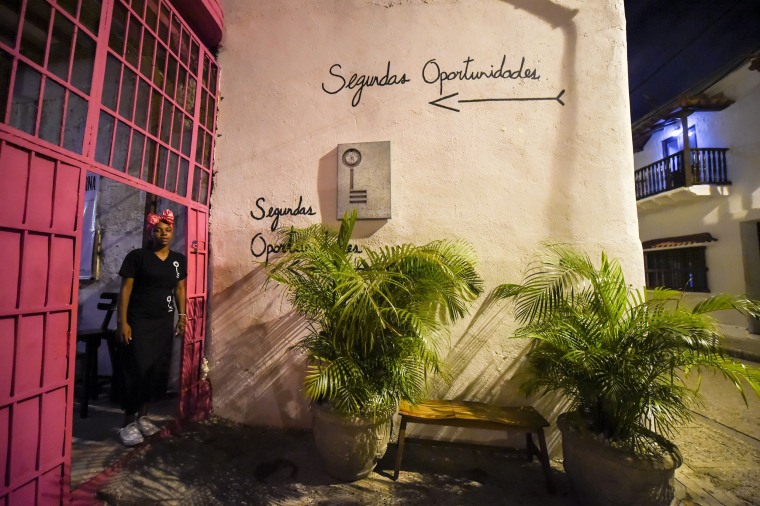 "We're helping break down the barriers between prison life and the civilian population," said Johana Bahamón, a former Colombian actress who established the restaurant as part of her foundation.
"We're in the perfect location because we get a lot of tourists in Cartagena, and I wanted to show all the visitors that I believe in these women and to not be afraid of them," Bahamón said.
The 60-seat restaurant has become a huge success, attracting many famous guests, including Colombian President Juan Manuel Santos, Colombian singer Carlos Vives and numerous actors and footballers.
On a recent day, Johanna Guevara, 28, fixed a flimsy purple drape over an iron gate that divides the restaurant from the hustle and bustle of prison life.
"This is our quiet time before all the chaos starts," joked Guevara, an inmate who volunteers at the restaurant.
"We've regained our dignity," says one inmate about working at Interno.
"On the other side of that wall, life is very different, very bipolar," Guevara told NBC News. "One day everything is fine. The next day they're all screaming and crying."
Guevara was convicted of being an accomplice in a drug trafficking operation in February and was sent straight to the prison in the San Diego area of Cartagena. "I'm paying the price for the crimes of my ex-boyfriend," Guevara said. "I'm innocent, but the justice system doesn't see it like I do."
Like many of her fellow inmates, she struggled to adapt to prison. "I had a good life on the outside working in the business sector. But I was totally destroyed when I got here," Guevara said. "My dreams were shattered. I spent the first two months in shock and thought my life was over."
Related: How This Colombian Teacher Turned the Tide on Teen Pregnancies
She eventually signed up to become a volunteer at the restaurant and now spends most of her evenings on a rotating staff of 15. The restaurant is almost entirely staffed by inmates. They wait tables, work in the kitchen or sell handmade prison products in the lobby.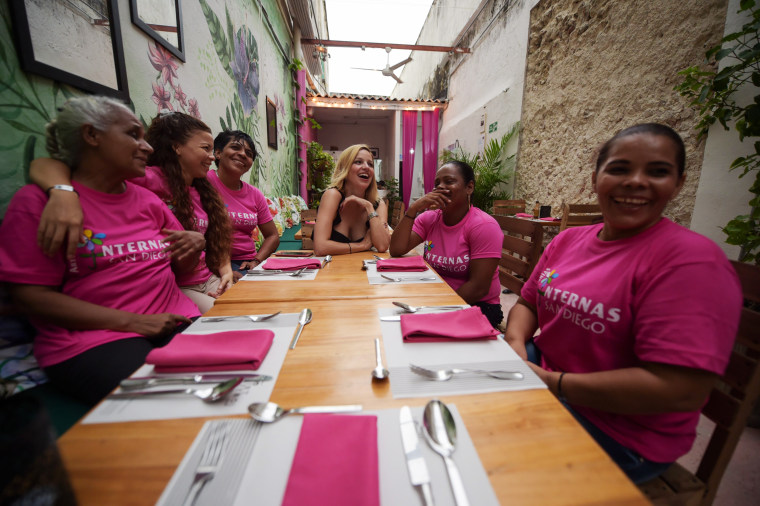 Five years ago, Bahamón was invited to judge a beauty contest in a real prison and was shocked by the conditions. "Because of the movies, everyone thinks they know what prison life is like," she said. "But the reality is different; I saw their struggle to survive and get through the day."
The San Diego prison has a capacity of 100 inmates, but there are about 150 women currently housed there. There are only five to six cells in the prison, which means that some days there are up to 20 women in a cell.
"There's 120,000 people locked up in Colombia's prison system, and 8 percent of the prison population are women — many are forced to live in dire conditions because of overcrowding," said Bahamón.
Bahamón set up Interno to help inmates prepare for life on the outside but also to challenge the negative public perception about prisoners. "They're instantly judged, but most of them are just human beings who've made mistakes," she said.
"We want to show the public that we deserve a second chance," said Guevara, one of the servers, as she rushed around organizing the bags, cushions and stuffed toys made by her fellow inmates. "This isn't an ordinary restaurant and every woman here has struggled with feelings of guilt and shame, so we're really putting ourselves out there and are proud to wear these uniforms."
San Diego is a minimum-security facility where female prisoners complete the final months of their sentences before they're released. Most of the women are serving time for extortion, drug trafficking, theft or, in some cases, murder.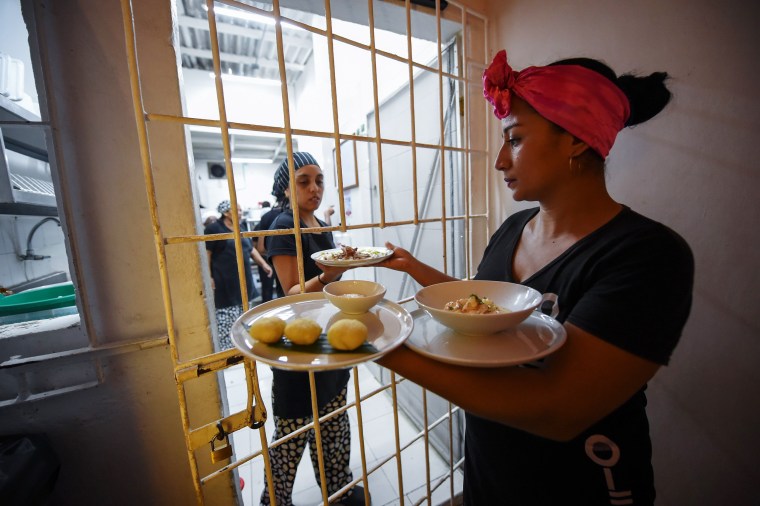 In the kitchen, three women dressed in checkered aprons were battling stifling heat. The air was hot and sticky but they ignored the humidity as they prepared the food and washed the dishes.
"I love cooking and it's much better to be here than on the other side of these walls," said Karen Paternina, 29, as she cleaned the work surfaces.
Paternina was jailed for extortion in 2016 and was charged with stealing money she was entrusted to transfer on behalf of her clients. "I arrived here with nothing, but now I have a purpose. I'm the chef's assistant and I'm learning how to properly cook," Paternina said.
"When they first met us, they were so shocked," said Guevera. "They'd say 'Wow! You're all prisoners?' But eventually they relax and see we're just normal people and that we're not going to attack anyone."
Related: Meet Colombia's First Legally Recognized 'Throuple'
Spanish Michelin star chef Koldo Miranda trained some of the staff at Interno and his classes have inspired the women to pursue careers in the culinary profession. "They've had the best training and many of them already have jobs in other restaurants," Bahamón said. "They're now earning an honest living and are able to start a new life."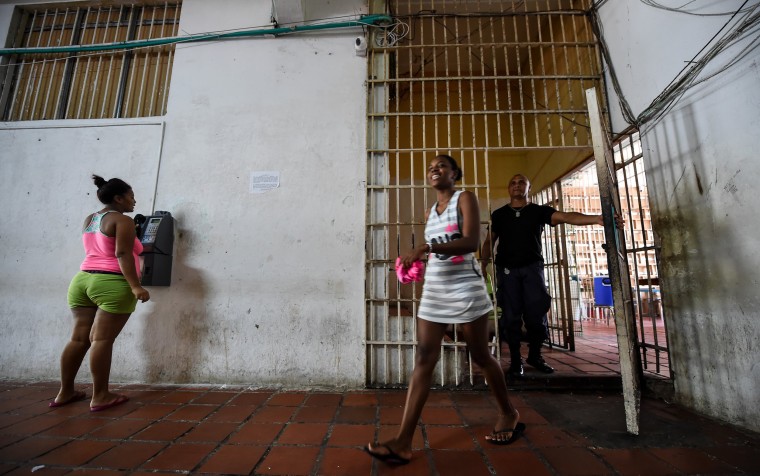 Her foundation Acción Interna (which means internal action) is planning to open a spin-off restaurant called Externa (outside) that will also be staffed by ex-prisoners.
The program has encouraged many of the female prisoners to open their own businesses. "I want to give my daughter Sofía a better life," said Paternina, a kitchen porter. "I'm going to open my own little seafood restaurant when I get out."
As the San Diego prison restaurant dished out meal after meal, many of the current inmates were hoping to bring the setup to other female prisons across Colombia.
"The project is changing so many lives," Guevara said. "We came here with closed minds and in so much pain but the restaurant has helped us recover — we've regained our dignity."