WASHINGTON –-The Supreme Court's tie decision on President Barack Obama's immigration policy won't change how Maria de León has been living the past 13 years, as a mother without legal status, but she said it makes her more resolute and determined to do her part to put an ally in the White House.
Originally from Guatemala and now working as a housekeeper in Maryland, De León was saddened by the court's tie vote that means Obama's executive action authorizing deportation deferrals and work permits for millions of immigrants can't go into effect. But she also made clear she was not shaken.
"I am so disappointed. I believed in the law and they really let us down," De León said as she sobbed outside the Supreme Court where she'd waited for a decision. "We have to keep fighting now. I can't vote in November, but you better believe that I will make sure that everyone I know who can vote does so in November. We have to come out from out of the shadows."
Presumptive Demoratic nominee Hillary Clinton has said she'd expand Obama's executive action and send to Congress an immigration reform bill in her first 100 days. GOP presumptive nominee Donald Trump has proposed mass deportations of the 11 million people in the country and allowing the "good ones" to return.
De León's three children were born in the U.S. and were with her at the Supreme Court. Because her children are U.S. citizens, she would have been eligible for Obama's Deferred Action for Parents of Americans, or DAPA, one of the programs the Supreme Court had examined for its legality.
The tie vote means the justices were unable to announce a ruling, so that leaves in place the lower court ruling against implementing the plan. In addition to shielding parents from deportation, the programs would have granted similar protection and work permission to people brought to the country as children and without legal status.
De León and many other immigrants and activists had been at the Supreme Court since dawn, braving a downpour that stopped about 45 minutes before the decision came down.
Filling the sidewalk in front the high court, they chanted "I believe that we will win!" and "Sí se puede (Yes, it can be done)."
Although enthusiastic at first, a pall descended over the crowd when one of the demonstrators came forward and announced in Spanish "We have just learned of a 4-4 decision. This is absolutely terrible."
Several started crying, and De León had to be held up by two women as she became emotional. Nearly immediately another person grabbed a microphone and said "We will continue the fight! We will show them who were are. We are down but not defeated! They will remember us!"
Like many families in the U.S., Hilaria Bonilla's family is made up of people with varying immigrant status. Bonilla is a legal resident originally from El Salvador.
"With this tie, the Supreme Court is showing us that they simply are not interested in helping us. Many of my family and my children can vote in November and they will send a message that this is not right. I am really disappointed," Bonilla said.
The feeling reverberated in other parts of the country. In Phoenix, Rosa Maria Soto said she had kept the faith that the Supreme Court would render a positive decision. Soto, 62, overstayed her visa when she came to Arizona from Mexico in 1999 and would be eligible for DAPA because her daughter is a legal permanent resident.
"It's a very painful decision," Soto said. "I had so much hope that I would finally be able to have a legal presence and be fully integrated in this country."
Anxiety in the community has been ratcheting up this month as many immigrants have been anticipating the court's decision on the case. But at the same time, there has been a recognition that there have been a string of ups and downs for immigrants in their fight for policies that would allow them to legally live in the U.S.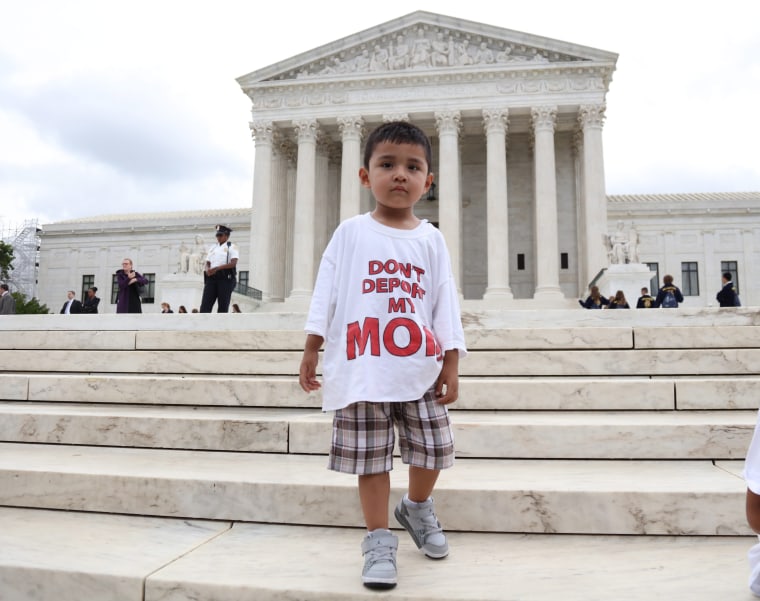 The news comes as hundreds of Latino local, state and federal office holders are meeting here for the National Association of Latino Elected and Appointed Officials conference.
"Disappointing. Frustration," said Jacinto "Cinto" Ramos Jr., a Fort Worth, Texas board of education trustee who was attending the conference. "It's long overdue." His district is 90 percent Latino with many immigrants not legally in the U.S. Thursday's court action will prolong distrust in the overall system that will take longer to undo, he said.
The case originated last February in Texas when the state and 25 others sued to block the programs from being implemented. U.S. District Judge Andrew Hanen found that the administration had not followed proper government administrative procedures for launching the new programs and put them on hold.
"Obviously this speaks to the importance of a full Supreme Court," said Henry Cisneros, former Housing Secretary under former President Bill Clinton, who is attending NALEO. "National decisions are being made by an incomplete Supreme Court and so this is a default decision ... and it falls to the lower court. That's not how the Supreme Court is supposed to work. The Supreme Court is supposed to be the final arbiter of these questions," Cisneros said.
RELATED: Latino Lawyer Putting Human Face on Immigration Case in SCOTUS Debut
Opponents of Obama's executive action had argued he overreached by implementing them. Texas' Gov. Greg Abbott trumpeted the court's tie decision as an affirmation of that argument.
"The action taken by the president was an unauthorized abuse of presidential power that trampled the Constitution, and the Supreme Court rightly denied the president the ability to grant amnesty contrary to immigration laws," Abbott said in a statement. "Today's ruling is also a victory for all law-abiding Americans, including the millions of immigrants who came to America following the rule of law."
Supporters had argued that other presidents used their executive powers to grant deportation deferrals to segments of the immigrant population, using powers that are granted the president.
RELATED: Latino Lawyer Putting Human Face on Immigration Case in SCOTUS Debut
Hanen blocked Obama's programs in February 2014, two days before the Department of Homeland Security was going to start taking applications from immigrants for Obama's executive action programs. Some 4.4 million to 5 million immigrants were expected to be eligible to apply for them.
RELATED: Supreme Court Seems Divided On Obama Immigration Showdown
They have remained frozen as the Department of Justice and later the Mexican American Legal Defense and Educational Fund waged appeals.
Homeland Security Secretary Jeh Johnson sought to reassure immigrants on the enforcement implications of the court action. In a statement he noted that administration policy is to give priority for deportation to convicted criminals, recent border crossers and those who are a public threat.
"The president and I remain committed to fixing our broken immigration system. We are disappointed by the 4-4 vote in the Supreme Court today, and the gridlock in Congress that has stood in the way of more lasting, comprehensive immigration reform," Johnson said in the statement.
The DAPA program would temporarily shield from deportation parents who are not in the U.S. legally and have children who are U.S. citizens or legal residents.
The program applied to people in the U.S. since Jan. 1, 2010, who had no legal status and had not been convicted of certain crimes, including any felonies or some misdemeanors. Only people in the U.S. on Nov. 20, 2014 and every day thereafter would be eligible.
RELATED: Hopes On Hold: Dreamers Vent Anger Over Immigration Ruling
The administration also created additional criteria for immigrants who were brought to the U.S. as children but have not legal status. This expanded the Deferred Action for Childhood Arrivals, or DACA, program.
Those eligible had to have come to the U.S. before their 16th birthday, have lived in the U.S. continuously since Jan. 1 2010, graduated from high school or an equivalent certificate when they apply for the program, or be in school and have no disqualifying convictions.
Eduardo Saenz, the Arizona deputy director Mi Familia Vota, said it's "very tough" and "very frustrating" for immigrant families in his state to hear that they won't be able to apply for DAPA or expanded DACA, especially because many had been preparing their paperwork so they could apply as soon as the programs were implemented.
"But we understand as a community that in order to create change, it takes time," he said. Saenz added that despite the blow to Obama's immigration programs, families in Arizona "are ready to fight back" by going out to vote this November and electing people who "align with our values."
Additional reporting from Patricia Guadalupe in Washington, D.C. and Griselda Nevarez in Phoenix, Arizona.