When you think about the youth of the Latino population, don't think millennials only. Think younger.
While one quarter of all Latinos in the country are millennials – people between ages of 18 and 33 – a third are younger than 18, according to a Pew Research Center analysis released Wednesday.
Altogether, about 32.5 million young people are either millennials or are younger than millennials, almost six-in-ten of all Latinos.
That compares to four-in-10 whites, about half the black population and 46 percent of Asians, Pew found in its study of Census data.
The snapshot of young Latinos, in part, "represents the rise of the second generation."
Slice up the youngest generations of Latinos and you'll also find they also are far more likely to be U.S. born, with that likelihood increasing among those under 18.
Millennial Latinos make up almost the same share of the U.S. born Latino population, 27 percent, as they make up of the foreign born Latino population in the U.S., 26 percent. Nearly 40 percent of the Latino Boomer generation is foreign born.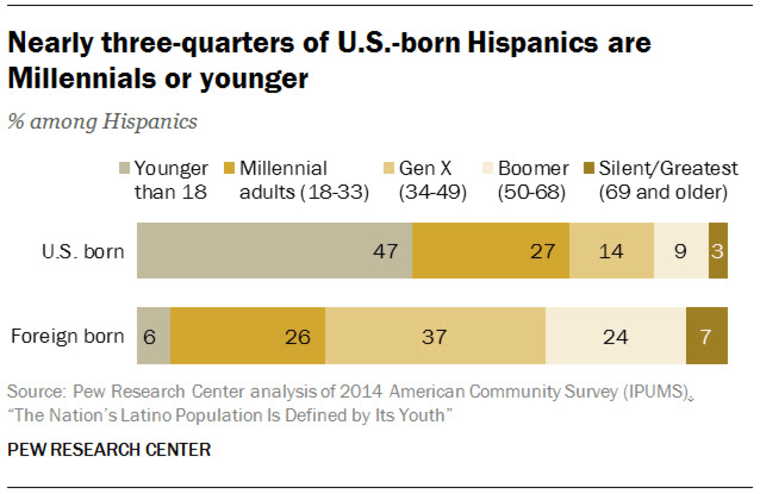 But Latinos 18 and younger are 47 percent of the U.S. born Latino population and 6 percent of the foreign born Latino population, according to Pew.
Those findings have significant implications for the country in a number of areas from education to labor to marketing to civic and media engagement. While the two generations have some commonalities, they also have some differences.
For example, a higher share of millennial Latinos speak Spanish at home, 72 percent, compared to the generation of Latinos that are 5 years old to 17 years old, 62 percent, according to Pew.
"U.S. births to Hispanic parents have been the driver for some time now for Hispanic population growth and not immigration," said Mark Hugo Lopez, director of Hispanic research at Pew Research Center.
But the latest crop of U.S. born Latinos, those under 18, "represent the next part of this Hispanic story in the U.S. It really represents the rise of the second generation," Lopez said.
In the study of demographics, second generation refers to people who are the children of immigrants or the first generation to live in the U.S.
According to Pew, 55 percent of U.S. born Latinos are second generation and 45 percent are third generation.
As children of immigrants, those in the second generation generally have a close connection to their parents' immigrant experience, are bilingual, go to college at high rates, have no religious affiliation and are generally straddling two worlds.
There is no certainty about what the outcomes will be for the next generation, those who are the children of U.S. born parents. But, previous third generation Latinos have tended to "slide back," Lopez said.
Studies of this group of Latinos show their dropout rates tick up, they have a greater share of teens births, more encounters with the criminal justice system and lower civic participation rates, he said.
RELATED: Latinos May Be More Educated, Wealthier: Here's Why We Don't Know It
A recent study, however, posited that some second and third-generation Latino gains are not reported because there may be less self-identification, which can reduce the real gains in education and income among Latinos.
A factor that might be different for this youngest group of Latinos is the current environment of activism among young immigrant and second generation Latinos and those of later generations, who are more engaged in politics and their government, largely around the immigration issue.
"It's possible this second generation could change the course of things to come," Lopez said.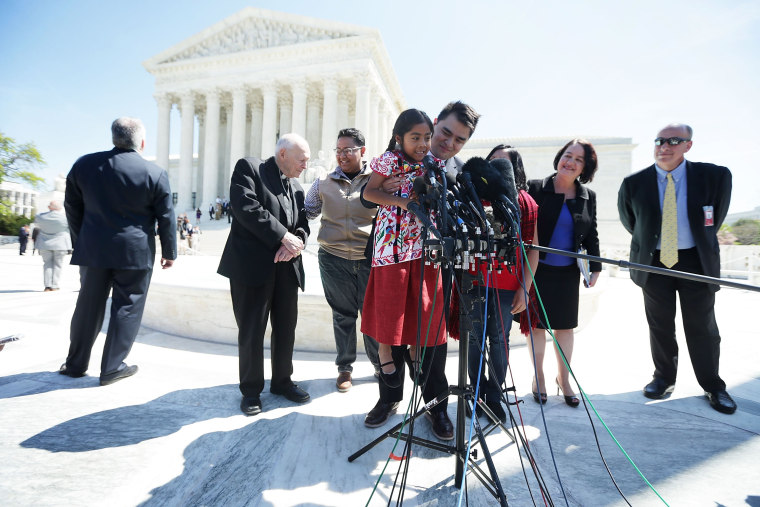 Also of interest in the Pew analysis: if the future follows previous demographic trends, eventually the share of U.S. born Latinos will decline because of the arrival of newer Latino immigrants. This has occurred in previous years.
However, one potential game-changer could be the fact that net immigration from Mexico is at about zero. In addition, Mexico's population is aging.
If immigration from Mexico and the rest of Latin America remains as low or nearly as low as it is, the decline in the U.S. born share of Latinos may not be as pronounced, Lopez said.
Demographic change in Mexico, in fact, has a broad reaching effect on the U.S. population.
Demographic change in Mexico, in fact, has a broad effect on the U.S. population. It is influencing immigration to the U.S., it is influencing the dynamics of the Latino population in terms of share of U.S. born versus foreign born and it is going to influence the future of the second and third generations of Latinos.
Rather than Mexico, Lopez said it is Africa that has a significant population of young people under 18, meaning a great potential for migration. "That's how Mexico used to look in the 1970s," he said.