After carefully crafting what she calls "the most epic" opening showcasing queer intimacy, "Vida" creator Tanya Saracho has been anxiously waiting for the Starz show's third and final season to premiere Sunday night.
By using the song "Macorina" by the legendary Costa Rica-born Mexican singer Chavela Vargas to open the first episode, Saracho said she sought to bring to life a "beautiful frolic between two people who are truly falling in love."
"That song is historically the lesbian anthem of Latin America. People used to listen to that song in the '50s and '60s and it's code, you know, because we couldn't be out for so long," Saracho said in an interview. "And it's that woman, Chavela Vargas, Frida's lover that starts my season."
"Vida" paints a deeply sublime contemporary portrait of a diverse multigenerational Latino neighborhood in Los Angeles in an empathetic way — using growing conflicts around gentrification to build relatable narratives about love and relationships on the intersection of gender, cultural and spiritual identity, as well as class, race, immigration status and sexual orientation.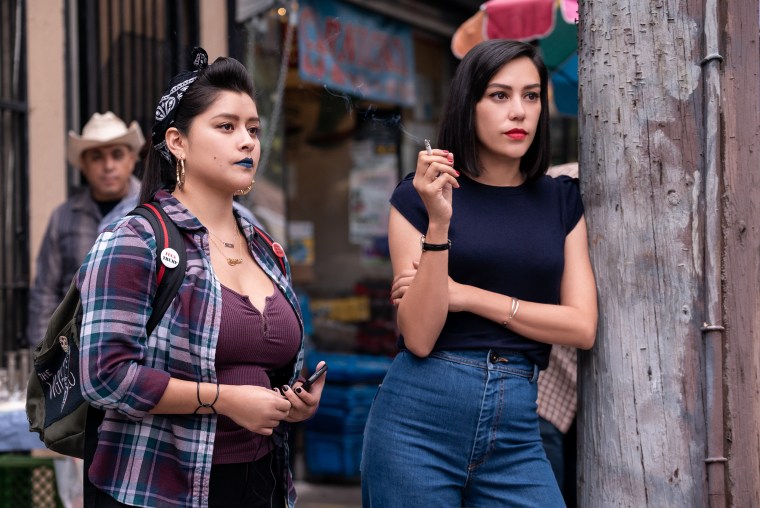 The series returns as the Hernandez sisters, Emma (Mishel Prada) and Lyn (Melissa Barrera) continue riding on the heels of their bar's success and booming love lives after grappling with the fallout from a family tragedy that drags them back into the historically Mexican American neighborhood where they grew up.
"But it's Tanya's world and nobody's perfect," said Roberta Colindrez, who plays Nico, Emma's love interest.
The Hernandezes' thriving lives are challenged by a dark family secret that could ruin their hard-won peace. Along the way, the sisters are forced to overcome childhood traumas as they mature, grieve and deal with complicated relationships at a time when they have to decide if they should continue together as a family or go their separate ways.
"The sisters don't act like 'good people' all the time. Sometimes they have ugly reactions, they're doubtful and they're mean to each other," said Saracho.
But that's Saracho's secret sauce to creating authentic Latinx characters.
"If you keep it true to life, I feel like you can complicate that image of us, that in the media, we haven't gotten a chance to see," she said.
Saracho successfully does this with Mishel Prada's character, Emma. She goes from constantly suppressing her emotions and pushing people away to making a conscious effort to recognize her flaws and work to improve them.
"A lot of times change comes through sacrifice, pain, facing your fears and the parts of you that you think might make you unloved. So, with this season, there's something really amazing about getting to explore that," Prada told NBC News.
Colindrez agreed: "Season Three is really fun because we get to play with all the things that make a person complicated."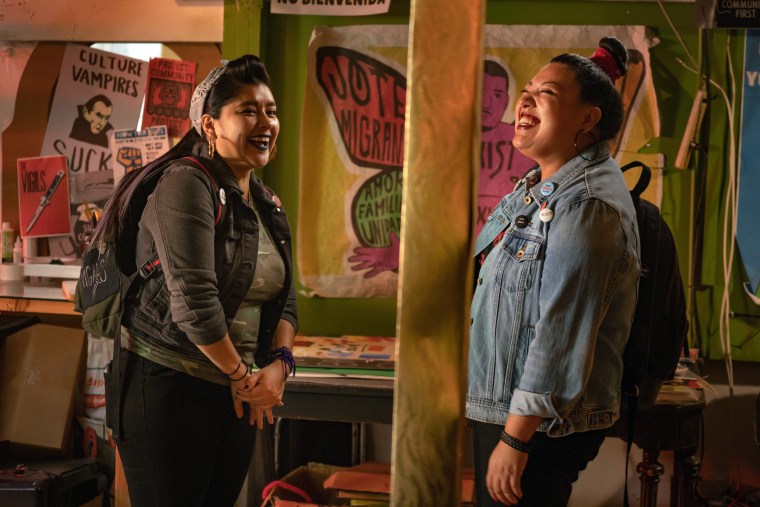 Saracho and her creative team, who are mostly Latinas, not only captured the complexities people experience in their journey to self-acceptance and growth. They also show the "remix of our culture that's happening, especially in East L.A."
The unapologetically Latinx series has brought us "unicorn concha ice cream sandwiches," "mariachi karaoke," "drunken lotería" and "queer-ceañeras."
A humorous closing to a prayer in the name of "Oshun, de la Guadalupana, de Santa Selena and Jenny from the Block, Amen" melds Yoruba-based religion, Mexico's beloved saint, "Our Lady of Guadalupe" and pop culture icons such as the late Tejano singer Selena Quintanilla and Jennifer Lopez.
"Not only are we fortunate and blessed enough to just get to be working as actors, but we happen to be telling a story that matters," said Carlos Miranda, who plays Johnny, Lyn's love interest and the older brother of neighborhood activist Mari, played by Chelsea Rendon.
Storylines that ring true
Rendon's character, which embodies the "woke" youth spirit interested in preserving East Los Angeles, helps remind viewers that the lives of the Hernandez sisters are happening in a place peppered with issues that particularly affect Latinos.
She remembers reading the script of a scene she shares with Miranda in which they're both mourning the loss of a relative. However, the community shows more empathy toward Johnny's grief than his sister Mari's.
"The main thing that I saw from that was a typical machismo household; that is the household Mari lived in," Rendon told NBC News. "That felt very true and felt very right but also so wrong" because Mari was the relative's caretaker before dying.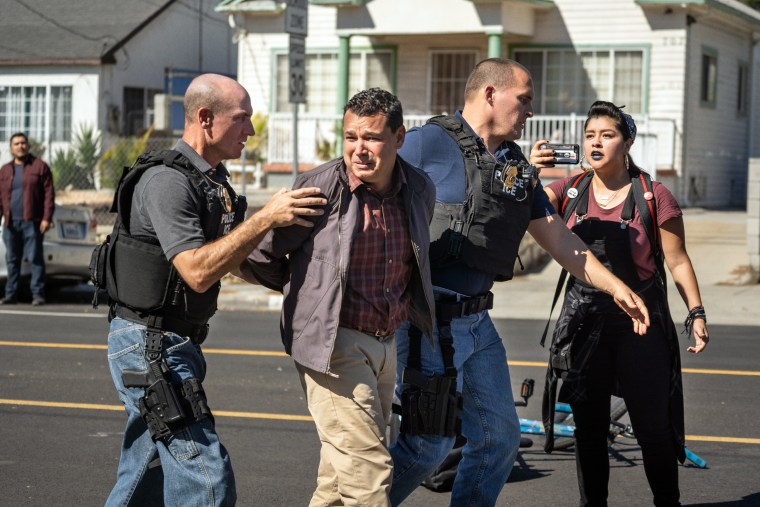 In the show, Mari's sole focus on anti-gentrification activism changes after she witnesses immigration raids in her community.
"She feels like she has to do something to make it go away and she can only use her activism," said Rendon. "But it also shows you can be an activist for more than one thing."
Melissa Barrera said she found herself pulling from personal experiences when filming a scene in which her character, Lyn, a first generation Mexican American, meets her boyfriend's Mexican family for the first time.
"Lyn doesn't know how to speak Spanish and the Mexicans from Mexico are making fun of her. ... That rang very true to me because I've been on the other side. I've been the Mexican that's kind of judging a Mexican American or first, second generation American who don't know how to speak Spanish," said Barrera, who is from Monterrey, Mexico.
Reassessing 'how we judge each other'
"The point of a lot of the things we touch upon on 'Vida' is to make people see the ugly side of all of these conversations so it makes them think and reassess how we judge each other as a society," said Barrera. "We have the capacity to grow and change because that's how society has been evolving and becoming more inclusive, more accepting and more loving."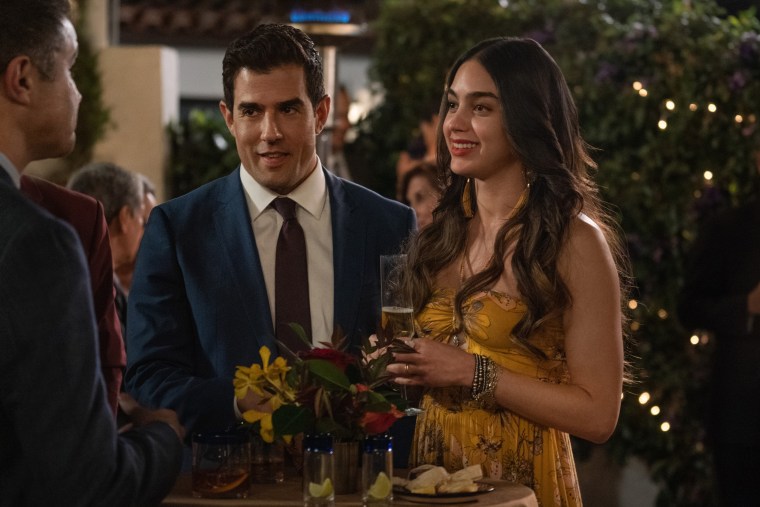 The actor Ser Anzoategui — who identifies as nonbinary, a catch-all term that acknowledges gender identities that aren't strictly masculine or feminine‍ — plays Eddy, one of the most beloved Latinx queer characters in the show.
"I definitely felt like a unicorn in the sense that the brown person isn't usually the first one to be called to portray a butch lesbian on television as a main character," said Anzoategui.
"Vida" has been widely praised for its groundbreaking portrayal of queer people through storylines that speak to owning one's gender and sexual identity, while facing discrimination. Anzoategui hopes "Vida" isn't the last show "to be as inclusive."
"Other shows have to include Latinx people, nonbinary, trans people," said Anzoategui. "We're giving you culture, we're giving you art. Why can you just include us in these narratives and hopefully they become more normalized."
Follow NBC Latino on Facebook, Twitter and Instagram.