HATO REY, P.R. -- While U.S. residents may have seen recent headlines about Puerto Rico's financial situation, many may not be aware of the island's deteriorating and frail healthcare system. On Wednesday, thousands of island residents were joined by a U.S. delegation of legislators, healthcare advocates, labor leaders and civil rights activists at a rally to call attention to the worsening situation.
"The pending federal cuts to the island's healthcare system could represent its collapse, affecting millions of Puerto Ricans who could lose health services provided by the government," said Puerto Rico governor Alejandro García Padilla at the rally. The island could lose up to $3 billion dollars in federal cuts in the next two years.
The situation has been building for years, said Rep. Nydia Velázquez (D-NY), who spoke to NBC News on Wednesday a day before traveling to Puerto Rico.
"It's a crisis within a crisis," said Velázquez. "We are not asking for a bailout, we are asking for parity."
Puerto Rico has long grappled with a federal funding gap. Puerto Ricans pay the same Medicare and Social Security taxes, but Medicare and Medicaid rates are half of those received by the fifty states.
More than two million or 60 percent of island residents rely on Medicaid, Medicare, or Medicare Advantage for their healthcare. The island's Medicaid program for instance, is capped, and receives up to 70 percent lower reimbursement rates than that of any of state. The Medicaid now funded by a federal grant is due to expire in 2017, according to Velazquez.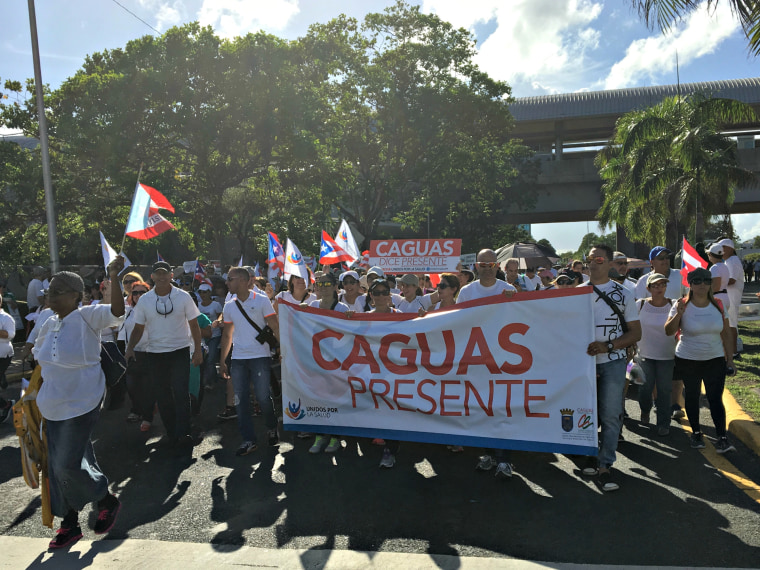 Island doctors, receiving much lower reimbursement rates than their stateside counter parts, are part of the massive professional exodus brought about by the recession that began in 2006. According to the newly formed Puerto Rico HealthCare Crisis Coalition, the organization organizing the rally, nearly four hundred of the island's 11,000 physicians and specialists leave the island annually, leaving an already vulnerable population with even less medical providers.
At the rally, government officials, community activists and healthcare workers joined religious leaders, who were among the main organizers of the event, as well as ordinary citizens worried about the worsening situation.
"I came to demand changes, I can't afford to buy my medicines," said Carmen Rivera, who had come from the town of Caguas for the rally in the metro area of Hato Rey. "Puerto Rico seniors need help now."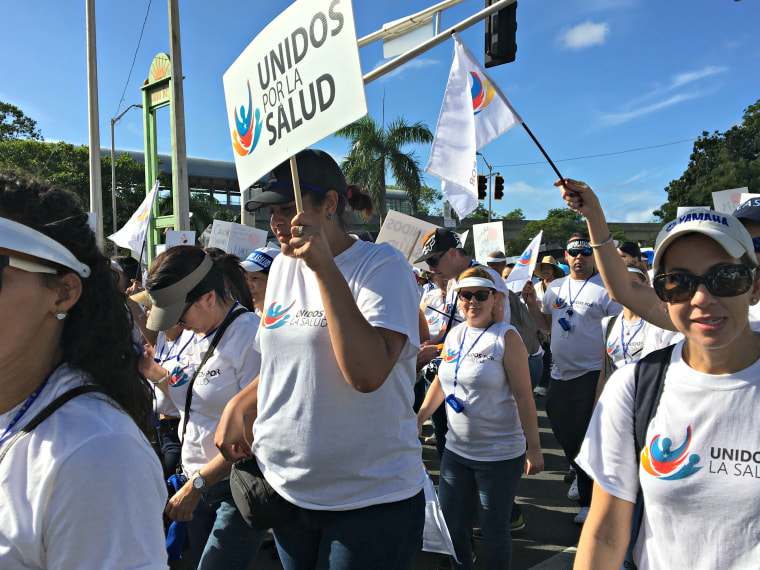 A day before the rally, residents from Peñuelas, a mountainous town with a population of 30,000 located on the southern coast of the island, spoke to NBC News about their daily health-related struggles.
Aidimaris Gonzalez, 29, is a married mother of two who has been waiting to see a gastroenterologist for over a year to treat a painful hiatal hernia. Although she is covered by Medicaid health insurance, she has been told to wait.
"The closest specialist is an hour away in Yauco and each time I call, they tell me to call back," she said, tearing up. "While I wait and wait, my condition has gotten worse. Now I am suffering from horrible migraines."
Gulf War veteran Reinaldo Caquias, 58, and his wife Aglaee, 55, say they are fairing a little better than most of their neighbors in this tightknit countryside community. With her husband's veterans benefits she says they have enough money to pay for a second healthcare coverage. Yet despite that, like their young neighbors, they find it challenging to find proper healthcare.
Caquias has been waiting to see a rheumatologist for a chronic condition.
"There are none," she said exasperated, holding up her fingers, which have been slowly deforming for three years since she self-diagnosed her condition.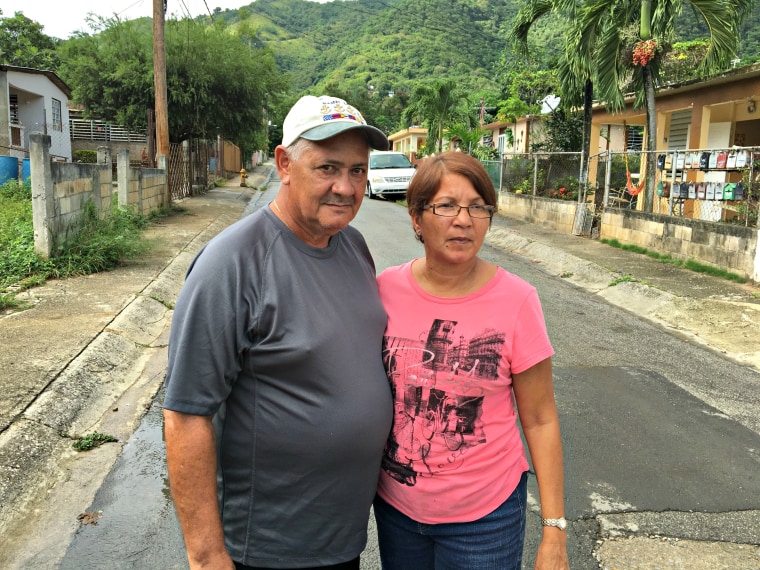 "When I went to see my doctor, she confirmed that I did have rheumatoid arthritis but she told me she could not do much. I had to see a specialist. I called several times week and I'm told to keep calling," said the mother of three. Caquias has been waiting for three years as her condition worsens. "Sometimes my bones hurt so much, I can't even get up from bed," she said.
"My husband served his country, we pay our taxes, this situation cannot continue, our neighbors and family will die in front of us and we can't do anything to help them," she said somberly.
The couple said that they would travel the hour and a half to the rally in the capital city but they did not know if they would wake up feeling fit enough to do the trip.
Thursday's rally took place at the start of the Somos legislative conference, which has brought around fifty New York state legislators including New York Governor Andrew Cuomo and more than 200 healthcare, economic and labor leaders to the island to bring attention to the island's fiscal crisis.
At a meeting on Thursday morning, New York City Council Speaker Melissa Mark-Viverito got teary as she spoke of what she is seeing when she comes to the island where she was raised. "With each trip the anxiety is more intense," said Mark-Viverito. "The U.S. Congress is breaching its responsibilities to Puerto Rican citizens," she said.
RELATED: At Senate Hearing, Calls for Urgent Action On Puerto Rico
The healthcare situation is only part of the island's deteriorating fiscal situation; it is facing a $72 billion dollar public debt. Unlike Michigan was able to do with Detroit, Puerto Rico is not allowed to use Chapter 9 like other states to restructure the debt of any of its public utilities or municipalities. On Wednesday, a report by the Federal Reserve Bank of New York once again called for restructuring as a way to start tackling the island's fiscal woes.
Congress has not moved on bills to allow Puerto Rico to use Chapter 9, and some financial firms and groups who have bought Puerto Rican bonds are opposed to restructuring.
Yet Antonio Weiss, counselor to Treasury Sec. Jacob Lew, said at a recent Senate hearing that Puerto Rico's situation could become "a humanitarian crisis." At the same hearing, Sen. Elizabeth Warren questioned whether Treasury could do anything at an executive level that would not require congressional approval, citing the spiraling situation.
Rep. Velázquez said that she and her Democratic colleagues will keep the pressure on the White House. They are calling on the White House administration to make Puerto Rico a priority during budget negotiations.
"It would be irresponsible of our federal government not to intervene on behalf of the residents of this island," declared Velazquez. "We need to put pressure on Obama and the presidential candidates to make Puerto Rico a priority," she said. "Elections will be at stake. You have millions of Puerto Rican voters who want to see action on this."
Lorraine Cortes-Vazquez, a former secretary of state for New York and now a senior vice president at Emblem Health, said Americans are rightfully concerned about issues like Syria, border issues and international human trafficking.
"But right at home we have a crisis affecting American citizens," said Cortes-Vazquez. "We have to do something about it."