Award-winning chef, author and TV host Pati Jinich recently spoke to NBC Latino contributor Ana Sofía Peláez about her show Pati's Mexican Table, her new book and Mexico's evolving cuisine.
Here are three delicious recipes excerpted from her new book, "Mexican Today: New and Rediscovered Recipes for Contemporary Kitchens."
CAL-MEX FISH TACOS WITH CREAMY SLAW - TACOS DE PESCADO CON ENSALADA DE COL CREMOSITA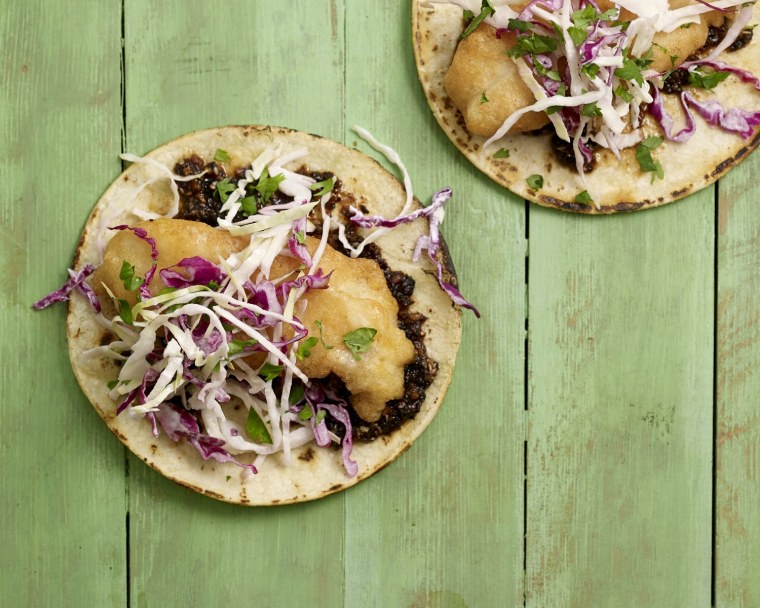 SERVES 6
PREPARATION TIME: 15 minutes
COOKING TIME: 25 minutes
MAKE AHEAD: The fish sticks can be made a couple of hours ahead and kept warm in a very low oven or warmer, or under a heating lamp. Leave uncovered, or the puffy coating will deflate. If you have any leftover fish sticks, they can be reheated the next day in a medium-low oven.
It's hard to pin down where the fever for fish tacos started, since the delicious battered fish is a signature dish on both sides of the border. I can spot the Mexican version immediately. It has a fluffier and puff­ier batter, because of the way the batter is made. The flour mixture is mixed into the whipped egg whites rather than the other way around. Also, in Mexico, the tacos are served on corn tortillas rather than flour, and the slaw is creamier and tangier. The crunchy slaw makes a light, refreshing partner for the fried battered fish, which gets a flavor kick from the bold salsa macha.
FOR THE BATTER
2 large egg whites
1 cup all-purpose flour
1 teaspoon kosher or sea salt or to taste
⅛ teaspoon ground cumin
1 cup Mexican beer, prefer­ably a light beer (but any­thing short of a very dark, bitter beer will work)
FOR THE FISH TACOS
Canola oil or safflower for shallow-frying
1 pound mild, firm white fish fillets, such as tilapia, cod, haddock, or halibut, cut into 1-x-4-inch strips
Kosher or sea salt and freshly ground black pepper
Flour, for dusting
12 corn or flour tortillas, warmed
Creamy Slaw
Chipotle, Peanut, and Sesame Seed Salsa
To make the batter: In the bowl of a stand mixer or in a medium bowl, using a hand mixer, beat the egg whites on medium speed until stiff but not dry peaks form.
In another bowl, combine the flour, salt, and cumin, then whisk in the beer. In four additions, gently fold the flour mixture into the egg whites, taking care not to deflate the whites.
To make the fish tacos: Pour the oil into a 12-inch heavy skillet or casserole to a depth of ½ inch and heat over medium heat for at least 5 minutes. Test the heat by dipping a wooden spoon or the tip of a piece of fish into the oil: It should bubble happily around whatever you dip into it. Set a cooling rack on a baking sheet and cover the rack with paper towels. If you don't have a cooling rack, just cover the baking sheet with paper towels.
While the oil is heating, season the fish sticks lightly with salt and pep­per. Place the flour on a plate and, one at a time, gently press each fish stick into the flour, flip over, and flour the other side. Tap off excess flour and place on a plate.
When the oil is hot, one by one, dip the floured fish sticks into the bat­ter and immediately, but gently, place in the hot oil. Add only as many as you can without crowding the pan. Fry until crisp and light golden brown on the first side, 2 to 3 minutes, then flip and repeat on the other side for 2 to 3 minutes, or until crisp and light golden. Remove with tongs (see Cook's Tip) or a slotted spoon and place on the rack. Cover loosely with foil to keep warm while you cook the remaining fish.
Serve with the warm tortillas, slaw, and salsa macha.
CREAMY SLAW - ENSALADA CREMOSITA DE COL
This crunchy, fresh-tasting slaw is just what the battered fish in my Cal-Mex Fish Tacos needs to jump off the plate. The slaw can also be served as a side or tucked into other tacos and sandwiches.
MAKES ABOUT 3 CUPS
PREPARATION TIME: 12 minutes
MAKE AHEAD: The slaw can be made up to 3 days ahead, covered, and refrigerated. Mix well before using.
½ cup Mexican crema, crème fraîche, or sour cream
½ cup mayonnaise
3 tablespoons freshly squeezed lime juice
¼ teaspoon sugar
Kosher or sea salt and freshly ground black pepper
2 cups shredded green cabbage
1 cup shredded red cabbage
Combine the cream, mayonnaise, lime juice, sugar, and salt and pepper to taste in a large bowl and mix well. Add the cabbage and toss with the dressing. Taste and adjust the salt. Serve.
CHIPOTLE, PEANUT, AND SESAME SEED SALSA - SALSA MACHA
MAKES ABOUT 3 CUPS
PREPARATION TIME: 10 minutes
COOKING TIME: 3 minutes
MAKE AHEAD: The salsa will keep, covered, in the refrigerator for up to 6 months.
The name of this salsa is a funny one: Macha is the feminine form of macho. So you could call this a macho female salsa. Macha can also mean "brave." Call it what you may, this salsa, which originated in the state of Veracruz, on the Gulf of Mexico, has a very strong personality and many uses. It is made by sautéing just a few ingredients—dried chipotle chiles, garlic, peanuts, and sesame seeds—in a generous amount of olive oil, then blending the mixture with a splash of vinegar and a sprinkle of sugar and salt. You end up with a mix that, unlike a typical salsa, is a very wet and textured paste. It will keep for months in the refrigerator, getting better and better as time goes by. Since this salsa has a substantial amount of olive oil, the chile paste will sink to the bottom if it stands for a while. You can choose to stir it up and serve the salsa as a paste, or you can use a bit of the flavored oil for multiple purposes, such as drizzling over fish, shrimp, pota­toes, pizza, toast, cooked vegetables, or even an omelet!
Note: Other nuts, such as almonds, pecans, walnuts, hazelnuts, or pine nuts, can be substituted for the peanuts.
1½ cups olive oil
½ cup unsalted raw peanuts
4 garlic cloves
2 tablespoons sesame seeds
2 ounces (1½ to 2 cups) dried chipotle chiles stemmed and seeded
1 tablespoon packed brown sugar or to taste
1 teaspoon kosher or sea salt or to taste
3 tablespoons distilled white vinegar
In a large skillet, heat the oil over medium heat until hot but not smok­ing. Add the peanuts and garlic cloves and cook, stirring, for 30 seconds, or just until they begin to color. Be on the lookout, as peanuts can be deceiving and not really reveal how brown they are getting until it is too late. Add the sesame seeds and chiles and cook, stirring, for 1 minute, or until the chiles are lightly toasted.
Transfer the contents of the pan, including all of the oil, to a food processor or blender. Add the sugar, salt, and vinegar and process until smooth. Pour into a container, let cool, and refrigerate if you are not using the salsa that day.
---
SHRIMP, MANGO AND AVOCADO ROLLS - ROLLOS DE CAMARONES AL AJILLO, MANGO, Y AGUACATE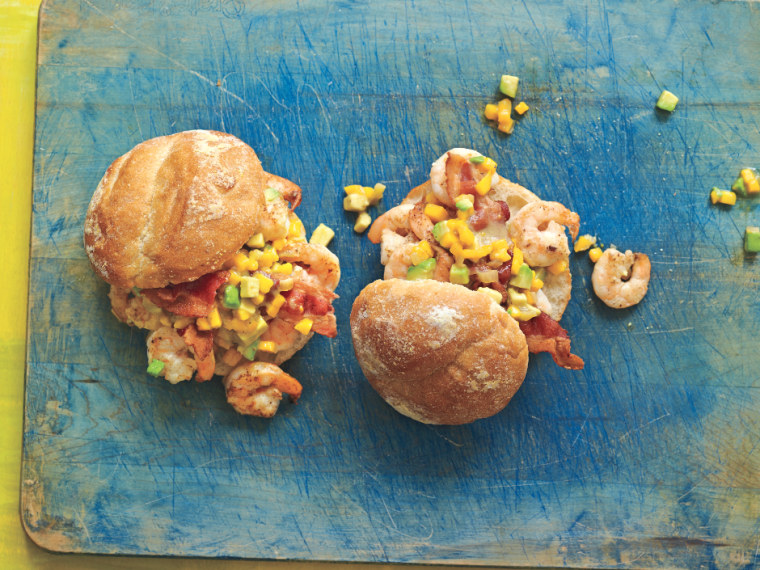 If I ever open a restaurant, this will be one of the top items on my menu—a shrimp roll on a soft bun, with bacon, sweet-tart chunks of mango, and creamy bites of avocado tossed in a thick, smoky vinaigrette made with a judicious amount of garlic and shallot fried in the rendered bacon fat. The combination of mango and avocado has to be one of the best-kept secrets in the culinary world.
INGREDIENTS:
12 bacon slices
¼ cup finely chopped shallot
2 garlic cloves, finely chopped
1 tablespoon plus 1 teaspoon sherry vinegar
½ teaspoon honey
½ teaspoon Dijon mustard
Kosher or sea salt and freshly ground black pepper
2 large ripe Hass avoca­dos, halved, pitted, flesh scooped out and diced
2 large ripe Champagne or Kent mangoes, peeled, sliced off the pits, and diced
1 tablespoon olive oil
1 tablespoon unsalted butter
1½ pounds fresh or thawed frozen medium shrimp, shells and tails removed
6 hot dog buns or soft rolls
MAKES 6 ROLLS
PREPARATION TIME: 20 minutes
COOKING TIME: 15 minutes
DIRECTIONS:
Heat a large skillet over medium heat. Add the bacon and cook for 3 to 4 minutes per side, until browned and crisp. Transfer the bacon to a paper towel–lined plate, leaving the fat in the skillet, and set aside.
Return the pan with the fat to medium heat, add the shallot and garlic and cook for about 2 minutes, until fragrant, tender, and just beginning to brown. Scrape the garlic and shallot into a medium heatproof bowl, along with the fat. Don't wash the pan; just set it aside.
To prepare the vinaigrette: Add the vinegar, honey, mustard, ½ tea­spoon salt, and pepper to taste to the bowl with the garlic and shallot. Whisk or mix with a fork until well emulsified. Add the avocados and mangoes, gently toss together, and set aside.
Heat the oil and butter over high heat in the skillet you used for the bacon until the oil is hot but not smoking and the butter has begun to foam. Add the shrimp, without crowding the pan (cook them in two batches if necessary). Season with ½ teaspoon salt and pepper to taste, and cook, flipping them over once, until seared and browned, no more than 2 minutes. Transfer to a bowl.
Open the buns or rolls, trying not to separate the tops from the bot­toms, and arrange a layer of cooked shrimp on the bottom of each one. Top the shrimp with the avocado and mango mix and crown each with a couple of slices of bacon. Close the sandwiches and serve.
---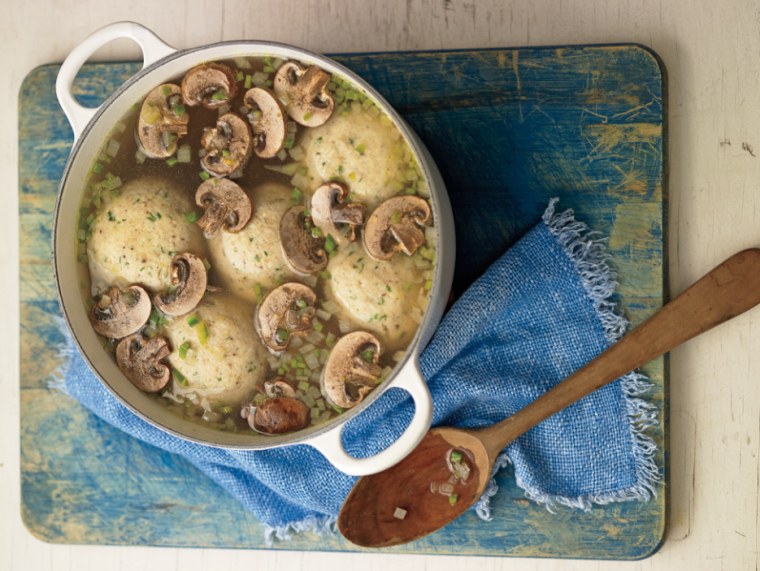 MATZO BALLS WITH MUSHROOMS AND JALAPEÑOS IN BROTH - BOLAS DE MATZÁ CON HONGOS Y CHILES
SERVES 6 TO 8
PREPARATION TIME: 15 minutes
COOKING TIME: 30 minutes
MAKE AHEAD: The soup can be made up to 3 days ahead, covered, and refrigerated.
This is a Mexican rendition of matzo ball soup, with jalapeños sweat­ed along with mushrooms, adding subtle heat to the broth. The mush­room base is easy to make. It's a wonderful way to dress up chicken soup for the holidays or for entertaining. My maternal grandmother used to season her matzo balls with nutmeg and a bit of parsley. I add a splash of toasted sesame oil too. Her secret ingredient for making them fluffy was a dash of sparkling water. She used mushrooms of all sorts in the soup, but she was moderate in her use of chiles. In honor of my late grandfather, who was obsessed with chiles, I add a lot more to this soup than she would have.
1 cup matzo ball mix (or two 2-ounce packages)
2 tablespoons finely chopped flat-leaf parsley
¼ teaspoon freshly grated nutmeg
Kosher or sea salt
4 large eggs
8 tablespoons canola or safflower oil
2 tablespoons toasted sesame oil
2 tablespoons sparkling water
½ cup finely chopped white onion
1 garlic clove, finely chopped
2 jalapeño chiles, finely chopped (seeded if desired) or to taste
8 ounces white and/or baby bella (cremini) mushrooms, trimmed, cleaned, and thin­ly sliced
8 cups chicken broth, homemade (page 40) or store-bought
In a large bowl, combine the matzo ball mix, parsley, nutmeg, and ¾ teaspoon salt. In another small bowl, lightly beat the eggs with 6 ta­blespoons of the canola oil and the sesame oil. Fold the beaten eggs into the matzo ball mixture with a rubber spatula. Add the sparkling water and mix until well combined. Cover and refrigerate for at least 30 minutes.
Heat the remaining 2 tablespoons oil in a large pot over medium heat. Add the onion, garlic, and chiles and cook, stirring, for 4 to 5 minutes, until they have softened a bit. Stir in the mushrooms and ¾ teaspoon salt, cover, and steam the mushrooms for 6 to 8 minutes. Remove the lid and cook uncovered until the liquid in the pot evaporates. Add the chick­en broth and bring to a simmer. Taste and adjust the seasonings.
Meanwhile, when ready to cook the matzo balls, bring about 3 quarts salted water to a rolling boil in a large pot over high heat. Reduce the heat to medium and keep at a steady simmer. With wet hands, shape the matzo ball mix into 1- to 1½-inch balls and gently drop them into the water. Reduce the heat to low, cover, and simmer for 25 to 30 minutes, until the matzo balls are completely cooked and have puffed up. Remove with a slotted spoon and transfer to the soup. Serve.
Text excerpted from Mexican Today, © 2016 by Pati Jinich. Reproduced by permission of Rux Martin Books/HoughtonMifflin Harcourt. All rights reserved.