EAST HARLEM, NY -- Wednesday, Jan. 6 is Three Kings Day and Latino families celebrate their faith, heritage and community.
In New York City, el Museo del Barrio honored three prominent Latino figures to represent Gaspar, Baltasar and Melchor in their traditional Three Kings Day parade. Grammy Award-winning musician Arturo O'Farrill, Gotham actor J.W. Cortés and Sesame Street veteran Sonia Manzano were this year's Tres Reyes Magos, the Wise Men who took presents to baby Jesus, according to the Bible story. They led the cacophony of marching bands, dancers and schoolchildren up 3rd Avenue in New York City's acclaimed "El Barrio," known to generations as one of the city's more well-known Latino neighborhoods.
"Three Kings is a very universal Latin holiday," Manzano said. "I think that it is a Latin-centric celebration that embraces all of us from the Barrio to the Bronx."
Draped with shining fabrics and cafecito in hand, Manzano explained that for Hispanics traditions like the parade are meant to remind communities to stay united. She remembers as a child she would pray for the snow to wait until after Christmas Day so her family and friends could travel around the Bronx singing parrandas.
"The importance of Tres Reyes is that it shows Latino children that we are one people," said jazz pianist Arturo O'Farrill.
"It's interesting that here we are doing this Three Kings parade in an environment that is so cold because this tradition comes from warm environments," she said. "We continue to spread our warmth and Caribbean sensitivity with celebrations like this."
Jazz pianist Arturo O'Farrill, donning a velvety blue robe, stressed the parade is proof that there are no borders in the Latino community. He said Latinos live in "tribes" and share cultural values despite national origins.
"We celebrate Three Kings Day in Mexico, which is a continuation of the celebration of family and the community," O'Farrill said. "We don't live in segregated little corners by twos and threes. The importance of Tres Reyes is that it shows Latino children that we are one people."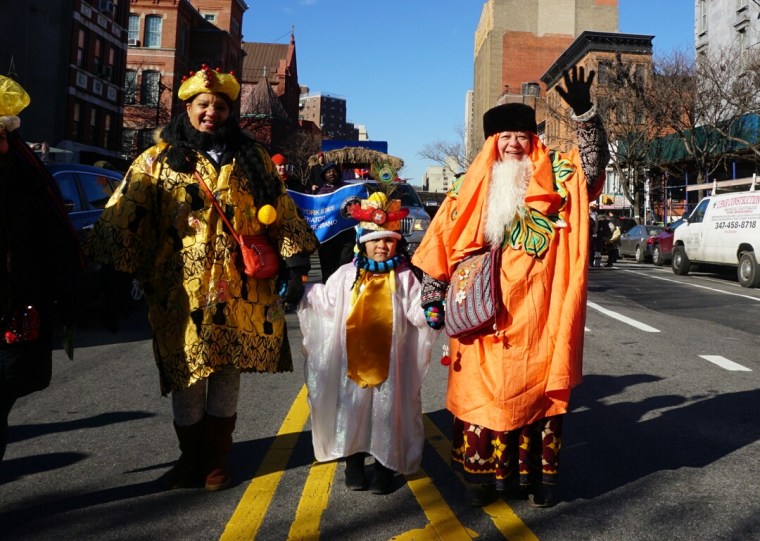 Actor J.W. Cortés, wearing crimson and gold from head to toe, beamed as he talked about the honor of playing one of los Tres Reyes.
"I represent an ideology of what it is to have faith – determination in waiting for the arrival of something bigger than ourselves," Cortés said. "Playing someone like Detective Alvarez on Gotham is great, but it does not tell the complete story of who I am. This is more of that."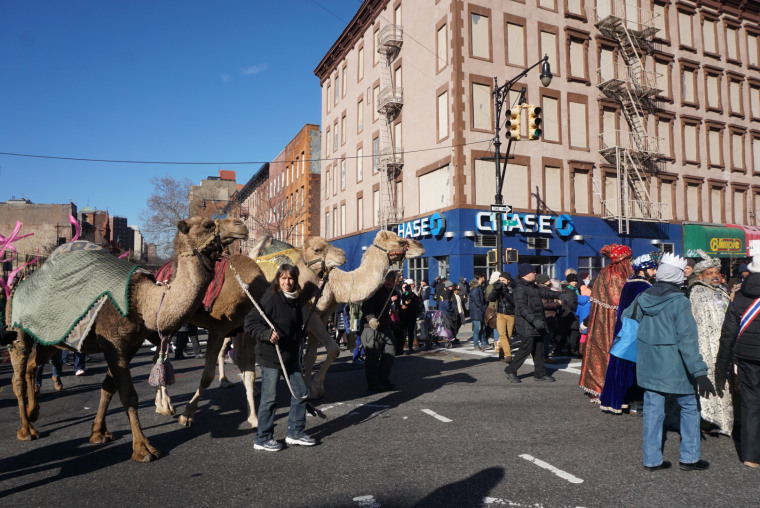 El Museo also invited some of New York City's top officials like Mayor Bill de Blasio and New York City Council Speaker Melissa Mark-Viverito - she is the city's first Latina Council president - to speak before the parade. Amid the celebration, de Blasio slammed Congress for failing to pass solutions to the Puerto Rican debt crisis.
"Do we hesitate to help people in Texas or California or Minnesota when they're in danger? No," De Blasio said to thunderous applause. "We should not hesitate as a nation, so therefore it is time for our Congress to reach a hand out to Puerto Rico and help it through its distress."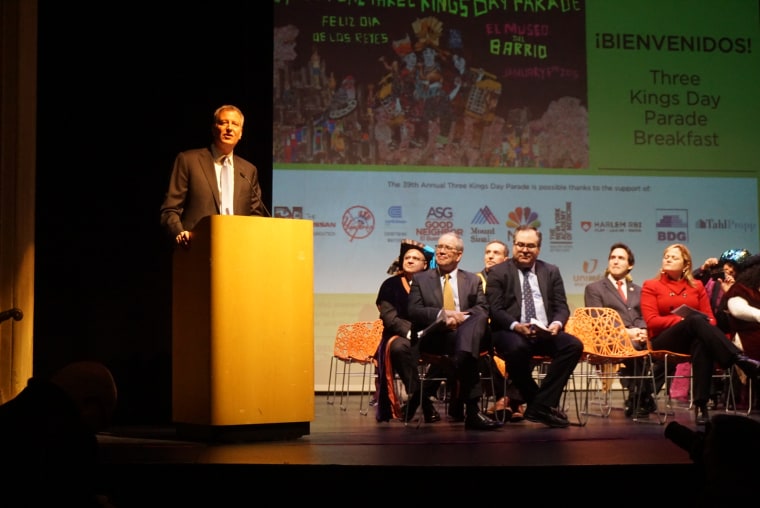 With dancers from Colombia and Bomba bands from Puerto Rico, people flocked to the boisterous streets with their mothers and children. At the end of the day, people from an array of backgrounds and neighborhoods gathered to celebrate Three Kings in their own way. Arthur Avilés, an artistic director at a school in the Bronx, chose a costume that straddled the line between Padrino and Madrina.
"They asked us which costumes we wanted to pick, and I decided to choose Celia Cruz," he said, showing off his fuchsia robe and fur-lined hat. "This parade really attracts people from the culture who feel it is important to imbue themselves and their children with their Latino heritage."