AUSTIN, Texas — Three Latinos are in the final stretch of campaigns to make history by becoming governors of their states, with one leading in the polls.
In New Mexico, Rep. Michelle Lujan Grisham is favored in the polls against House colleague Republican Rep. Steve Pearce. If she does, she would be the first Latina Democratic governor in a state where 48 percent of the population is Hispanic, the largest statewide share in the country. Gov. Susana Martinez is exiting her office after serving as the first Latina Republican.
In very red Texas, Lupe Valdez remains in an uphill battle against the Republican incumbent, Gov. Greg Abbott. Arizona's shifting political landscape put David Garcia in position to offer incumbent Gov. Doug Ducey a tough challenge, but as the election nears, polls are showing Ducey leading.
Their races have not garnered as much attention as those of Stacey Abrams in Georgia, who would be the first African-American female governor in the country ,and Andrew Gillum, who has had to beat back racist attacks in Florida, where he could be its first African-American governor. There are no sitting African-American governors in the country.
As for Latino governors, there are currently two: Martinez in New Mexico and Republican Gov. Brian Sandoval in Nevada, who is also leaving office.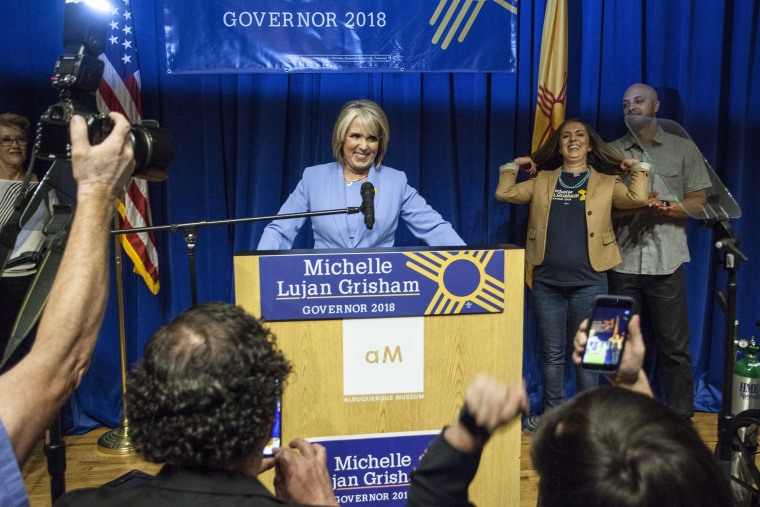 MICHELLE LUJAN GRISHAM
Nationally, money has poured into the New Mexico governor's race for both candidates, but polls have continually shown Lujan Grisham, who describes herself as a 12th-generation New Mexican and chairs the Congressional Hispanic Caucus in the House, ahead of Pearce, with the latest giving her a 9-point lead.
Despite being in better position to win than her fellow Latino gubernatorial candidates, Lujan Grisham has faced a tough race that has had a heavy focus on the state's economy, which has benefited from booming oil prices. Yet New Mexico has one of the nation's highest poverty rates. She has campaigned on raising the minimum wage and increasing pay for teachers.
"There's a ton of work to be done," Lujan Grisham told The Las Cruces Sun-News. "Getting the economy moving and diversifying it is a top of priority."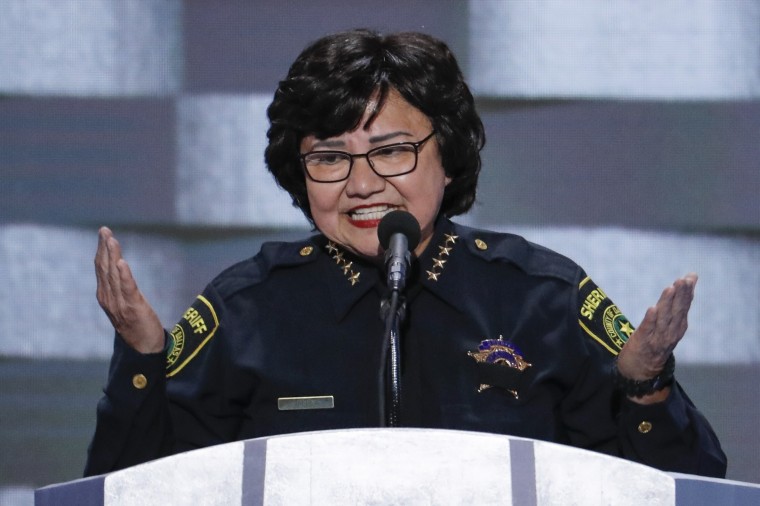 LUPE VALDEZ
Valdez offers several firsts for Texas. She's the first Latina and first openly gay candidate to run for governor. If she wins, she'd also be the first Democrat to lead the state since Ann Richards left office in 1995.
But Valdez, 71, has had a tough time electrifying voters behind her campaign, although that has picked up to some degree since the primary.
Abbott has held an overwhelming money advantage throughout the race, starting with $44 million and adding millions more. Valdez has had about $1.3 million for her entire campaign, a far cry from what is needed to get on television in a state with several major media markets.
Polls have shown Abbott with double-digit leads throughout much of the campaign, although the most recent Emerson College poll of likely voters had Valdez down 8 percentage points, 51 percent to 43 percent, with 4 percent undecided.
Valdez has also had to wage her campaign in the shadow of Rep. Beto O'Rourke, a Democrat whose Senate bid has garnered national publicity and landed him on television talk shows, including with Ellen DeGeneres and Stephen Colbert. Though O'Rourke has created coattails for the state's Democratic candidates, they may not be long enough for Texas, a state where 30 percent of all eligible voters are Latinos and where more than 40 percent of those who turned out in the last gubernatorial election voted for Abbott.
Valdez, a native of San Antonio, was the first Latina sheriff of Dallas County. She has campaigned, in part, on her story of growing up in the Jim Crow era in San Antonio and how she overcame discrimination, racism and sexism to get a high school education that would prepare her for college, the military and later in criminal justice, despite being one of few women in her jobs.
Valdez has hammered on the themes of creating opportunities for those who may not be benefiting as much from Texas' healthy economy, as well as on increasing state funding of education, providing access to health care and opposing the state's SB4 law signed by Abbott, that gives law enforcement officers greater immigration enforcement powers.
"I will never, never stop working for the everyday person and you can bet, I will always, always, always, do what is best for the whole," said Valdez.
Much of the campaign, Valdez she has hopped around the state in her Toyota Tacoma pickup truck that has her portrait and name plastered on the tailgate. But in the waning days of the campaign, Valdez has been participating with other Democratic candidates on a bus tour around the state.
"The Democrats are coming out and they are not ashamed. We said, 'We are giving you permission to be OK with being Democrats in the rural areas,'" Valdez told NBC News at the tail end of a stop in San Antonio before heading to Houston.
Win or lose, Valdez says the conversations she's had on the road with constituents, particularly with young Latinos, have had an impact and shown what is possible. Valdez relayed the story of a young Latina who overcame her nervousness to shake hands with her.
"We've never seen a Latina in such a high position," Valdez said the young woman told her, "and I want to say, make sure it is not the last one you see."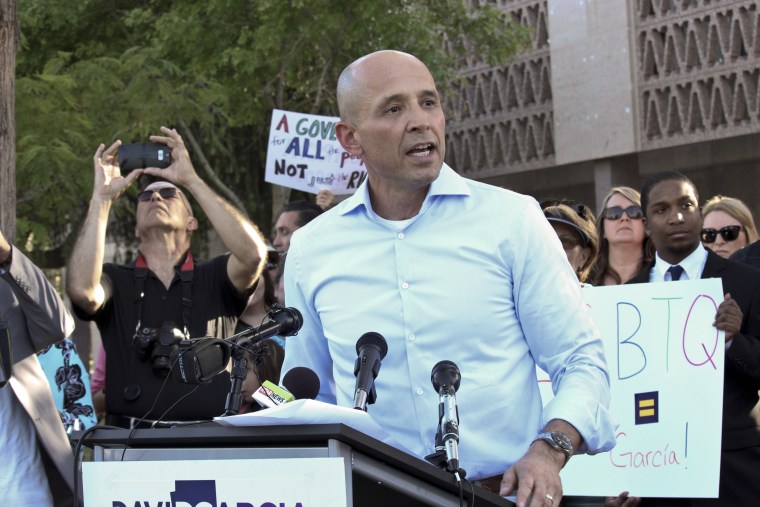 DAVID GARCIA
Garcia has based his hopes in his campaign for governor of Arizona on three key areas; first-time voters mobilized by the current political climate, Latino voters' growing influence in the state and a progressive movement centered around education.
But a combination of incumbent Gov. Doug Ducey's message management and the state's internal politics has been effective in neutralizing Garcia's strategy.
A former Army veteran turned professor of education at Arizona State University, Garcia told NBC News that reforming education in the state was a major motivator for running, and he has been campaigning against Arizona's extensive use of school vouchers.
Garcia made early headlines against Ducey when the national #RedforEd education movement took hold, leading to teacher strikes and walkouts. But a recent decision by the Arizona Supreme Court removed a key state education tax measure, #InvestInEd, from the November ballot. The measure tried to impose a progressive taxing scheme based on a person's income to raise more money for schools.
Proponents of the measure, upset about the court's decision, are quick to point out that all five of the judges in the 5-2 ruling who voted against the measure were Ducey appointees, underscoring the home field advantage Ducey has against Garcia.
Without an education measure on the ballot, Garcia the "education candidate" faces a greater challenge getting registered Arizonans out to vote.
Ducey has largely kept President Donald Trump at arm's length. Whatever negative image the president may have with some Arizonans, it doesn't appear to have had much impact on Ducey.
The latest poll by NBC News/Marist shows Ducey with a 13-point lead over Garcia among likely voters. By contrast, Martha McSally, the state's Republican candidate for Senate, has embraced the president since winning the primary in July and she lags three points behind Democrat Kyrsten Sinema in the same poll.
Arizona still has a strong Republican, conservative bent. Garcia chose to broaden his message in a progressive tone similar to others around the country, such as Gillum, Abrams and O'Rourke.
"Our campaign is focused on giving people something to vote for. We have been organizing for over a year building a volunteer infrastructure that can talk to voters directly across the state and with a message that speaks to people's experience," Garcia told NBC News in an email.
Garcia added his campaign is not "beholden to corporations or lobbyists because we won't take their money, that means we can work for the people of Arizona," said Garcia.
The question is whether a candidate like Garcia could afford to exclude the establishment in a state where Latinos still are building political infrastructure. Ducey is outspending Garcia almost 2-to-1.
Immigration can't be overlooked when running in a border state. Ducey pilloried Garcia for calling to abolish Immigration and Customs Enforcement and replacing it with a better enforcement system.
Garcia defended his views on border security over the summer with a reminder of his military service: "I've been called an open borders guy from some people, and I tell them, I protected those borders," Garcia said.
The growing number of Latino candidates across the state may be an important force in getting Latinos out to the ballot box.
Arizona's election process gives registered voters one month to submit their ballot, either by mail or at designated drop-off locations if they wish to vote early.
While this seems generous compared to many other states, Arizona's system completely cuts off potential new voters who may have just started paying attention to the election and wanted to vote early. That makes it more difficult for the Garcia campaign to win the votes of Latinos or others who did not request a ballot to submit early or take to a drop-off location.
Voters still can show up on Election Day and ask for ballots at their polling places.
With just a few days to go, Garcia got a helping hand from filmmaker and activist Mark Ruffalo, who played Dr. Bruce Banner/the Hulk in Marvel's "Avengers" movies.
"You have the opportunity to elect your first Latino. Yay, David Garcia," Ruffalo said in a video he tweeted.