WASHINGTON — To cheers of "Sí, Se Puede," ("Yes, we can") three organizations that work closely with immigrant families at the nation's southern border were honored Thursday with the Robert F. Kennedy 2019 Human Rights Award.
The three recipients are South Texas groups: the Angry Tías and Abuelas of the Río Grande Valley; the Detained Migrant Solidarity Committee in El Paso; and La Unión del Pueblo Entero (LUPE), established by United Farm Workers union co-founders César Chávez and Dolores Huerta in the small town of San Juan.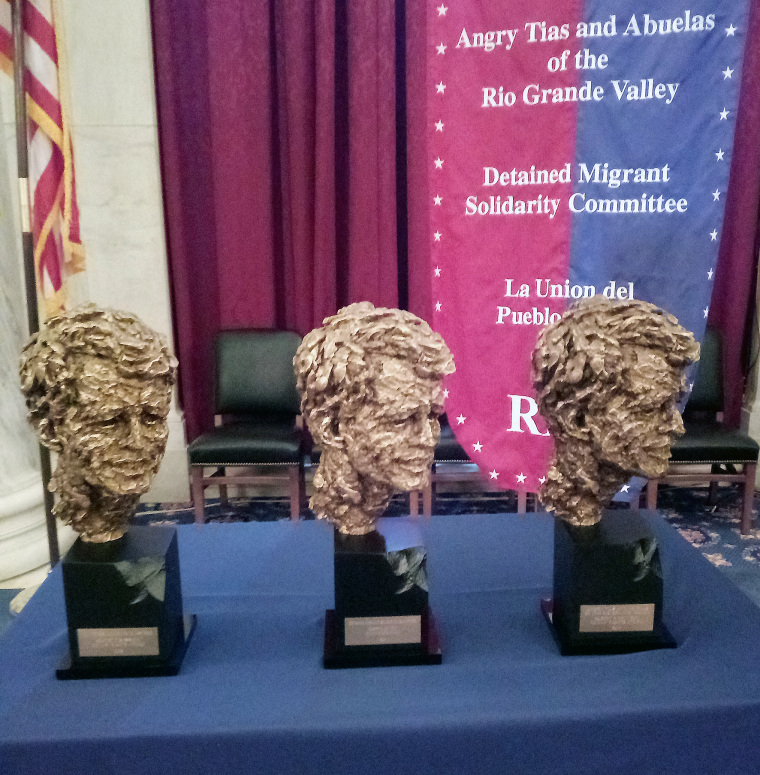 Angry Tías and Abuelas of the Río Grande Valley goes to bus stations and ports of entry and helps asylum-seekers and recent immigrants get to their destinations around the country. Using Spanish speakers, they help immigrants read their bus tickets, give them information on legal resources and hand out snacks or clothing.
The Detained Migrant Solidarity Committee helps migrants who are in detention stay in touch with their families by providing money in detainees' accounts for phone calls, helping arrange visitations, assisting with bond fees and providing translators for court appearances.
La Unión del Pueblo Entero is a community union. For a modest yearly fee, members can get help with everything from income taxes and notarized statements to English classes and immigration documents.
LUPE is the lead plaintiff in one of the lawsuits challenging the Trump administration's addition of a citizenship question to the 2020 census, arguing that a census undercount in the Rio Grande Valley, which is 90 percent Latino, could result in a loss of crucial federal funding for housing, nutrition and other programs.
"I think it's just amazing (that these groups are recognized) especially at this critical moment when we have so many people that are coming to the border. It's a very trying moment and I think an important moment in our history. These people are doing hands-on work trying to make life a little bit easier for immigrants," Huerta told NBC News.
Robert F. Kennedy Human Rights President Kerry Kennedy echoed Huerta's words, saying recognizing the work of groups advocating for immigrants is more important than ever given the Trump administration's hard-line stance on the issue.
"Our current political climate has led to a terrible crisis of faith. The president of the United States now cheers inhumane family separation policies, and this administration is torturing families to score cheap political points to shore up support for an administration that by all accounts is failing this country," she told the at-capacity crowd in the ornate Kennedy Caucus Room, named in honor of her father, Sen. Robert Kennedy and his brothers who also served in the Senate, Edward Kennedy and former President John F. Kennedy.
"The three groups honored today have refused to be silent in the face of injustice," Kerry Kennedy added.
The RFK award was created in 1984 by the Washington-based RFK organization and has since been given to individuals and groups from 24 different countries.
LUPE Executive Director Juanita Valdez Cox said she considers the award a rallying cry to continue advocating for the health and welfare of immigrants.
"We are the poorest area in the nation, but we are rich in resiliency," she said. "While we are here today celebrating this occasion, LUPE staff is staying behind at the border volunteering to welcome new immigrants into this nation while advocating for long-term immigration reform. LUPE is responding in a humanitarian way to a humanitarian need. It is important that we push back on anti-immigrant tactics."
Jennifer Harbury, of Angry Tías and Abuelas (which means Angry Aunts and Grandmothers), said the award "means everything to us."
"Yes, we are mad," she told NBC News. "We're mad at the brutality of the United States government against the same people who are the same background as our own. These are families seeking safety from repression exactly like our own forefathers."
FOLLOW NBC LATINO ON FACEBOOK, TWITTER AND INSTAGRAM.