The push is on again for Latinos to sign up for health insurance.
This Saturday is the start of the third Latino Week of Action, and the Obama administration hopes it will get many of the one-in-five Latinos without health insurance to enrollment centers to start shopping for coverage and get signed up.
Of the 17.6 million Americans who have signed up for health insurance through the Affordable Care Act, four million are Latinos. Early estimates were that some 10 million Latinos were eligible to enroll in the marketplace.
Although Latinos saw the biggest drops in uninsured rates, they remain the racial and ethnic group with highest rates of uninsured.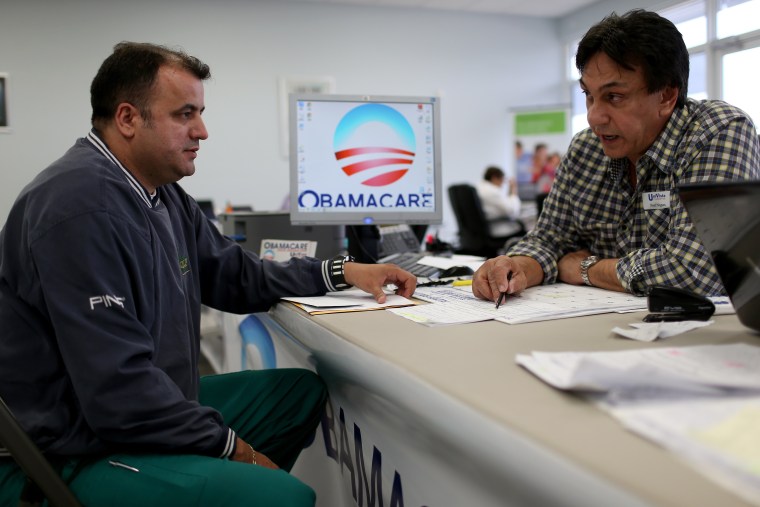 "The Latino community still suffers from health disparities like disproportionate rates of asthma, diabetes and certain cancers. But with better access to better checkups, diet counseling and many cancer screenings we can begin to close these gaps," Health and Human Services Secretary Sylvia Mathews Burwell said in a call with reporters.
The enrollment period for signing up for insurance this year ends Jan. 31.
Groups said they are working to help get out word about subsidies available to people who qualify financially. An Urban Institute study showed four of five Latinos did not know about the assistance.
Anne Filipic, president of Enroll America, said groups have "doubled down" on the most effective tactics to reach Latinos – largely in person assistance and in-person assistance in Spanish.
Enroll America has created an online tool, the Get Covered Connector, that allows people to set up appointments in for in-person assistance in either language.
At least 15 groups have joined together to help get Latinos to enroll, such as the National Association of Hispanic Nurses, the League of United Latin American Citizens and Planned Parenthood Federation of America.
"The members of the National Association of Hispanic Nurses have seen first-hand the need for accessible and affordable care (in) the Latino community," said Celia Trigo Besore, NAHN executive director.