In Dallas, the family of slain officer Patrick Zamarripa is devastated about losing a son who survived Iraq multiple times yet died at the hands of a gunman at his home in Dallas.
"Yo quisiera morir, mejor yo que el," - "I would like to die, better me than him," said Valerie Zamarripa, Patrick Zamarripa's mother, speaking to Telemundo. "Because he was too young, he had his family," she said tearfully.
Zamarripa, 32, was married and had a 2-year-old daughter and a stepson.
The slain officer was Mexican American. His family had christened him Patricio, Spanish for Patrick.
RELATED: Telemundo interviews Zamarripa's family
His grieving father, Rick Zamarripa, told NBC's Joe Fryer that Zamarripa "served three years in Iraq, came back without a scratch then he loses his life in the homeland, by one of his own." said his dad. "That's terrible. There's no words to really describe it."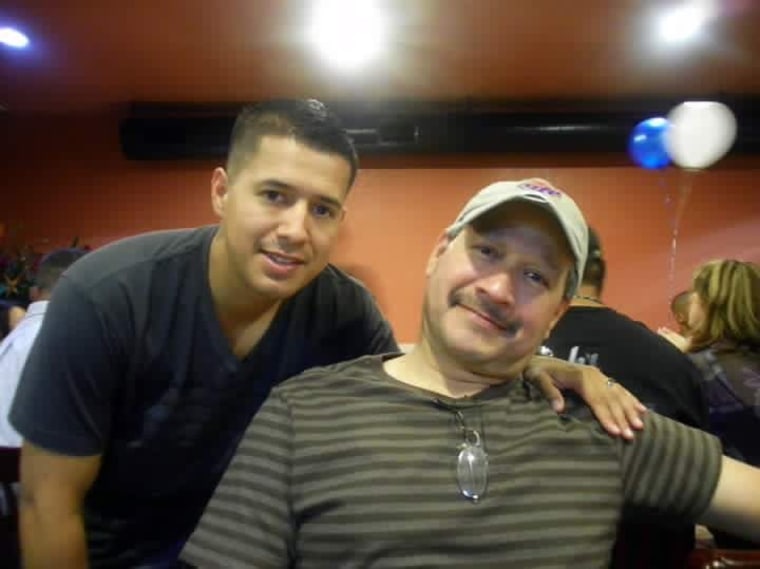 His father told NBC he hopes a memorial is built near the scene of the shooting in downtown Dallas to honor his son. He was one of 5 officers killed on Thursday night after a peaceful community protest against the deaths of two black men at the hands of police in Louisiana and Minnesota.
When asked about the gunman's actions and what she would say to him, Zamarripa's mother said the gunman, Micah Johnson, 25, was a "coward."
RELATED: Latino Police Officer, Navy Vet Patrick Zamarripa Killed in Dallas Ambush
"Todavía digo, para qué, para qué razon," - "I still say why, for what reason," said Zamarripa's mother, trying to make sense of the gunman's actions.
Johnson was killed by police after a tense, hours-long standoff.
As police stood vigil outside the Zamarripa household, grieving family members and friends were surrounded by pictures of Zamarripa. The deceased officer's aunt, Lanette Martínez, said she was inconsolable. "It's so much pain."
Martínez also called for a stop to the killings and the violence.
"Because you're angry at the police - because you're angry at a person for their color, this has got to stop," she said.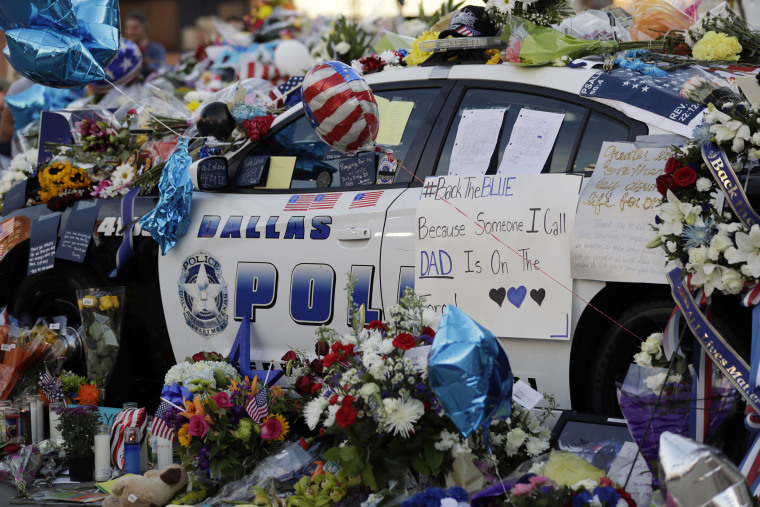 Forty percent of the population in Dallas is Latino. There were signs in Spanish for the officers; one said "we join in grief over this unforeseen tragedy."
Amid the pain of losing a Hispanic officer who was protecting the community, some of the city's Latinos were asked about tensions with law enforcement.
"Sometimes for any reason people get handcuffed, or they get tasered," said Antonio Balderas, who is Mexican-American, speaking to Telemundo at a taco restaurant in the city.
"I think police need better training over how to treat people, not for their skin color, but as people," said city resident Josué Herrera, who has two family members in the police force.
Jaime Castro, a Spanish-speaking spokesperson for the Dallas police union, told Telemundo's Jorge Miramontes that the community should speak up about any allegations of mistreatment. "We, the good ones, are trying to do everything possible to get the bad ones, out," said Castro. "We know there are some."
Castro said he is willing to go to churches, consulates and other places to talk to the community about better relations.
The police union will have a private service on Monday for the five officers and their families. The Zamarripa family said they plan a funeral service this coming week.
Zamarripa's mother said she has not been allowed to touch her late son due to the investigation, but that she wants to give him a hug.