ST. LOUIS, Missouri - The university hosting Sunday night's presidential debate is one of the top schools in the country, and a conversation with Latino students who attend offers a glimpse of the costs and the rare privilege of attending this type of institution.
It costs over 65 thousand dollars a year to attend Washington University in St. Louis, the prestigious school tapped to host Democratic presidential candidate Hillary Clinton and Republican candidate Donald Trump. At such a steep price, however, few Latinos are able to afford access to the opportunities Washington University offers. Those who do recognize that their education and opportunities are not the norm for most students.
Some Latinos on campus, however, reflect the privilege of their white counterparts. Jorge, for example, is a graduate student working on his doctorate in business, who worked in finance before coming to Washington.
A foreign born student from Chile, Jorge's father was an economist trained in Belgium, and spent summers vacationing in Utah and at Disneyworld.
"Wash U" boasts a 7 billion-dollar endowment and is adorned with orderly gothic buildings laid out across its manicured campus. A new state-of- the-art fitness and recreation facility, designed to fit into the campus' existing architectural design, reportedly cost over 50 million dollars and will open soon after the presidential debate.
With an impressive 8:1 faculty to student ratio and a total enrollment of almost 15 thousand students and almost 4 thousand faculty members, Washington University has designed a curriculum and environment that exudes intellectual excellence.
The dining halls at Wash. U promote interpersonal interaction, unlike other institutions that invade their students' minds with sensory overload through a steady stream of harsh music or an imposition of strategically placed television screens meant to grab the attention of students.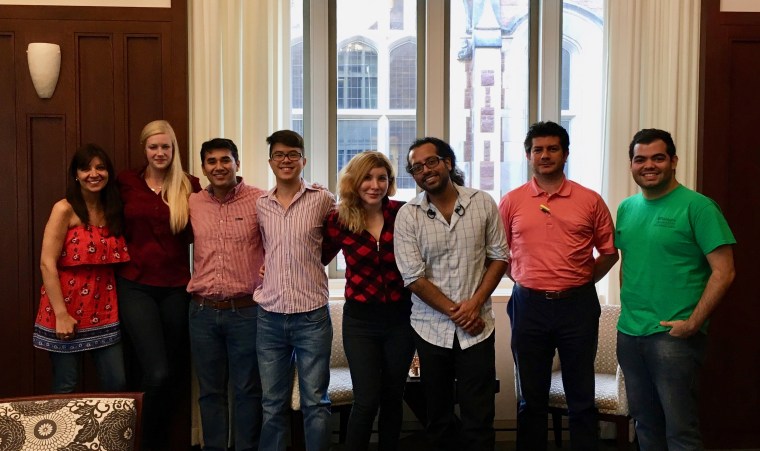 Members of the Latin Graduate Student Alliance meet regularly in the wood-paneled pub tucked into the business school building to discuss their academic progress, networking opportunities, and career development.
Most came to work with a specific professor, and the students came from career backgrounds that ranged from the defense industry to finance. All readily agreed that they were extremely privileged, and thankful, for the exceptional opportunities provided by Wash U. They sat in their comfortable lounge chairs, a table of catered sandwiches carefully positioned within reach of the group. They also pondered the level of commitment their school had to increasing the number of minorities at the school.
Washington University sits in of the most diverse cities in the country, St. Louis, which is almost 50 percent African American and almost 4 percent Hispanic. The school enrolls almost 15 thousand students, of which almost 6 percent are Hispanic and less than 8 percent are black, according to their registrar website. Almost one in five students are from a foreign country.
As members of the business school, the graduate students are keenly aware of their status, and wonder if they are not also being measured unfairly against their cohort. Vera, a member of the group, says that you can see a definite divide between the students of color in the day-to-day interactions, and while she thinks the focus on race that the Presidential Election has brought to the campus is welcome, she and her colleagues thought this divide would continue after the election is over and into the workplace after she graduates.
"As a woman of color, you have to be perfect to get the job," she said. "If you have flaws, they will use that against you."
Alex, who came to Washington U. from Miami, says belonging to an institution like Washington University forces students of color to suppress their identities in order to fit in.
"None of my friends I grew up with went to college, and the ones that did took 8 years to graduate," said Alex. "When you go back home you realize that you have neutralized much of your identity while at school. I no longer have an accent. Being Latino in these settings makes you feel like you are no longer one of them, but also I am not one of these students here either."
Undergraduate students felt much the same way about the pressures to fit in, while also feeling like they are abandoning their families back home.
Itzel, a member of the Association of Latin American Students, says that as a fluent English speaker growing up in Chicago with her Mexican family, they often depended on her to handle issues from health care to business. But now that she is away at school she will go home to discover that her family did not tell her about issues she would normally handle because they don't want to distract her from her studies.
"Education always goes first, they prioritize my education, so they won't tell me things that are going on," said Itzel.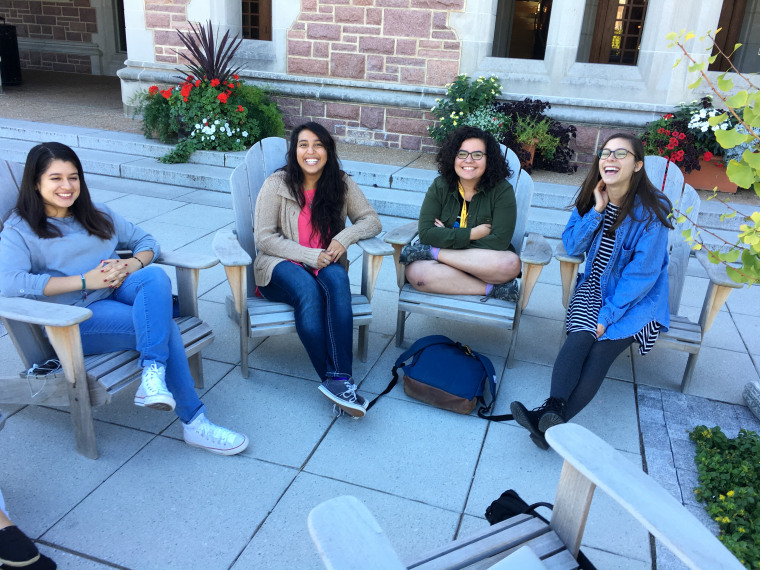 Natalie, the daughter of refugees from Cuba, grew up in Miami where being Latina was normal. However, she gets the sense that her light skin mattered in terms of easing the everyday management of life. Many Latinos at Washington U. have lighter skin.
"Growing up light skinned I didn't experience the typical micro-aggressions of a minority, but I also feel that my light skin mattered in my recruitment at Washington," she said.
Natalie said that being Latina matters much more in the context of her new school environment, but that there wasn't much acknowledgement of racial issues within the Latino community. "There isn't much recognition that that the racial narrative exists," she said.
Both graduates and undergraduate students pointed out that Washington University has gained attention for being the least economically diverse top college in the nation. According to a report from the New York Times, "only 6 percent of undergraduates at Wash. U. receive federal Pell grants, which typically go to students in the bottom 40 percent of the income distribution. The university rejects dozens of qualified low- and middle-income students every year rather than giving them the financial aid they would need."
This fact was repeated often, and both groups of students wondered that if the school really wanted to do something about it, the vast resources available to the institution wouldn't make this a difficult job. And yet, few minorities can be found at the public centers of the campus, whether at the Olin Business School atrium or across the quad at the "DUC", the Danforth University Center.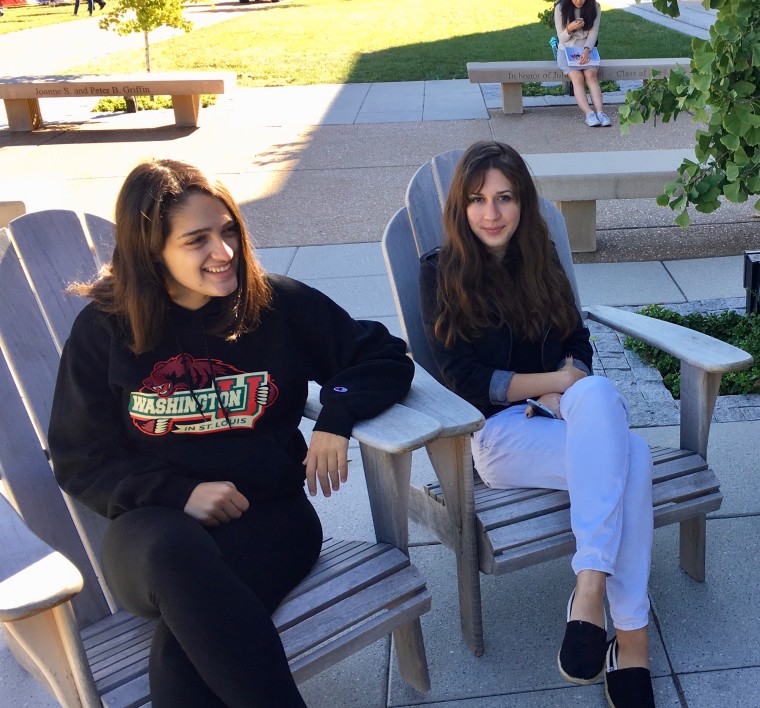 Washington University is, in many ways, what a university should be. Students stand in the manicured lawn of the quad eager to give lessons to passers-by about the national problem with student debt as they push a huge beach ball, painted black, across the law.
Another student encourages people to write their multiple identities on a display of letters that spell "AND", where the student discusses "intersectionality", the idea that people can see themselves with multiple identities.
"People often see others in a single dimension," said the undergrad, "but the reality is that we are more complex than that. We can be Latino or white and we can also be gay, or or a man or a woman." She invites others to write their multiple identities on the display, encouraging students to think more closely about the many ways they can see themselves and others.
The presidential debate offers the world a chance to peek into the halls of what an elite institution looks like, and the Latino students I spoke to all wished it would look more like them. Perhaps with greater investment, and greater efforts, this can one day become a reality.